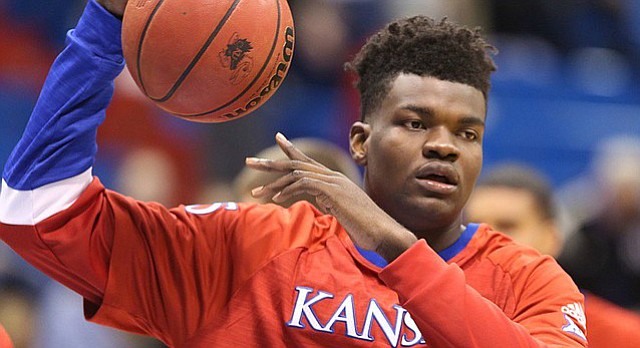 Last week, while speaking to reporters on the day before his official induction into the Naismith Memorial Basketball Hall of Fame, Kansas coach Bill Self was asked for his thoughts about the current state of the game.
On a long list of specific thoughts that covered everything from one-and-dones and the G League to scoring rules and transfers, was a comment from Self about the NBA.
"I still think the biggest things we've got going on are exactly how we're going to grow the collegiate sport," Self said. "Right now it's difficult to say because we're kind of waiting on the NBA to tell us what we're gonna do so we can kind of adjust off of that."
While that thought was all-encompassing and had as much to do with G League salaries and the future of the one-and-done college athlete, it was addressed, in some small manner, a couple of days later with one of Self's current players.
According to an article from ESPN.com's Jonathan Givony, KU sophomore Udoka Azubuike was one of 19 current college players invited last weekend to an Elite Student-Athlete Symposium in Indianapolis designed to give draft-eligible athletes a better and closer look at life in the NBA and the things they must consider before making the decision whether to turn pro early or stay in school.
Dubbed by Givony "an educational program that attempted to tackle the challenges and pitfalls highly touted prospects face," the event was rooted in the notion that knowledge is power and that these young men, with the proper guidance, would be in a better position to make better decisions about their futures.
The NCAA invited student-athletes who would be draft-eligible for the first time in 2018, with Azubuike joining underclassmen Tyus Battle (Syracuse), V.J. King (Louisville) and Rawle Alkins (Arizona) along with upperclassmen such as Jalen Brunson (Villanova), Allonzo Trier (Arizona), Ethan Happ (Wisconsin), Trevon Bluiett (Xavier), Kelan Martin (Butler), Anas Mahmoud (Louisville), Angel Delgado (Seton Hall), Dean Wade (Kansas State) and Jevon Carter (West Virginia), among others.
Each night, the group played pick-up games at Butler's practice facility, according to Givony.
While these sorts of helping-hand programs have been available to some athletes in the past, they never have been conducted as a joint program between the NBA and NCAA and, according to Givony, the mere existence of last weekend's symposium indicates "a shift in NCAA philosophy" from one that turns a blind eye to the one-and-done, underclassmen leaving early epidemic to one that instead seeks to help these student-athletes not only with the decision to stay or go but also with the decisions and challenges they face after they make the jump.
To that end, the topics that were covered included loss of value and disability insurance, time with a scouting panel made up of ex-NBA executives, financial awareness, social media dos and don'ts and realistic expectations for post-college careers while also covering "tips and traps" faced by today's college athlete.
In addition, the symposium included former NBA All-Star Shareef Abdur-Rahim, who both played in the league and has worked in league and team management capacities.
"It was a wonderful experience," Abdur-Rahim, currently the NBA's associate vice president of basketball operations, told ESPN.com. "I wish I had all of that information when I was at the stage they are. You have to applaud the NCAA because they took the initiative and reached out, making a point of collaborating with the NBA. We don't like operating in a vacuum either. We're past that. I think we know that if we aren't proactive about educating the kids, someone else will. That's where trouble will come in."
According to Givony, this symposium may just be the beginning. He wrote that the NCAA was likely to explore similar functions down the road and that the idea of bringing in even more top prospects and elite players, specifically from blueblood programs like Duke, Kentucky and North Carolina, which were not represented in Indianapolis last weekend, was likely the future goal.