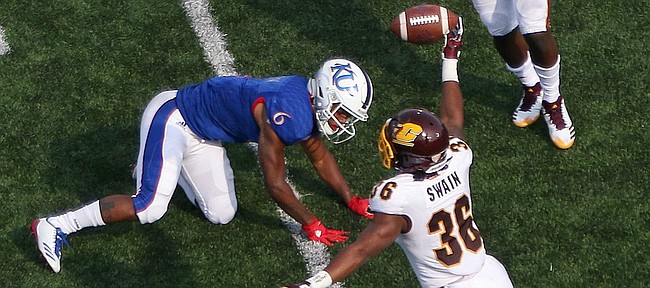 Earlier this week, when Kansas football coach David Beaty began watching video of the Jayhawks' next opponent, the footage seemed strangely familiar — and not just because KU faced Ohio at Memorial Stadium in 2016.
As Beaty caught himself up on how the Bobcats' trip to Purdue played out, he saw Ohio's fortunes take a turn for the worse in a fashion comparable to KU's turning point against Central Michigan.
"If you haven't had a chance to watch it, it was 10-7 in the second quarter," Beaty said of the home team Boilermakers' advantage, "and then Purdue went on a 24-point run in the second quarter. Very, very similar. Very uncharacteristic stuff from their team, I'm sure. Just based on what I've seen on tapes from them for two years. They turn the football over a couple times (at Purdue), a few big plays that you just don't see happen very often by them."
The teams, of course, played under very different circumstances — Ohio, of the Mid-American Conference, was on the road against a Big Ten program, while KU, of the Big 12, played host to the MAC's CMU. But it was pre-halftime points off turnovers for their opponents that sent the Jayhawks (1-1) and Bobcats (1-1) into Week 3 coming off a loss.
Podcast episode
On this episode of the KU Sports Hour, hosted by KU football beat writer Benton Smith, the KUsports.com staff discusses KU football's 45-27 loss to Central Michigan. Topics include: Is KU better than last year? (0:55-17:30), are lineup changes coming? (17:30-27:40), the KUsports.com football mailbag — coaches on the hot ...
Kansas only trailed, 10-6, late in the second quarter before a quick CMU answer to a Gabriel Rui field goal, followed by a Peyton Bender interception allowed the Chippewas (2-0) to extend their lead by 14 in the final 2:59 of the half.
For Ohio, late-second quarter fumbles from running backs A.J. Ouellette and Dorian Brown helped build Purdue's halftime cushion to 34-7.
"Ironically, I have a feeling both teams are going to be working on some of the very same stuff this week," Beaty said. "One of us is going to get them corrected, and we're going to get them corrected better than the other. And whoever does that is going to be the benefactor of it. It was very unique to look at that game and see how it played out, because that game probably should have been a lot closer than what it was, if you just take away some of the things."
Indeed, Ohio head coach Frank Solich's comments at his Monday press conference echoed many made by Beaty after KU lost to Central Michigan.
"Some of the guys that are experienced players for us didn't play at the level that they are capable of playing at. That certainly was a problem," Solich said after his team, like KU, finished minus-two in turnover margin. "The second quarter was the ball game, 24 points to zero. We helped them out with two fumbles, we gave them some big throws and they got some big and explosive plays. The second quarter took us to where there was a separation that was hard to overcome. I felt good about our guys staying in the game, battling, fighting hard and making plays. But looking back on it, we made too many mistakes and errors. They are correctable, but we didn't do a good enough job preparing and they didn't do a good enough job playing them. So I put the blame on all of us."
The disappointments of the previous weekend for both programs will shape how Kansas and Ohio prepare to recover leading up to Saturday's meeting (11 a.m. kickoff, ESPNU) at Peden Stadium, in Athens, Ohio.
The Jayhawks' season turnover margin of minus-3 is tied for 113th in the FBS ranks, while Ohio is minus-1 and tied for 80th. From Beaty's perspective, ball security issues and breakdowns in the KU secondary must be addressed.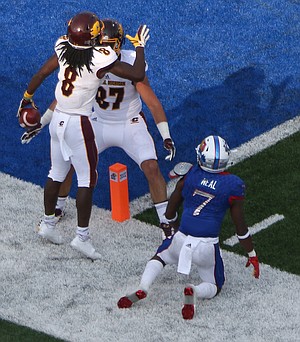 "The thing that I do know about those situations is those big plays, those things are certainly unacceptable, but they are definitely correctable as we look at it," Beaty said. "It's not a personnel deal. It's down to us doing a better job — starting with me coaching, then starting with our coaches from there doing a really good job of teaching and, technically, making sure we are trusting our technique."
Ohio, which opened the season by trouncing Hampton, 59-0, has three different running backs averaging at least 4.1 yards per carry, in Ouellette (23 carries, one touchdown), Julian Ross (20 rushes, three TDs) and Brown (17 runs, one TD). Quarterback Nathan Rourke has found even more success on the ground, with 15 carries for 86 yards (5.7 average) and three scores. Through the air, Rourke has completed 66.7 percent of his 33 throws for 283 yards and a TD, without an interception.
Beaty said he trusts defensive coordinator Clint Bowen will get that side of the ball "fixed" before the Jayhawks try to slow down Ohio's offense.
"When you freelance, the ball finds you," Beaty said of KU's defensive woes in the CMU loss. "So we've got to eliminate that freelancing from our repertoire, so to speak. And I know we will."
Jayhawks across the board entered the week "embarrassed," according to Beaty, by the home loss.
"I don't like to be embarrassed," junior defensive end Dorance Armstrong Jr. said. "But I know for a fact that that game wasn't our team. We were sluggish throughout the entire game, kind of. It's just kind of a lack of focus going into the game that put us behind. And that's just not how we are. We're going to come out here better than that."
Beaty expects as much, too, of what he thinks is a resilient group.
"There's no panic here," the third-year KU coach said. "We see what happened on the video, and I think we're going to be able to move forward. We're looking forward to going on the road for our first road trip and coming home with a victory up there in Athens. Should be a great environment."
Kansas has lost 41 consecutive true road games, and 44 straight away from Lawrence.