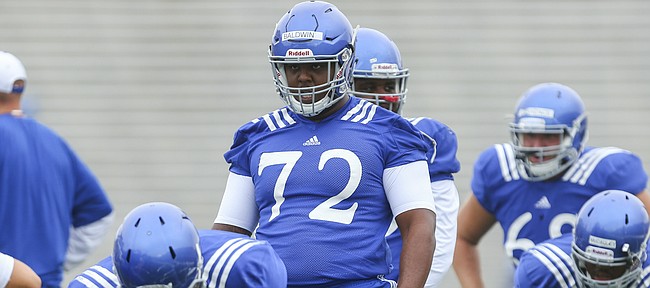 In an offseason rife with hollow hope for the Kansas football program, nothing shapes up as more off base than celebrated anticipation for right tackle Charles Baldwin's Div. I debut.
Baldwin's claim to fame, the source of such bliss for KU football fans when he announced he was transferring here, was that he spent a semester as a student at Alabama and entered spring football as a projected starter. Never mind that Nick Saban dismissed him from the program before he ever played a game. He wore the crimson-and-white helmet, so he must amount to a major upgrade.
Well, two games into the season, Baldwin has not played a snap and has fallen off the depth chart, replaced by Zach Hannon behind not-ready-for-prime-time starter Antione Frazier. Might Baldwin be injured? I suppose that's possible given that Kansas has hidden the hand injury that sidelined reserve quarterback Carter Stanley in the first two games. But I haven't heard that Baldwin's injured. Plus, heading into the season, head coach David Beaty said the competition between Frazier and Baldwin wasn't close. So unless the doghouse collapsed on Baldwin and injured him in some way, there is no reason to suspect health is the cause of his absence on the depth chart.
So any hope that Baldwin would make a smashing KU debut Saturday in Athens, Ohio, was dashed when the revised depth chart was released Monday night. Hannon, a graduate transfer from Nebraska who draws high grades for attitude, lacks game experience, other than on special teams. He played 13 games as a red-shirt freshman as a shield blocker on the Cornhuskers' punt unit. He also appeared in two games on the kicking unit as a junior.
Ultimately, if Frazier needs another year or two of seasoning, moving Mesa Ribordy from center to right tackle and starting Jacob Bragg at center could be the best way to go.
It's too early to reach a verdict on Baldwin, but early returns suggest he'll join recent KU transfers from four-year schools who made little impact.
You remember the names: Dayne Crist, LaQuvionte Gonzalez, Jake Heaps, Anthony McDonald, T.J. Millweard, Quincy Perdue, Mike Ragone, Joshua Stanford, Kent Taylor, etc. Every time one of those players was recruited, it removed a scholarship that could have gone to a high school player who might have been developed into a key contributor.
Quick fixes, especially at programs that need to develop raw talent, don't work in college football. It takes discipline to steer clear of them.