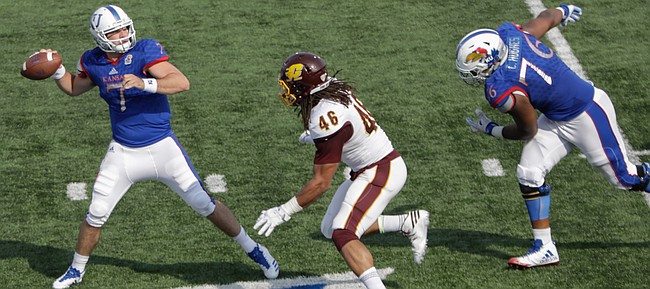 A couple days removed from seeing his team's starting quarterback complete 51.6 percent of a program-record 62 attempts, without even one touchdown throw to fortify the numbers, Kansas football coach David Beaty hadn't taken on a defeatist attitude regarding Peyton Bender's ability or potential.
Instead, during his weekly appearance on the Big 12 media teleconference Monday morning, Beaty said Bender's performance against Central Michigan reflected the mercurial nature of the position considering the junior transfer's lack of in-game experience at this level.
"He's going to have to go through some rough things in his career like most do, and how he responds is going to be critical," Beaty said after Bender threw his third and fourth interceptions of the young season, in his third career FBS start. "I've enjoyed watching him not let it affect him. He just continues to move forward. Tough kid. Stands in there and sits in there until the last second and gets some balls off that maybe some other guys can't."
Bender's 343.5 passing yards a game currently rank fourth in the Big 12, but no other QB in the conference has thrown more than two interceptions.
Podcast episode
On this episode of the KU Sports Hour, hosted by KU football beat writer Benton Smith, the KUsports.com staff discusses KU football's 45-27 loss to Central Michigan. Topics include: Is KU better than last year? (0:55-17:30), are lineup changes coming? (17:30-27:40), the KUsports.com football mailbag — coaches on the hot ...
"I've got to be more accurate with my ball," Bender said Saturday evening. "Didn't throw the deep ball well today and missed some receivers, so I've got to do a better job with that, as well."
While his head coach said Bender possesses "the type of arm that you're looking for," Beaty also noted the QB has to better understand what the opposing defense is trying to accomplish when he unleashes the ball.
"That does come with playing more and getting more experience and getting a little bit more ideas about what people are trying to do to him," Beaty said.
Through the years, KU's coach argued, college defenses have evolved to better handle the pressures an Air Raid offense is intended to inflict.
"They close the gap year in and year out on not letting you see what they're in. And when you do that you have to be even more prepared at that quarterback spot, and (KU quarterbacks coach) Garrett Riley's doing a great job with that young man (Bender)," Beaty said. "He's going to be a really good player for us as we move on."
If you assume …
After KU lost to Central Michigan in the rare role of a favorite, a reporter asked Beaty what his message was for the Jayhawks (1-1) following a game, the questioner assumed, Kansas expected to win.
"We never assume a win," Beaty responded. "We know we're going to have to go earn any game that we play. It's very difficult in college football. So if you assume anything you're going to have problems, and we certainly didn't assume that. We knew we had a tough challenge coming into the game."
More to the point of the inquiry, though, Beaty said the Jayhawks were in fact disappointed, "because we're better than that and we know that we're better than that."
KU's defense broke down often against CMU, as QB Shane Morris and receivers Mark Chapman and Corey Willis routinely shredded the secondary. Beaty lamented in particular the nine passing plays of 20-plus yards for the Chippewas, which included a back-breaking 75-yarder in the fourth quarter, marking Morris' fifth TD pass.
Through two weeks, KU's passing defense ranks last in the Big 12, at 318.5 yards allowed. The Jayhawks' passing defense efficiency also ranks last, with opposing QBs having completed 66.2 percent of their throws, with seven touchdowns and an efficiency mark of 162.0.
Only Kansas and Baylor have yet to intercept an opponent's pass.
"We've got to cover better, but we've also got to do a better job of scoring points and getting on the board a little bit more and then continuing to play good on special teams," Beaty added. "It's complementary football that we have to do. We have to do it a lot better. We haven't done it really well yet this season, so we're looking forward to getting back at it this week against Ohio (1-1) — against another really, really tough opponent — but complementary football is going to be a key for us and usually is for most folks."
Recovering from such a loss
Junior defensive end Dorance Armstrong Jr. said KU needed to begin making sure the loss to CMU didn't become some bigger issue as soon as Sunday, when players reviewed video with coaches.
"We're going to learn and then you probably won't see this again," Armstrong predicted.
Another captain on the defensive line, junior tackle Dainel Wise, said players felt very disappointed Saturday.
"No one's going to be in a good mood after a loss. But we still have confidence in each other that it's still early in the season," Wise said. "We have a lot more games to go and we need to improve each week."
The next step for the defense, according to Wise, is buckling down.
"This is probably an eye-opener for some of the guys, especially the young guys," Wise said, "that we're not all the way where we need to be."
A redshirt junior, Wise, whose sack vs. SEMO remains the only QB takedown by Kansas through two games, added players need to review mistakes and "be honest with each other" as they prepare for their first road game of the year, at Ohio (11 a.m. Saturday, ESPNU).
Kickoff vs. WVU announced
The Big 12 announced Monday times for three conference games to be played Sept. 23.
Kansas will lead off the league slate, with an 11 a.m. kickoff against West Virginia. The Jayhawks' Big 12 opener will air on ESPNU.