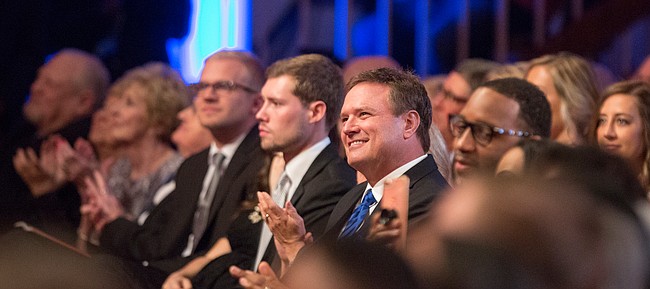 Friday's Hall of Fame induction for Kansas coach Bill Self turned out to be one heck of a celebration, complete with a red-carpet entrance, a national television audience and some of the biggest and brightest celebrities in the game of basketball on hand.
"Man, this is incredible," said former Oral Roberts guard Earl McClellan while walking into Symphony Hall after his stroll down the red carpet. "Coach Self has so much swag. He's got more swag than Jay Z."
Though flattered by McClellan's, let's call it enthusiasm, Self, who became one of 11 members in the Class of 2017 to officially join the Naismith Memorial Basketball Hall of Fame, said it was the mere presence of so many former players like McClellan, from all of his stops as a head coach, that made his Hall of Fame experience a night he won't soon forget.
Photo Gallery
Bill Self Basketball Hall of Fame induction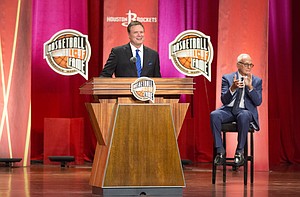 View a gallery of photographs as University of Kansas head basketball coach Bill Self is inducted into the Naismith Memorial Basketball Hall of Fame on Friday, Sept. 8, 2017 in Springfield, Massachusetts.
"First pick in the draft, lottery picks, All-Americans," began Self, rattling off the list of former KU, Illinois, Tulsa and Oral Roberts players who showed up to support him at the Hall of Fame ceremony. "National players of the year, guys who went on to play in the NBA and overseas. Teachers. Doctors. Lawyers. Ministers. I'm so happy that each of you are here. And the ones that couldn't make it, trust me, you are not forgotten."
It's that last part, the genuine connection between athlete and coach, that nearly all of Self's former players have felt and cherished. From an elite star-in-the-making like Andrew Wiggins on down the line to walk-ons like Brad Witherspoon and Stephen Vinson, the bond these players created with Self was what inspired so many of them to show up in Springfield this week.
When they arrived, they discovered that no matter how long it had been since they had seen him or played for him, Self treated each one as if they were the most important player he ever had.
"It makes you feel proud," said Blake Moses, a former Oral Roberts center who played for Self in the mid-90s. "I kind of joked with him, 'I was one of the guys that got you here.' But I'm thrilled to be here. I was kind of surprised to even get the call. I didn't have any idea I'd be here, but I'm really proud of him."
The fun Friday night did not stop with the ceremony at Symphony Hall. After the induction, Self and his huge crew of supporters headed down the street to an adidas after party in honor of Self and fellow 2017 inductee Tracy McGrady.
Mingling with friends, family and former players throughout the night, Self rarely was seen with anything but a huge smile on his face as he reminisced about the old days, shared stories and jokes about some of his favorite memories and even posed with various groups of former players for pictures in the adidas photo booth, which likely provided more laughs than frame-worthy portraits.
It wasn't just players who made Self's big night possible and enjoyable. Self often has talked about his good fortune of working with and being around so many talented assistant coaches.
They're the men behind the scenes, who keep KU's recruiting on track, work extra with a player struggling with his shot and provide a safe
"I hope you guys understand the role you played in making tonight possible," Self said of his assistants during his 10-minute induction speech. "Thank you so much for your friendship, your loyalty, your trust, your work habits and for basically putting up with me and offsetting my weaknesses with your strengths."
With that, Self hit on the whole reason he always has enjoyed coaching and is "so proud to be a part of this profession."
It takes contributions from all kinds of people to build and sustain the kind of success Kansas has enjoyed in Self's first 14 seasons leading the program. And while it was Self's name on the marquee and measurements on the jacket, to hear him tell it, it might as well have been everyone there to support him who was going into the Hall of Fame with him.
"We all want our players to learn from us. We all want to be a positive example for them. We always work to never fail them," Self said. "But I can tell you there is no way these players have learned from me as much as what I have taken from them.
"I really believe our job as coaches is not to let our players settle, not to ever let them be less than what they can be, on and off the court. I know the longer you coach, the more you realize just how much you don't know. And I enjoy the daily challenge of trying to put this puzzle together."
• Listen to Bill Self's Hall of Fame induction speech in its entirety.