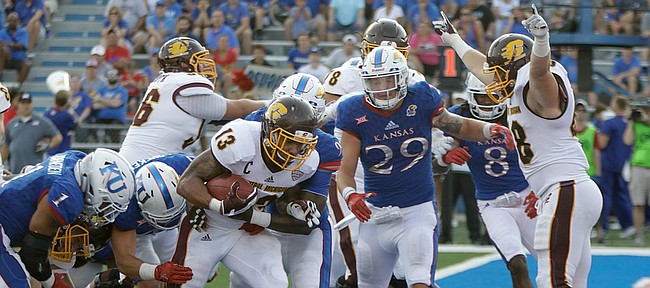 Any momentum the Kansas football team picked up last week in a season-opening victory disappeared during a 45-27 loss to Central Michigan on Saturday at Memorial Stadium.
In his second career start, Central Michigan senior quarterback Shane Morris shredded KU's pass defense with 467 passing yards, five touchdowns and zero interceptions. Morris, a graduate transfer from Michigan, completed 28 of his 37 passes and added 32 rushing yards.
The Jayhawks (1-1) were inconsistent on offense, scoring only six points in the first half. Junior quarterback Peyton Bender was 32-of-62 passing for 323 yards and two interceptions. Senior tight end Ben Johnson (7 catches, 57 yards), freshman Quan Hampton (six catches, 67 yards) and junior Ryan Schadler (6 catches, 60 yards) were his main targets.
True freshman running back Dom Williams highlighted KU's rushing attack with 18 carries for 64 yards and two scores. Schadler added a 33-yard rushing touchdown on a reverse.
CMU receiver Mark Chapman had eight catches for 168 yards and three touchdowns, while Corey Willis had eight receptions for 140 yards and a score.
Defensively, the Jayhawks didn't record a sack. Senior linebacker Joe Dineen led with 12 tackles (9 solo) and 2.5 tackles for loss.
Here's a quick look back at some of the action:
• The game turned when: Central Michigan scored on its final two drives of the first half. The Chippewas turned their four-point lead into a 24-6 advantage at halftime with a few big plays.
First it was a 40-yard touchdown pass from Morris to junior tight end Logan Hessbrook, who caught the ball along the sideline and broke a tackle.
After an interception, the Chippewas marched 90 yards in the final minutes of the second quarter, completing the eight-play drive with a six-yard touchdown pass from Morris to Willis.
During those two scoring drives, Morris completed 7 of his 10 passes for 145 yards.
• Offensive highlight: Looking to make up ground at the start of the second half, Schadler gave KU's offense life with a 33-yard touchdown run on a reverse. He showed off his track background when he took the pitch from Dom Williams and saw plenty of space ahead of him.
Behind a few big blocks from Ben Johnson, Hakeem Adeniji and Chase Harrell, Schadler cut toward the sideline and went untouched on his way to the end zone for his first score of the season.
• Defensive highlight: Following Schadler's touchdown at the beginning of the third quarter, KU's defense forced a three-and-out punt with a tackle on third down from Dineen.
Frankly, after allowing 590 yards, including 467 through the air, there weren't many highlights to choose from.
• Key stat: Points off turnovers. The Chippewas scored 14 points off of a pair of interceptions from Bender, while the Jayhawks turned a Central Michigan lost fumble into a field goal.
The first interception, grabbed by senior defensive back Josh Cox, helped the Chippewas find their rhythm on offense. On the ensuing possession, Morris found Chapman on a 14-yard TD pass, their first offensive score of the night.
• Up next: For the first time this season, the Jayhawks will play a game outside of Lawrence. Kansas will travel to Ohio at 1 p.m. Saturday, looking to snap a 44-game losing streak on the road.
HOW THEY SCORED
FIRST QUARTER
1:29 — Gabriel Rui 23 field goal. Twelve-play drive for 66 yards, in 4:08. (KU 3, CMU 0.)
SECOND QUARTER
13:00 — Michael Armstrong 27 field goal. Nine-play drive for 66 yards, in 3:29. (KU 3, CMU 3.)
10:57 — Mark Chapman 14 pass from Shane Morris. Armstrong kick. Four-play drive for 49 yards, in 1:33. (CMU 10, KU 3.)
4:35 — Rui 33 field goal. Nine-play drive for 21 yards, in 2:10. (CMU 10, KU 6.)
2:59 — Logan Hessbrook 40 pass from Morris. Armstrong kick. Four-play drive for 83 yards, in 1:31. (CMU 17, KU 6.)
0:06 — Corey Wilis 6 pass from Morris. Armstrong kick. Eight-play drive for 90 yards, in 1:05. (CMU 24, KU 6.)
THIRD QUARTER
13:54 — Ryan Schadler 33 run. Rui kick. Four-play drive for 75 yards, in 1:06. (CMU 24, KU 13.)
8:50 — Dom Williams 1 run. Rui kick. Eight-play drive for 66 yards, in 3:17. (CMU 24, KU 20.)
5:48 — Devon Spalding 1 run. Armstrong kick. Seven-play drive for 73 yards, in 2:55 (CMU 31, KU 20.)
FOURTH QUARTER
13:29 — Chapman 7 pass from Morris. Armstrong kick. Eleven-play drive for 91 yards, in 4:58. (CMU 38, KU 20.)
10:02 — Williams 2 run. Rui kick. Thirteen-play drive for 62 yards, in 3:26. (CMU 38, KU 27.)
9:50 — Chapman 75 pass from Morris. One-play drive for 75 yards, in 0:12. (CMU 45, KU 27.)
— See what people were saying about the game during KUsports.com's live coverage.
---
More news and notes from Kansas vs. Central Michigan
---