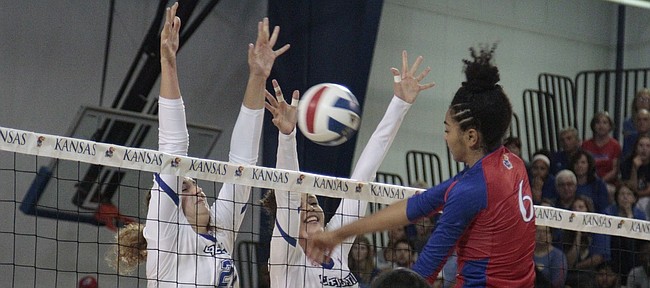 After picking up wins over nationally-ranked opponents in No. 13 Kentucky and No. 17 Purdue earlier in the week, the No. 7 Kansas volleyball team had plenty of confidence that it could exact some revenge No. 9 Creighton to round out the Kansas Invitational on Saturday at the Horejsi Family Athletics Center.
KU hadn't lost since dropping a five-set thriller to the Bluejays in the second round of the NCAA tournament at Horejsi, but Creighton continued to be a thorn in the Jayhawks' side on Saturday by coming away with a sweep, 25-20, 25-16, 29-27.
"We played three ranked teams this week and we set ourselves up to have a great week," Kansas coach Ray Bechard said. "Instead it feels a little bit like a bummer, but we need to remember that we did beat a really good Kentucky team and an undefeated Purdue team. So we can draw on that and maybe begin to figure out why we were so flat tonight."
The first set was tight throughout until the Bluejays closed it out on an 8-3 run after it was tied at 17-all. The Jayhawks did not get their next lead. Other than winning the first point of the second, the Jayhawks did not lead again until garnering a 6-5 advantage in the third.
The Jayhawks (9-1) built leads of 10-5 and 21-17 in the third, but each time, Creighton came back swinging with a vengeance behind the three-headed beast of Jaail Winters, Marysa Wilkinson and Taryn Kloth. Winters led the Bluejays with 14 kills, two of which came in the closing stages of the third set.
"She's going to get her kills, but then we had opportunities where we dug her a couple of times late in a transition attack," Bechard said. "You can't give her multiple swings in one rally, and we did that a number of times late. That's going to come back to bite you."
Jada Burse and Madison Rigdon paced the Jayhawks with 11 kills, and Kelsie Payne joined them in double figures with 10. The Jayhawks struggled to get Payne in a rhythm, but Bechard noted that her teammates needed to do a better job of helping the Preseason Big 12 Player of the Year out, too.
"Payne's fast offense requires a good pass and they served us tough and passed the ball better than we did. If our setter is running 10 to 15 feet off the net, Payne's probably not going to get set," Bechard said. "They can run 10 to 15 feet off the net and still set winners with Kloth and have a little bit of success. Our passing was down a little bit tonight."
While getting swept was a tough pill to swallow for the Jayhawks, Rigdon fully expects her team to learn from it and bounce back for their final non-conference tournament. Kansas will take on San Jose State, Santa Clara and Idaho next weekend before taking on Kansas State for their Big 12 opener on Sept. 24 in Manhattan.
"It sucks to lose at home, for sure, but I think we take away some stuff from it and we come back stronger," Rigdon said.
The Kansas senior outside hitter believed that the Jayhawks' tough schedule will prepare them well for Big 12 play. However, the loss to Creighton is one that Rigdon said will stick with the Jayhawks, and she's hoping to meet the Bluejays again in the NCAA tournament.
"They're just a really good team. They scouted us and they knew what we were bringing," Rigdon said. "We just need to do a better job next time and hopefully we face them again later on."
Hickman enjoys homecoming
While Creighton has a lot of experience in their starting lineup with the likes of Winters, Wilkinson, Kloth and senior setter Lydia Dimke, the Bluejays have a few freshmen that have played a big role so far this season as well.
Creighton freshman and Free State alumna Naomi Hickman was tied for a team-high with three blocks, and has started in every match this year for the Bluejays.
"It was super fun to be back home," Hickman said. "It means everything to have my family and friends to watch and it was really fun."
The Free State product still keeps close tabs on how the Firebirds are doing, especially with her younger sister, Rachel Hickman, still playing for FSHS. With Rachel having verbally committed to Kansas, it was a fun week of friendly banter between the Hickman sisters leading up to Saturday's match.
"We love each other, but did smack talk a little bit," Naomi said with a laugh. "It was fun."