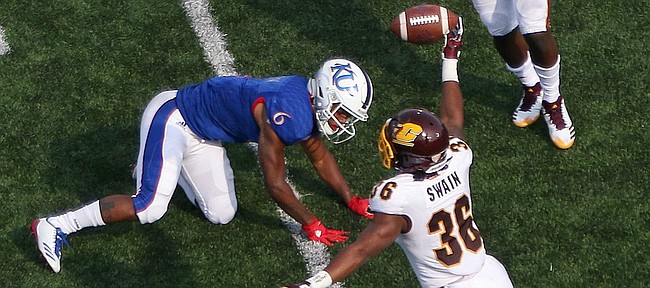 Central Michigan came to Lawrence to give a Kansas football program in the midst of yet another rebuilding project a test it absolutely had to pass in order to be taken seriously. A suspicious public needed convincing that the upset of Texas last November was a turning point and not a one-week blast with the shelf life of a loaf of bread.
The Jayhawks failed the test in colossal fashion, losing every aspect of the game to Central Michigan, 45-27. Just a small fraction of the 28,531 spectators who came in search of evidence of real progress remained to the bitter end to absorb the entire late-afternoon of regression.
The tired line usually not uttered until next month or the month after could be heard spilling out of too many frustrated mouths belonging to ticket holders heading to the parking lot: "At least there's basketball."
At certain times, the gap between the sports at KU seems so wide as to scare an in-his-prime Evel Knievel armed with a rocket ship. This weekend qualified as one of those times. The day after Bill Self was inducted into the Hall of Fame in Springfield, Mass., KU flunked a test that it was favored to pass. Hence, the "at least there's basketball," refrain.
No, there isn't, actually. Not at Memorial Stadium, where five more games will be played this season regardless of whether anyone is there to watch them. Those holding tickets to those games against West Virginia, Texas Tech, Kansas State, Baylor and Oklahoma State didn't leave the stadium having anything concrete to cling to in the way of hope because the beating administered by the Chippewas was so thorough and so much was exposed.
If it had only been a case of Peyton Bender, who looked so accurate in the season-opener one week earlier, having fits of wild-high throws, well at least there could have been hope that he could correct that if the right side of the offensive line could figure out how to give him at least a semblance of protection.
Yet, the truth is KU's defense was significantly worse than the offense.
KU's secondary, exposed for its lack of speed, attention to detail and communication, made senior quarterback Shane Morris, a graduate transfer from Michigan, look like the most talented lefty the sports world has seen since Sandy Koufax retired 51 years ago. Morris completed 28 of 37 passes for 467 yards and five touchdowns without throwing an interception. Just for sport, Morris mixed in 32 rushing yards.
Receivers Mark Chapman (168 receiving yards and three touchdowns) and Corey Willis (140 yards, one TD) were like your favorite greasy spoon: always open, totally reliable. Not just open, very often wide open.
What caused that?
"Everything," junior linebacker Joe Dineen said. "Linebackers weren't getting in their coverages. Lack of pass rush, DB's, just the defense as a whole. They tore us up. They tore us up."
He said it twice for emphasis. Had he said it six times nobody would have accused him of overdoing it.
Sophomore safety Bryce Torneden had a particularly tough game and repeatedly was targeted by Morris.
"I just have to perfect my craft, continue to practice hard, get in the film room, make the game a lot slower and just trust my teammates, trust my technique and all that," Torneden said of how he plans to put a stop to that.
The sophomore out of Free State High will give himself the best possible chance of succeeding because he's mature, serious and driven. That's how he landed a starting job in his second year of college, despite not landing another FBS offer. But it's difficult to become faster and on some of the receptions he gave up, speed was the issue.
"I think most of it's correctable," Torenden said of the breakdowns in coverage. "Obviously, they came out and popped us in the mouth and we have to be better prepared next time going into the game and make sure we're not overlooking our opponent. We definitely started off not how we wanted to and then we were behind, just made it tough on ourselves."
The most stunning stretch came at the end of the first half, when Morris led his team on a pair of touchdown drives during which he turned KU's defense into a fast-food drive-through window. Morris needed just 91 seconds to drive the Chippewas 83 yards for a TD with 2:59 left in the half. Then he stepped on the gas pedal and needed just 65 seconds to drive his team 90 yards.
Just like that, Central Michigan took a 24-6 lead into halftime and the all-too-familiar mad rush for the exit ramps was on. How many of them will return any time soon and just what will it take to bring them back?
— See what people were saying about the game during KUsports.com's live coverage.
---
More news and notes from Kansas vs. Central Michigan
---