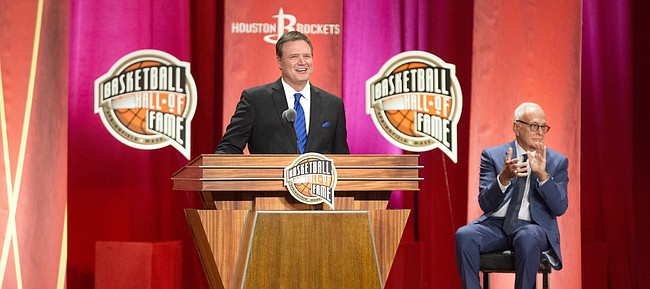 SPRINGFIELD, MASS. — Kansas basketball coach Bill Self never met a crowd he couldn't charm. And Friday night, after overcoming some early nerves and a couple of cracks in his voice, Self left Symphony Hall with that streak intact.
Leading off the induction speeches for the Naismith Memorial Basketball Hall of Fame's 2017 Class, Self spoke for a little less than 10 minutes and thanked all of the people who played a role in making Friday night's celebration possible.
Photo Gallery
Bill Self Basketball Hall of Fame induction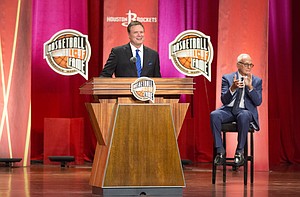 View a gallery of photographs as University of Kansas head basketball coach Bill Self is inducted into the Naismith Memorial Basketball Hall of Fame on Friday, Sept. 8, 2017 in Springfield, Massachusetts.
The speech, which Self said earlier this week he had to trim from its original length of 30 minutes down to 8, was not without its moments of comedic relief. But it also relayed a sincere message of appreciation, humility and raw emotion that Self has not always shown.
"I want to acknowledge everybody in this room that I grew up idolizing, players and coaches that have been role models," Self began. "It's very humbling to be in your presence tonight."
One such person was former Kansas coach and Hall of Famer Larry Brown, who joined Self on stage, presenting him to the room at the beginning and hugging him when the speech was over and the applause rained down.
"I had the chance, at age 22, to work and study under one of the most innovative minds our sport has ever known," Self said of Brown. "And I tried so hard to emulate you, coach, in how I coach. Thank you very much. Thank you for giving me my first opportunity."
The first people Self thanked were family — mother Margaret, father Bill Self Sr., sister Shelly, wife Cindy, daughter Lauren and son Tyler.
In addition to praising Cindy for her sacrifices as a coach's wife, his children for how they handled being the coach's kids at a place like KU and his sister for punching a fan who was talking trash on her brother from the stands when he was younger, Self shed some light on the meaning behind his dad's quote that is now etched in stone at the Naismith Coaching Circle Statue in front of the Hall of Fame.
"Dad, you used to tell me all the time, 'Son, don't worry about the mules, just load the wagon,'" Self said. "Don't worry about things you can't control. Just do your job, and if you do your job well, things will work out."
That sentiment has followed Self throughout his career and shown up in the way his teams have remained poised in tough situations, scrapped and clawed as underdogs, overachieved in the early days and performed with grace throughout most of his time at KU.
Roughly 150 people responsible for those realities were present Friday night, from friends and family to former players and current and former assistant coaches.
"These are my guys," Self said after asking the players and coaches to stand to be recognized. "... I've had the right administration, the right fan base, the right support staff and I'm so appreciative of you all."
Ribbed Friday's induction host Ahmad Rashad: "Very impressive, that group back there. Good thing I didn't try to introduce all you guys. We would've been here for two days."
Self probably could have taken that long to properly thank those who played a role in him getting to the hall. And he did his best to include as many as possible on stage.
The fact that half a dozen players from Illinois, 8-10 players from his Oral Roberts and Tulsa days and nearly every assistant who ever worked for him made the trek to Massachusetts for his big night served as proof that Self's efforts and talk all week about relationships being what mattered most were not hollow words.
Whether they knew him in the beginning, like ORU forward Blake Moses or Oklahoma State star Bryant "Big Country" Reeves, or during his short-but-sweet three-year run at Illinois or wildly successful days at Kansas, they all have a deep appreciation for Self, the coach and the man, and what he did for them personally and, on a bigger level, what he did for basketball along the way.
"All of them helped him get here at some point or another," Reeves said. "... He was a great coach to them and they want to give back to him as time goes. He's had a great career. And it's not over."
In many ways, it's still just beginning. Sure, Self has 623 career victories to his name and, at age 54, is the third youngest coach to go into the Basketball Hall of Fame — only Duke's Mike Krzyzewski and Uconn's Geno Auriemma were younger — and the fifth KU coach to earn the honor, joining Naismith, Phog Allen, Brown and Roy Williams on the list.
"Kansas: a place the game's inventor, Dr. James Naismith, was the first coach," Self marveled. "Followed by Dr. Phog Allen, the father of basketball coaching. A university where Adolph Rupp, Ralph Miller, John McLendon, Dean Smith, Clyde Lovellette, Jo Jo White, Lynette Woodard and the incomparable Wilt Chamberlain all attended.
"I am incredibly proud to be the fifth head coach in KU history to join the Naismith Memorial Basketball Hall of Fame."
No matter who you talk to or what they represent, there are plenty of people out there who believe Self belongs firmly in that list and that the Oklahoma native still has a lot of winning to do before it's all said and done.
"Everyone who has known coached or worked for (Self) has known how good he was," former Self staffer and foe Doc Sadler said Friday night. "But obviously, with his induction tonight, it lets you know that everybody feels the same way."
Never one to get too emotional when talking about himself or his career, Self let his guard down for just a bit on Friday night, when sharing the story of how he learned about his election to the Hall of Fame.
"I was literally driving to work, getting ready to pull into the parking garage at Allen Fieldhouse. I knew I'd lose reception if I went into the garage so I kept going straight and I turned right at the stop sign onto Naismith Drive," Self recalled. "Getting that call, driving down Naismith Drive, the street on which I office, seemed so surreal to me. ...I will never take this honor for granted and I will be more humbled now than ever occupying an office on Naismith Drive."