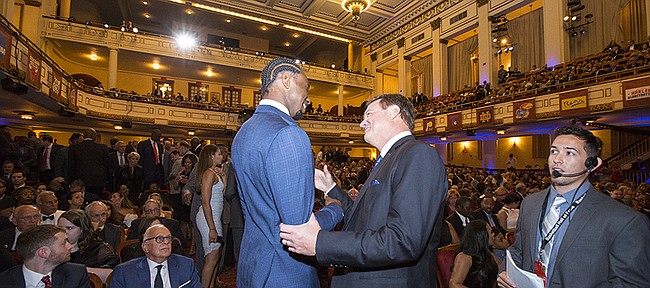 SPRINGFIELD, MASS. — If he were at all nervous when he stepped onto the stage at Symphony Hall to lead off the induction speeches for this year's class joining the Naismith Memorial Basketball Hall of Fame, Kansas coach Bill Self was quickly comforted when he looked into the crowd and saw dozens of familiar faces.
"I was actually very nervous. And nervousness and cottonmouth do not go very well together when you first get up there," Self joked after the ceremony. "But it was fine. I'm probably glad I went first to get it out of the way.
"It wasn't a game now. Seeing those faces maybe before tipoff would help you calm down a little bit. But it was great. I saw a few of them (Thursday) night, a quarter of them (Friday) afternoon and everybody tonight. That was the best thing, seeing everybody before I actually went up there."
Unlike other places where Self has delivered important speeches in the past, where he knew this guy or that guy from this, that or the other, the faces Self saw on Friday night in Massachusetts belonged to some of his closest friends and family members in the world.
A few dozen former Jayhawks, including a dozen members of the 2008 national championship team that played such a huge role in Self getting there, and players and coaches from his teams at Oral Roberts, Tulsa and Illinois all gathered together for one night to be on the same team — Team Self.
Photo Gallery
Bill Self Basketball Hall of Fame induction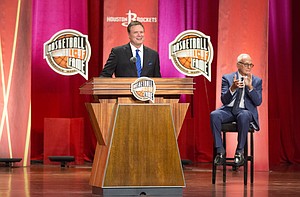 View a gallery of photographs as University of Kansas head basketball coach Bill Self is inducted into the Naismith Memorial Basketball Hall of Fame on Friday, Sept. 8, 2017 in Springfield, Massachusetts.
"I missed a lot of other events just to make this happen," former KU forward Christian Moody said. "And it's very cool to see all the other guys from all the places he's coached. The stories and the imitations of all of our coaches is the same from place to place. It's very fun to laugh and joke about, and it is incredibly special."
Only a figure as large as Self and an honor as important as the Hall of Fame could bring together such an impressive cast of people.
NBA stars Andrew Wiggins, Mario Chalmers, Brandon Rush and Darrell Arthur made the trip. KU greats Frank Mason III, Sherron Collins and Wayne Simien also were in attendance. Dozens of others who played important roles, large and small, in Self's journey to the Hall of Fame also showed up for what proved to be one heck of a reunion party.
Self urged the group of Jayhawks — which also included Brady Morningstar, Tyrel Reed, Travis Releford, Nick Bahe, Russell Robinson, Christian Moody, Cheick Diallo, Christian Garrett, Kevin Young, Niko Roberts, Jeff Hawkins, Evan Manning, Jeremy Case, Michael Lee, Stephen Vinson and others — to stand during his speech. They received a loud ovation from the Symphony Hall crowd.
"It's just really gratifying to have had the opportunity to play for such a high-quality coach and person," said former KU forward Moulaye Niang. "If it was just about coaching, I would've graduated and that would've been it. But he had such an impact on my life, and into today, and I'm just happy to be a part of this."
Asked if he knew during his playing days that he would one day be at the Hall of Fame celebrating his coach, former KU guard Mike Lee sighed and exhaled.
"I had no idea," Lee said. "And if I did know, I would've probably paid attention a lot more. I'm just honored to have experienced that and to be here for this. It's just incredibly special."
Details of the speech
Hall of Fame officials asked the 2017 inductees to keep their speeches to eight minutes or less — some went longer, some came in shorter — and Self came as close as he could, allowing for ovations and applause, to hitting the mark.
He finished, from his first word, "Wow," to his final phrase of "Thank you very much," in 9:58.
"That's a lot longer than I thought it would be," Self admitted after the ceremony. "But they told me it would be at least a minute longer than I thought."
Self said he spent much more prep time on the speech than he thought he would.
"I spent several hours on it. I probably spent a couple of hours reading it off and writing it and getting my thoughts together, but reading it and refining it and shortening it from 30 minutes down to eight minutes took a little bit of work. I read it multiple times. I timed it. On the plane (Wednesday) I probably read it a minimum of 10 times, trying to memorize each paragraph."
Roy speaks
He was not in attendance on Friday night, but former Kansas coach and current North Carolina leader Roy Williams made his presence felt on the introduction video that played before Self took the stage.
Mixed in with a variety of highlights from Self's career and comments from former players, Williams honored Self with the following thoughts: "Some of those places were not basketball powers but they got better after he got there ... Kansas has been good for a long time. He took them to another level."
Perkins present
Former Kansas athletic director Lew Perkins, who worked with Self throughout his time at KU, attended Friday's festivities, supporting both Self and former UConn star Rebecca Lobo.
Perkins, who wore a Jayhawk pin on his jacket and a UConn ring on his right hand, shook his head and perked up when asked about Self on his way into Symphony Hall.
"I've been very fortunate in my life to work with several Hall of Famers, but Bill Self is just really the very, very best at everything he does," Perkins said. "He really is."
Bench to be fixed
Outside the Hall of Fame, near the Naismith Coaching Circle where the quote from Self's father is etched into the base of the statue — "Don't worry about the mules, just load the wagon" — sits another bench dedicated solely to Self.
Carved into the top of the bench, where people presumably would sit, is Self's name and signature, the class he went in with, the honorees selected to be included at the top of the stone and a section at the bottom that lists all of the schools that are most important to them.
For Self, who starred at Edmond (Okla.) High before going on to play at Oklahoma State, both of those schools are on there, along with the four schools at which he has been a head coach — Oral Roberts, Tulsa, Illinois and Kansas.
One problem. Where it lists Kansas, it reads "Kansas University" instead of the University of Kansas.
With KU fans taking to social media to voice their displeasure, one KU official reached out to the Hall of Fame to inform them of the error. The KU official told the Journal-World that the Hall of Fame regretted the mistake and promised to correct it as soon as possible.
Class of 2017
The other members of this year's Hall of Fame class were: Zack Clayton, presented by Earl Monroe; Nick Galis, presented by Bob McAdoo; Robert Hughes, presented by Sheryl Swoopes; Mannie Jackson, presented by Jerry Colangelo, Lynette Woodard and Russ Granik; Tom Jernstedt, presented by Ann Meyers and Geno Auriemma; Jerry Krause, presented by Jerry Reinsdorf; Rebecca Lobo, presented by Auriemma; George McGinnis, presented by Artis Gilmore, Reggie Miller, Bob Leonard and Spencer Haywood; Muffet McGraw, presented by Meyers and Tracy McGrady, presented by Isaiah Thomas.
Self opened his speech with a tip of the cap to his peers.
"Congratulations to the entire class of 2017," he said. "You all have had remarkable careers and it's truly an honor for me to be recognized with you."