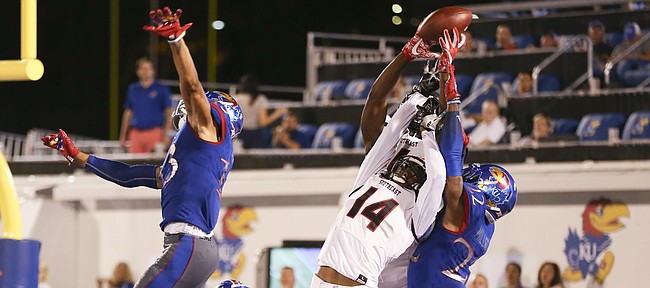 — Central Michigan (1-0) at Kansas (1-0) • 3 p.m. kickoff, Saturday, Memorial Stadium • Game-time forecast: 84 degrees, mostly sunny, 0% chance of rain • TV: FOX Sports Net • Radio: KLWN, FM 101.7 / AM 1320
— Log on to KUsports.com for our live game blog and follow our coverage team on Twitter: @KUSports, @BentonASmith, @TomKeeganLJW, @NightengaleJr and @ChasenScott
Keys for Kansas
1. Respect thy foe
While preparing for Central Michigan, it could have been easy for Kansas players to look at the Chippewas' triple-overtime win against Rhode Island a week ago, recall the Jayhawks' dismantling that same FCS program a year earlier, 55-6, and consider a 2-0 start to the season a foregone conclusion.
But KU's coaches weren't about to let that line of thinking take root. David Beaty instead emphasized the fight CMU showed as the pressure of not suffering an upset loss mounted. His assistants delivered similar messages. Offensive coordinator Doug Meacham referenced the Chippewas' 2016 victory at Oklahoma State as proof the Jayhawks have to be locked in.
"I know they probably didn't play as well in that first one," Meacham said of CMU's 30-27 win over URI, "but every week's different. You can have that type of game and next week play (any team) tight. What happened last week really doesn't matter to me. Really, there's just so many examples of from week to week how it's a different game, a different team, different matchups. You can't take away from what they did last week and say, 'Oh, we're going to mow these guys over.' No."
Podcast episode
On this episode of the KU Sports Hour, KU football beat writer Benton Smith is joined by Bobby Nightengale and Scott Chasen to recap KU football's opener, a 38-16 win over Southeast Missouri State. Topics include key takeaways from the game (1:05-15:45), player(s) of the week (15:45-26:15), play of of ...
2. Defense, prepare for greater challenges
With a step up from FCS opponent SEMO to CMU, out of the MAC, comes a more talented offense for the Kansas defense to try and shut down.
Defensive coordinator Clint Bowen said the Chippewas have talent in the backfield, as well as out on the perimeter.
"They're a four-wide, spread it, throw it," Bowen said of the attack quarterbacked by senior Shane Morris this past week (though redshirt freshman QB Tony Poljan could factor in more this week). "They'll try to bang the run game in there a little bit. I like both their tailbacks, have ability, they can both hit it," Bowen added of Jonathan Ward (147 yards and a touchdown vs. URI) and Devon Spalding (70 yards and a TD).
Senior receivers Corey Willis and Mark Chapman present challenges, as well. Willis topped 1,000 yards in 2016 and Bowen described Chapman as a legitimate deep threat over the top.
Beaty used three words to describe the skills of Willis, Spalding and sophomore receiver Brandon Childress: "freaks me out."
3. This is the game of the century ... of the week
Nationally, Kansas vs. Central Michigan doesn't register as a buzz-worthy game. Inside Anderson Family Football Complex, though, a KU victory and the program's first 2-0 start to open a season since 2011, feels monumental.
"I cannot overstate it. This is the most important game that we will ever play here in our mind," Beaty said, "and it simply is because it's the next one. I don't care about the rest of the schedule right now. I care about this one. That's it. And that's all our kids care about. We can focus on that and only that."
For a program that won two games during the course of Beaty's first two rebuilding seasons, back-to-back victories would qualify as another sign of slow-but-steady progress.
Mega Matchup
KU passing game vs. CMU secondary
In his first game at Kansas, junior quarterback Peyton Bender looked comfortable and confident in Meacham's Air Raid offense, putting up 364 yards and four touchdowns, with two interceptions.
This week, when Bender surveys the CMU secondary, he will have to remember he is about to throw into an opportunistic defense.
In Week 1 against URI, Central Michigan tied a program record with six interceptions — two each by senior safety Josh Cox and senior cornerback Amari Coleman, and one apiece courtesy of senior safety Darwyn Kelly and junior linebacker Alex Briones.
Bender, Meacham and KU's targets — led by receivers Steven Sims Jr. and Jeremiah Booker and tight end Ben Johnson — had the past few days to identify and fix the miscommunications that led to incompletions and turnovers against SEMO. How much better the passing game looks in Week 2, Beaty said, also will depend on the play of KU offensive linemen Hakeem Adeniji, Jayson Rhodes, Mesa Ribordy, Chris Hughes and Antione Frazier.
"It's going to be critical. (The Chippewas) were able to apply some pressure to (URI) last week. Obviously, the balls, they go errant when you have people hanging all over you. I mean, it happens," Beaty said. "So it's going to be no different than any other week in that regard. We're going to have to be able to keep (Bender) upright back there and let him go through his reads."
Jayhawk Pulse
The best players on KU's roster thrive on proving their doubters wrong. For months, the veteran play-makers in the Kansas locker room quietly have taken up the idea that attaining bowl eligibility might not be that crazy this season. To keep such hopes vital, a win over Central Michigan is a must.
The Jayhawks are only a couple of weeks away from Big 12 play, and that's when the schedule turns far more demanding and losses will most certainly come. If Kansas truly is a vastly better team now than it was a year ago, it has to demonstrate as much against a CMU team picked to finish fifth in the MAC's West Division. The more convincingly the Jayhawks win, the more the fan base will get fired up about the direction of the program, and the possibilities for this fall and beyond.
Tale of the Tape
KU ….. CMU
√ KU run D vs. CMU run game
√ KU pass D vs. CMU pass game
KU run game vs. CMU run D √
√ KU pass game vs. CMU pass D
√ Special teams
Prediction
Kansas 42, Central Michigan 20