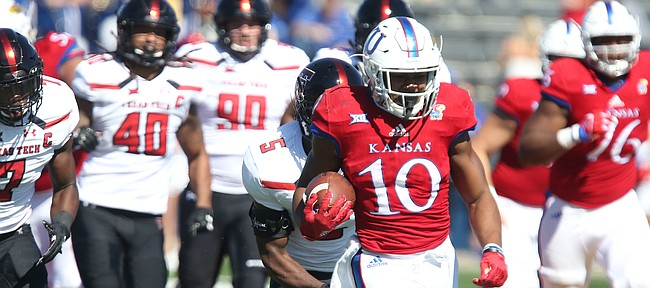 — Kansas State (3-4 overall, 1-3 Big 12) at Kansas (1-6, 0-4) • 2 p.m. kickoff, Saturday, Memorial Stadium • Game-time forecast: 49 degrees, partly sunny, 0% chance of rain • TV: FOX Sports 1 • Radio: KLWN, FM 101.7 / AM 1320
— Log on to KUsports.com for our live game blog and follow our coverage team on Twitter: @KUSports, @BentonASmith, @TomKeeganLJW, @NightengaleJr and @nickkrug
Keys for Kansas
1. Get out of that offensive funk ASAP
In the previous nine-plus quarters of Big 12 competition the Jayhawks have failed to score a single point. Not a touchdown. Not a field goal. Nothing.
The sooner the offense can end its slump, the quicker every player on the roster can start feeling positive about the team's chances against rival Kansas State, a 24-point favorite.
How early in the Sunflower Showdown Kansas is able to get out of its offensive funk very well could depend on the availability of first-string center Mesa Ribordy, whose status is a game-time decision after Ribordy missed two straight shutout blowouts on the road due to an undisclosed injury.
Without Ribordy, KU's offense hasn't done anything well, leading to back-to-back embarrassing yard totals of 106 at Iowa State and 21 at TCU — the worst by an FBS team in at least 20 years.
Podcast episode
On this episode of the KU Sports Hour, hosted by KU football beat writer Benton Smith, the KUsports.com staff discusses KU's 43-0 loss to TCU. Topics include: Ten horrible KU football statistics (open), comparing the teams of the post-Mangino era (starting at 19:25) and the KUsports.com football mailbag — cage ...
Whether it's Ribordy, Zach Hannon, Hunter Saulsbury or someone else starting at center for Kansas, head coach David Beaty knows the offensive line's play will determine how effective quarterback Peyton Bender and skill players such as Khalil Herbert and Steven Sims Jr. can be.
"Everything works together. It all works together. We've got some very talented guys out wide, but it all starts up front with being able to let us get the football downfield," Beaty said. "Sometimes you'll never see it if you can't hold up long enough, right? So we obviously have to keep working, keep fighting up there to make sure that we get the best combination and we get those guys prepared in a way to where we find some things that our offense can do and do well and spend a lot of time on the things that we can do well and not as much on things that we feel like maybe are things that are robbing us from just creating our own identity offensively."
2. Match K-State's toughness
Through the years, Bill Snyder's Wildcats never are the flashiest teams you'll see in the Big 12. But year after year, they're almost always effective.
Even though K-State enters this weekend's rivalry game on a three-game losing skid, two of those losses were one-score games — at Texas in double overtime and this past Saturday, in Manhattan, against Oklahoma.
Sophomore running back Alex Barnes averages 6.0 yards per carry, senior linebacker Trent Tanking averages 8.6 tackles per game, senior linebacker Jayd Kirby averages 7.9 tackles a game and senior defensive tackle Will Geary has three sacks 6.5 tackles for loss. Without anything earth-shattering on either side of the ball from an individual talent standpoint, K-State has been in every game this season with the exception of a 26-6 home loss to TCU.
"Their defense is not talked about enough," Beaty said of K-State. "Those dudes are tough, they're strong, they're physical, they run to the ball, they're always in the right spots. They're going to make you beat them."
KU offensive coordinator Doug Meacham said the K-State defense is built to stop the run and good at making that happen.
"They're not exotic. They're just blue collar tough guys that play really hard and they're really well coached," Meacham said of the Wildcats' defense. "They're going to be right in front of you. You've got to block them, you've got to out-run them and you've got to catch it. They're going to right there and you've got to make a play."
A simple approach of each Jayhawk on offense and defense winning as many of his one-on-one battles as possible over the course of four quarters could go a long way in this one.
3. Play with passion
This season obviously hasn't gone to plan for the Jayhawks, losers of six straight. After three lopsided defeats in a row — 65-19 to Texas Tech, 45-0 at ISU and 43-0 at TCU — junior defensive end Dorance Armstrong Jr. admitted this stretch of the season has been as frustrating as anything he has experienced in his three seasons at KU.
"Even going back to my freshman year, going 0-12, that wasn't as bad as not putting any points on the board," Armstrong said. "That's the worst I've actually felt about it. I've never been in that position in my life. But hopefully we get better from it."
Many of the most talented players on the Kansas roster expected to build on 2016's late-season win over Texas and show real progress in 2017.
"We didn't think it was going to be easy. It's kind of a lot of pressure for us anyway, but we should be able to dig into it and go get it," Armstrong said.
Back at Memorial Stadium after consecutive road beatings, KU will have to channel its frustrations into some passionate play to give its rivals a real fight.
Mega Matchup
K-State rushing attack vs. KU defensive front
KU defensive coordinator Clint Bowen has faced enough K-State offenses through the years to know exactly what the Jayhawks are in for. But that doesn't necessarily make his job this week any easier.
Bowen likes to joke the Wildcats have a "mad scientist room" outside their locker room where they just plug in their opponent's defensive formations and the solution to every alignment they'll see is concocted on the spot.
Part of what makes K-State's rushing-focused offense (199.1 yards per game) so effective is the involvement of the quarterback, and Snyder said this week he anticipates senior QB Jesse Ertz, who missed the previous two games due to injury, back in the lineup.
"In the QB run game, the bottom line is if they have three wideouts on the field you probably have to take three to cover them no matter who's at QB," Bowen said, referring to Ertz (5.2 yards per carry, three rushing touchdowns) and Alex Delton (4.6 yards per rush, five TDs). "So that leaves you eight guys to defend eight gaps and it can go both ways, and all over the place. They find their leverage and eventually they get you. There's a reason they spring a run on everyone they play every game they play. It's not an accident."
Bowen said K-State O-line coach Charlie Dickey does as good a job as anyone of executing a rushing plan. And while K-State's scheme might not look like an old triple-option style offense, Bowen said the Wildcats read and react to a defense much in the way Georgia Tech or Air Force might.
"They're really an option-based principle team that takes advantage of how you line up," Bowen said. "If you line up this way, then they know you've got a few too many over there. … They're tough to defend."
KU ranks seventh in the Big 12 in rushing defense (185.7 yards a game) and will need the conference's leading tackler, junior linebacker Joe DIneen (12.6 total stops per game), flying to the ball as usual, as KU's defensive linemen and linebackers try to take away their rivals' greatest strength.
Jayhawk Pulse
As poorly as things have gone lately for this KU team, it's possible a rivalry game was just what the Jayhawks needed to move on from their recent disappointments.
"Things have been frustrating to this point," Bowen said. "It's a nice change of pace to be able to say no matter what the records are for anybody, this here's the fun one. This here's the game that you definitely get to circle. And I know you're not supposed to say that. You're supposed to say every game means the same. But I don't buy that. This game means something different to me. I know that. I get more excited about this one than probably any other, except when we used to play Missouri. It's a rivalry game. That's why they're called that and that's why they're fun."
KU's players haven't had much to enjoy on a football field in weeks. If they can embrace Bowen's words, perhaps they can use this game to escape this season's letdowns.
Tale of the Tape
KU ….. K-State
KU run D vs. K-State run game √
KU pass D vs. K-State pass game √
KU run game vs. K-State run D √
KU pass game vs. K-State pass D √
Special teams √
Prediction
K-State 38, Kansas 17