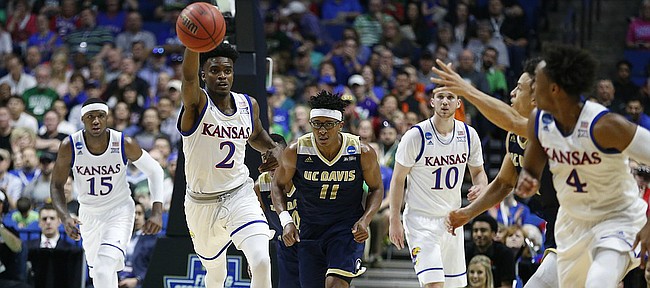 Kansas Jayhawks vs. Missouri Tigers (exhibition)
Time: 3 p.m., Sunday, Oct. 22 | Location: Sprint Center, Kansas City, Mo.
TV: $40 pay-per-view streaming at www.ShowdownForRelief.com | Radio: IMG Jayhawk Radio Network
Log on to KUsports.com for our live game blog coverage and follow the KUsports.com staff on Twitter: @KUSports @mctait @TomKeeganLJW @bentonasmith @nightengalejr & @chasenscott
Keys for Kansas
1. Use your experience
Compared to most teams around the country, the 2017-18 Jayhawks are a veteran group. Compared to Cuonzo Martin's first Missouri squad, the Jayhawks are a bunch of grown men.
Using that experience of not only years in college — Devonte' Graham, Svi Mykhailiuk, Clay Young and Lagerald Vick all have been with the for at least three seasons — but also of games played and time playing in Bill Self's system should give KU a major advantage in this one, which figures to fall somewhere between a pick-up game and a heated conference contest.
Missouri's influx of young talent — Michael and Jontay Porter, Jeremiah Tilmon and others — has given the Tigers reason to think the 2017-18 season will be far better than the tough times the program has seen during recent years. But many of these guys will be playing together for the first time this season and all of them will be experiencing their first season playing for Martin. In time, they could put it all together and become a Top 25 team, but developing that type of chemistry and connection definitely takes a while and the fact that several Kansas players already have it and the Tigers are working to find it should play to KU's advantage in the first meeting of any kind between these two programs since 2012.
2. All kinds of Azubuike
Although he played just 11 games as a true freshman and has his season cut short because of a wrist injury, KU big man Udoka Azubuike still provides the Jayhawks with an advantage that the Tigers simply don't have.
Although Mizzou features a roster with three players standing 6-foot-10, none of them carry the kind of weight and physical presence that Azubuike brings to the floor, which could make for a long day for the MU front court.
The fact that this game will be conducted with players getting seven fouls instead of the standard five — a rule tweak for the exhibition designed to keep the brightest stars on the floor for the benefit of the fans who paid big bucks to see the game — should benefit both sides. Missouri's trio of bigs will have six more fouls to use on Azubuike when he operates down low. And Azubuike, who has been known to get in early foul trouble, will be able to play with a freer mind and a more aggressive style because of the fact that even picking up four fouls in the first half won't put him in any kind of immediate danger of having to sit on the bench.
That should all him to be a force in protecting the paint on defense and an even bigger presence going to the rim on offense, where the KU guards will look to attack the paint and throw it up to their 7-footer for easy slams.

3. Just play
A year ago, Cuonzo Martin was coaching the Cal Bears and a handful of Missouri's most talented players were in high school.
That makes it awfully difficult for the Kansas coaching staff to come up with much of a game plan or scouting report for the Tigers that the Jayhawks can utilize in the Showdown for Relief.
"How do you scout, if you're us, if they have a new coach and a majority of new players," Self asked. "We're not gonna go back and watch California tape to see what they're gonna run. How do you know that's what they're gonna do? So it's not gonna be one of those situations where it (has) a real-game feel to it because, obviously, part of playing somebody is studying them, coming up with a game plan and that won't be the case in this situation."
With that in mind, perhaps the biggest key for Kansas will be for the Jayhawks to play hard, look to take advantage of the things they know they're best at — transition, 3-point shooting, pounding the ball in to Azubuike, etc. — and to worry less about what the Tigers might do and instead to react to it.
"How do you scout someone you haven't seen play," Self said. "We're not gonna go back to high school tape or AAU tape and look at tendencies."
Mega Matchup
KU freshman Billy Preston vs. Missouri freshman Michael Porter Jr.
Both players stand 6 feet, 10 inches tall, both players move well, with or without the ball, and both players are McDonald's All-Americans playing their first season of college basketball.
While Preston carries a little more bulk and Porter a little more athleticism, the Kansas freshman figures to be one of the Jayhawks' best options at slowing down Porter, whom Self called "terrific," before adding, "The things that people say about him being a potential Top 3 pick or the No. 1 pick, totally accurate. I'll be shocked if he's not. I think he's every bit as good as advertised and you don't say this about most guys."
Self continued: "We'll tell our guys he's got range, he can shoot, he can post, he can drive it, he's a good player, you better play him before he catches it."
While Preston is familiar with Porter from the AAU circuit, slowing him down in all of those areas could be tough for a freshman playing his first real game against college competition. So look for the 6-5, 175-pound Lagerald Vick and possibly even Svi Mykhailiuk (6-8, 205) to take their on Porter on the defensive end.
Offensively, look for the Jayhawks to try to get the ball to Preston in deep, where he can use his bulk against Porter or to try to catch Porter against Azubuike in a handful of switches.
Jayhawk Pulse
Earlier this week, Self called the Showdown for Relief the most anticipated exhibition game in the history of exhibition games. And there's no doubt that it will feel like that in Sprint Center before, during and even after this match-up.
Beyond that, though, the match-up with their old Border War rivals represents yet another terrific opportunity for Self's Jayhawks to test themselves before the season even begins.
Following a 4-0 exhibition trip to Italy in August and this month's Border War revival in Sprint Center, the Jayhawks will have played five actual games with a clock, officials, stats and everything else that goes into a regular season game. And that's to say nothing of the extra practice time the Jayhawks gained from their busy offseason.
Such a headstart would help any team, but it figures to be a huge lift for this Kansas team, which will be blending a couple of new faces with some talented and experienced returners.
Probable Starters
Kansas
G – Devonte' Graham, 6-2, 185, Sr.
G – Malik Newman, 6-3, 190, Soph.
G – Svi Mykhailiuk, 6-8, 205, Jr.
G – Lagerald Vick, 6-5, 175, Soph.
F – Udoka Azubuike, 7-0, 280, Soph.
Missouri
G – Terrence Phillips, 5-11, 185, Jr.
G – Kassius Robertson, 6-3, 180, Sr.
F – Michael Porter Jr., 6-10, 215, Fr.
F – Kevin Puryear, 6-7, 238, Jr.
C – Jeremiah Tilmon, 6-10, 252, Fr.
---
• BORDER WAR QUIZ: Test your knowledge of Border Wars past and enter to win a $25 Visa gift card.
• KU-MIZZOU TRIVIA: How much do you know about the history of KU's biggest rivalry? Take this quiz to find out and enter to win a $25 Visa gift card.