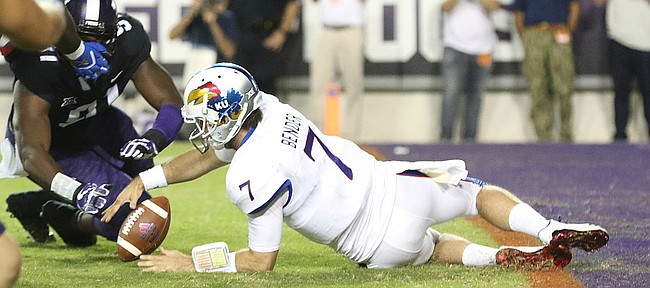 For the first time since 1986, the Kansas football team failed to score any points in back-to-back weeks.
If there was any doubt whether the Jayhawks could repeat their disastrous offensive performance from last week, Kansas produced a negative net total of yardage through the first three quarters in an eventual 43-0 loss to fourth-ranked TCU at Amon G. Carter Stadium, which included a running clock in the fourth quarter because of pending severe weather.
It was the 44th consecutive road loss for the Jayhawks (1-6, 0-4 Big 12), which ties the longest such streak in college football history.
The Horned Frogs (7-0, 4-0) rolled to a 24-0 lead at halftime and never looked back with a defensive performance that included 11 tackles for loss. TCU quarterback Kenny Hill completed 19 of 26 passes for 278 yards and five touchdowns. 

Kansas finished with 21 total yards, including -25 rushing yards, four first downs and a 2-of-15 mark on third downs. Quarterback Peyton Bender was 7 of 16 passing for 38 yards. Tight end Ben Johnson had four catches for 35 yards. Carter Stanley completed one pass for eight yards late in the fourth quarter. 

Running back Khalil Herbert returned from a hamstring injury to run for eight yards on six attempts. Deron Thompson had a team-high 10 yards on five carries.
Photo Gallery
Kansas football v. TCU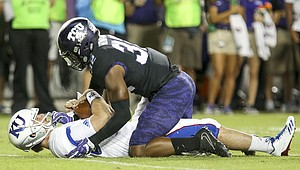 View a gallery of images from Saturday's game between the Jayhawks and Horned Frogs in Fort Worth.
Document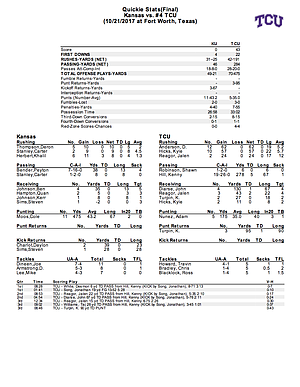 Here's a quick look back at some of the action:
• The game turned when: With the way TCU's defense clamped down on KU's offense, the Horned Frogs were never threatened after they scored a touchdown on their first offensive series.
Hill threw a six-yard touchdown pass to Desmon White, completing an 8-play, 71-yard drive midway through the first quarter. KU's offense never crossed midfield.
• Offensive highlight: Kansas senior Cole Moos had a 67-yard punt in the second quarter, pinning the Horned Frogs at their own 6-yard line.

• Defensive highlight: The Jayhawks held the Horned Frogs to a field goal with a stand in the red zone during the end of the first quarter. With first-and-goal from the 2-yard line, Bryce Torneden, Daniel Wise and Dorance Armstrong recorded tackles on two straight run play. Torneden provided pass pressure on third down, forcing Hill to throw an incomplete pass.
But it was only a mini-highlight because the Horned Frogs scored touchdowns on six of their first nine drives.
• Key stat: Total yards. TCU had 475 yards, KU had 21. That says it all.
• Up next: Kansas will welcome Kansas State to Memorial Stadium at 2 p.m. Saturday.
HOW THEY SCORED
FIRST QUARTER
8:28 — Desmon White 6 pass from Kenny Hill. Jonathan Song kick. Eight-play drive for 71 yards, in 3:13. (TCU 7, KU 0.)
1:41 — Song 19 field goal. Thirteen-play drive for 52 yards, in 5:28. (TCU 10, KU 0.)
SECOND QUARTER
8:53 — Jalen Reagor 22 pass from Hill. Song kick. Five-play drive for 35 yards, in 2:10. (TCU 17, KU 0.)
4:54 — John Diarse 67 pass from Hill. Song kick. Five-play drive for 76 yards, in 2:11. (TCU 24, KU 0.)
THIRD QUARTER
12:34 — Reagor 15 pass from Hill. Song kick failed. Six-paly drive for 75 yards, in 2:26. (TCU 30, KU 0.)
9:02 — Taj Williams 26 pass from Hill. Song kick. Three-play drive for 45 yards, in 1:01. (TCU 37, KU 0.)
6:46 — KaVontae Turpin 90 punt return. Cole Bunce kick failed. (TCU 43, KU 0.)
— See what people were saying about the game during KUsports.com's live coverage.
---
More news and notes from Kansas vs. TCU