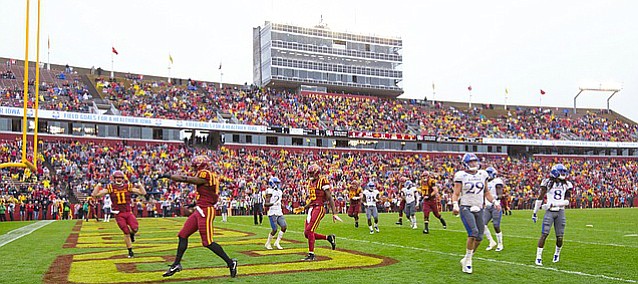 Ames, Iowa — A dreary, rainy day in the Big 12's northern-most outpost took a turn for the worse when a football game started and a Keystone Cops routine broke out at Jack Trice Stadium, home of Iowa State's tough, disciplined, steadily improving football team.
Playing the role of the overly grateful guest who can't stop showering the host with gifts, Kansas defeated Kansas, 45-0. That was not a typo.
Sure, Iowa State (4-2 overall, 2-1 in the Big 12) gets credit for a victory in the Big 12 standings. And don't get me wrong, the Cyclones earned it by doing what they had to do. They showed up.
But make no mistake, Kansas was the main factor in the outcome. A snap over the punter's head. A dropped snap by the punter that resulted in a shanked kick that went for negative yardage. A 68-yard punt return for a touchdown on a play in which Iowa State went all-out for the block. A fumbled punt.
Photo Gallery
Kansas football v. Iowa State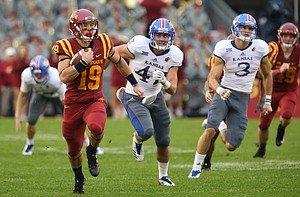 View a gallery of images from Saturday's game between the Jayhawks and Cyclones at Jack Trice Stadium in Ames, Iowa.
It's not often that a football team can say that it had more turnovers than offensive plays, but one KU play from scrimmage into this one, Kansas had pulled off that football rarity.
If you didn't catch the game, here's what you missed: A three-hour shower scene from the movie "Psycho."
Even the "Fire Clint Bowen!" brigade would have to admit that on this day the defense was far superior to an offense that totaled five first downs and special teams that were so bad that with a few more outings along those lines they'll run the risk of having their coach, a proven veteran with a strong track record of success, being pinned with the moniker "Sloppy" Joe DeForest.
It was an ugly way for a football team to reach the halfway point of a season and for David Beaty to hit the halfway point of a five-year rebuilding project.
Signs of progress didn't make the trip to Ames, where KU's road losing streak swelled to 43 games. For the eighth time in his 21 Big 12 games (38 percent), Beaty's team lost by 42 or more points.
From the outside looking in, or should I say looking up at the scoreboard, it appears the Jayhawks are getting worse, not better. The combined score of the past two weeks, including last week's home trouncing at the hands of Texas Tech, is Opponents 110, Kansas 19.
You might say the Jayhawks hit rock bottom and resume digging this coming Saturday in Fort Worth against undefeated TCU.
The scoreboard says it's getting worse for KU. What does the head coach, that indefatigable embodiment of optimism, say?
"At the end of the day, that's the thing that matters," Beaty said of the scoreboard. "And we can try to justify anything we want, but I have to do a better job of making sure those things don't happen on my watch."
Beaty entered the season sounding confident that this year's squad would be markedly better than last year's 2-10 cellar dweller. At the halfway mark, where does his level of optimism stand?
"I see enough, when I watch the tape, I see enough for me to be encouraged to where we can play football in this league, and we can do it and be able to win games," Beaty said. "I know we can."
Six games remain for Beaty to be proven right. Half of the remaining opponents were ranked in the top 14 in the nation heading into Saturday and all three teams won. KU has not yet faced a top 25 school and has lost all five games vs. FBS competition by double digits in what was supposed to be the easier half of the schedule.
This loss was particularly unsightly and lacking in passion.
Good coaches come to Kansas and lose their mojo, which suggests that the problem, in part, lies in recruiting the wrong players. This will not be an easy fix either in the short or long term.
— See what people were saying about the game during KUsports.com's live coverage.
---
More news and notes from Kansas vs. Iowa State