Ames, Iowa — On a cringeworthy day for the Kansas football offense, the Jayhawks had to make do without two key first-stringers.
Not that any KU player or coach used the absence of sophomore running back Khalil Herbert or sophomore center Mesa Ribordy as an excuse — nor that their presence would've turned a 45-0 shutout loss into a win — but it's safe to say the Jayhawks missed their presence and abilities.
A massive fullback wearing a No. 1 jersey a week ago, junior Jacob Bragg donned his typical No. 55 and handled snapping duties for KU quarterback Peyton Bender.
Junior running back Taylor Martin carried the ball a season-high 17 times, netting 53 yards, which included KU's longest play from scrimmage, a 14-yard rush.
"We've got capable guys," head coach David Beaty said of plugging in replacements for Ribordy and Herbert. "It's not an excuse. It certainly didn't rest all on those guys. I thought Taylor Martin ran really hard, took care of the ball well, but just didn't have a lot of help up front today. Just got to get better in that area, for sure."
After his worst day as a KU quarterback, Bender (8-for-19, 18 yards, one interception) was asked whether playing without Ribordy changed anything for the offense (106 total yards on 59 plays).
"You do get in a rhythm with your center, but at the end of the day they're going to make all the same calls," Bender said of Ribordy and Bragg. "They're going to call out the same fronts. We've just got to do a better job of executing."
Redshirt freshman linebacker Dru Prox also missed the game due to an unspecified injury.
Photo Gallery
Kansas football v. Iowa State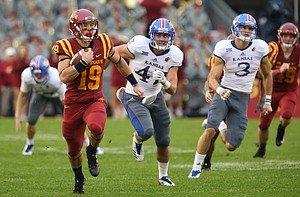 View a gallery of images from Saturday's game between the Jayhawks and Cyclones at Jack Trice Stadium in Ames, Iowa.
Special teams woes
KU's punting unit struggled on a few occasions at Iowa State, including on a first-quarter touchdown return for the Cyclones' Ryen Trever.
ISU looked to block what became a 46-yard Cole Moos punt but still came away with a 68-yard score.
Senior punter Moos said the attempt to block it didn't impact KU's coverage.
"We've just got to do better. We know what type of return they're trying to run and just had a couple missed assignments here and there," Moos said. "Overall as a unit we've just got to improve."
Moos also had a Logan Klusman snap fly past him and dropped another solid snap, leading to a hurried punt that came up two yards shy of the line of scrimmage.
According to Moos, KU special teams coordinator Joe DeForest, was "disappointed in us in a way, because he expects more, as do we."
Dineen all over field again
The Big 12's leading tackler, junior Joe Dineen was at it again in defeat, tying his career high with 16 total tackles.
Dineen made 10 solo stops and two behind the line of scrimmage.
Beaty marveled at Dineen's reads on ISU run plays.
"I watched that guy, he should've been credited for about 40 of them (tackles), because he was turning that thing back inside play after play after play," the coach said. "He played his heart out. He really did"
With the help of Dineen, junior linebacker Osaze Ogbebor (eight total tackles) and the defensive front, KU limited ISU to 106 rushing yards on 43 attempts.
"I think guys were flying around," Dineen said. "The energy was up."
Kickoff delayed
Severe weather in the Ames area delayed Saturday's kickoff by 37 minutes.
Junior captain and defensive tackle Daniel Wise said the wait didn't impact the Jayhawks (1-5 overall, 0-3 Big 12).
"We were just eager to get back on the field and get to work," Wise said after both teams were kept in the locker room longer than expected due to a lightning strike.
ISU's success
Iowa State (4-2, 2-1) recorded its fourth shutout of a conference opponent in the Big 12 era. The others came against Baylor (2001), KU (2013) and Texas (2015). … ISU has won five consecutive home games against Kansas, matching its best home streak against a league opponent (Kansas 1936-44, Kansas State 1943-51, Kansas State 1972-80). … The 106 yards allowed vs. KU were ISU's fewest against a league foe since Oct. 26, 1963 (59 yards by Missouri). … Iowa State went 6-for-6 in the red zone versus Kansas.
— See what people were saying about the game during KUsports.com's live coverage.
---
More news and notes from Kansas vs. Iowa State