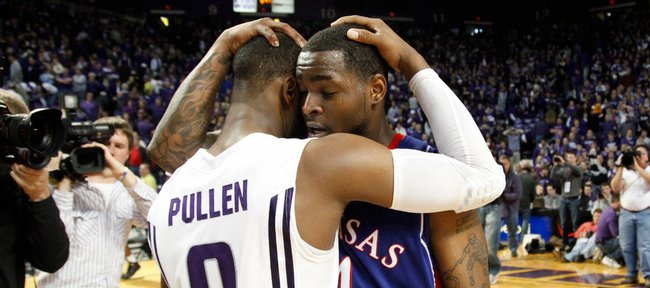 Jacob Pullen was happy to be back in Kansas. Let me write that again.
Jacob Pullen was happy to be back "in" Kansas.
"Here? This particular place?" Pullen joked with the media, standing just off the corner of Naismith Court in Allen Fieldhouse. "It's a nightmare."
The former K-State star would've been happy just about anywhere within the 82,277 square miles of the state, certainly more so than the 16,500 square-foot venue playing host to the Philadelphia 76ers on Saturday.
Pullen, a Chicago native, chose the Sixers for the opportunity to have a role on an NBA team. Factors he did not consider were potential practice venues and the wardrobe.
"We talk a little s--- every day," Pullen said of him and current teammate Joel Embiid. "We're wearing blue and red all the damn time. Excuse my language, but we talk a lot."
Embiid, of course, was a one-and-done with Kansas in the 2012-13 season.
He never crossed paths with Pullen but certainly did so with a ravenous K-State fan base in a single visit to Bramlage Coliseum — even if it didn't quite sway his opinion about the rivalry.
"Obviously we're 1,000 times better than them," Embiid joked. "So anytime I get the chance to take a jab at them I always do."
Jokes aside, Pullen was a good sport about the fieldhouse.
Even though it wasn't his arena of choice, he spoke about how it represented a homecoming into the passion of Kansas — the state — basketball fans, something he previously didn't quite get coming from Chicago.
"It's the real deal here," Pullen said. "And there are a lot of people who really take pride and enjoy these games."
Not all — or even any — of those memories went how he would've liked.
Pullen's teams went 0-4 in Allen Fieldhouse. None of the games were particularly close, though he maintained he thought K-State "blew it" in a 17-point loss his junior year.
One thing that was consistent, though, was the way the games went.
"It'd be loud," Pullen said. "I told my teammates about how we used to come here and start down 18-4 because we couldn't hear anything."
Maybe it was that reason then that he wanted to enter the building on his own terms, at least with regard to apparel.
Before the practice, Pullen sent out a tweet asking for a purple hoodie to wear. Then he upped the stakes, offering a pair of tickets to any K-State fan that brought him one — "Nike preferably," he tweeted.
In the end, he struck a compromise.
"I actually had a lot of people who said they'd bring me purple," he said. "But you know, I didn't want to get in trouble as far as wearing purple under all of this blue and stuff. I just told them to keep me on gray today. I ain't want to have to wear blue in this gym."