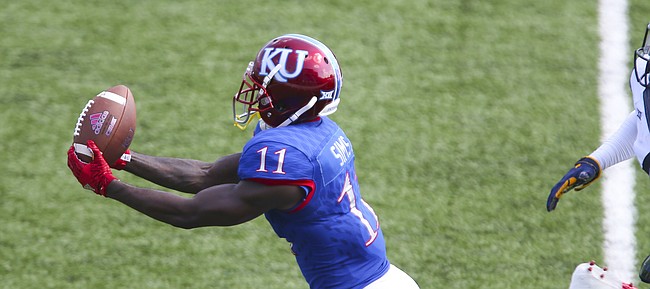 — Iowa State (3-2 overall, 1-1 Big 12) vs. Kansas (1-4, 0-2) • 11 a.m. kickoff, Saturday, Jack Trice Stadium • Game-time forecast: 59 degrees, 18% chance of rain • TV: FOX Sports Net • Radio: KLWN, FM 101.7 / AM 1320
— Log on to KUsports.com for our live game blog and follow our coverage team on Twitter: @KUSports, @BentonASmith, @TomKeeganLJW, @NightengaleJr and @nickkrug
Keys for Kansas
1. Rediscover your offense
The Jayhawks' offense fell off a cliff this past week against Texas Tech, resulting in a 46-point blowout.
Starting quarterback Peyton Bender struggled enough in the first half alone to inspire head coach David Beaty and offensive coordinator Doug Meacham to go with backup Carter Stanley the rest of the way,
"We just thought we'd see what happened," Meacham said.
The Stanley experiment didn't work, either, opening the door for Beaty to not openly name either QB as a starter for their game against the Cyclones.
KU has to flush away the memory of its worst defeat of the season, and pretend like its offensive ineptness never surfaced. If Bender starts, he has to play as if he never was benched. If it's Stanley, he needs to forget his second-half interception and lost fumble. Both need to remember how reliable Steven Sims Jr. and Ben Johnson can be in the passing game.
Whether running back Khalil Herbert receives clearance to play after suffering a hamstring injury or KU has to rely on Taylor Martin, Deron Thompson and Dom Williams (if Williams is back healthy), the Jayhawks need to rediscover their running attack, too, after producing just 112 yards on the ground against Tech.
The offense is averaging 4.6 yards per carry, sixth in the Big 12. KU's 6.7 yards per pass attempt rank last in the conference.
2. Get back to your defensive identity
If Kansas has a strength on defense, it's at the line of scrimmage.
Asked to pinpoint the unit's identity or strength, coordinator Clint Bowen didn't hesitate to reference two captains on the D-line
"At this point in time it's probably got to be Dorance (Armstrong) and Daniel (Wise), knowing their the two most stable guys you can count on to get their job done, plus maybe a little bit more. Those guys are probably playing at the highest level."
With both Armstrong and Wise registering a sack against Texas Tech — D-end Josh Ehambe added a third — the defensive line might be closer to meeting its lofty preseason expectations after weeks of failing to apply enough QB pressure.
It is clear at this point any success the defense experiences this season will stem from the hurries, tackles for loss and sacks produced by Armstrong and Wise. Each member of the duo is mature and confident enough to shoulder the burden of massive responsibilities. So it shouldn't be difficult for them to embrace taking on and conquering as much as possible on every snap.
3. Look out for Lanning
Players on KU's offense, defense and even special teams aren't likely to escape Ames without encountering junior ISU dynamo Joel Lanning, who played a starring role in the Cyclones' marquee upset at Oklahoma this past week.
Lanning played 57 snaps at linebacker, 13 at quarterback and eight on special teams.
While his 35 rushing yards and 25 passing yards in the "Lan Ram" package made the former full-time and current part-time QB the talk of the college football world, Lanning did even more damage at OU playing linebacker, with eight tackles, a sack and a fumble recovery.
Lanning will spend the majority of the game barreling toward Jayhwaks, who better be prepared to either stop him or avoid him — depending on the situation.
Mega Matchup
ISU QBs vs. KU secondary
The majority of the time ISU has the ball, it won't be Lanning lining up in the backfield taking the snaps. That job currently belongs to Kyle Kempt, a walk-on who only had two career pass attempts prior to Iowa State's upset in Norman, Okla., where Kempt lit up the Sooners for 343 yards and three touchdowns on 18-for-24 passing.
Kempt became an instant hero filling in for regular starting QB Jacob Park, whom Iowa State coach Matt Campbell said earlier this week was inactive at the time.
In his preparation for the Cyclones, Beaty left video study impressed with Kempt's improbable performance.
"Man, you're talking about a guy that just, he didn't put the ball in jeopardy and that's what you ask for a quarterback. Don't put it in jeopardy and just move the team," Beaty said. "He did. He made the right reads, he got the ball out to the little fire screens and split screens quite a bit that paid big dividends for them and I thought they blocked really well on the perimeter. That helped them."
Opposing quarterbacks have averaged 305.6 yards per game and 9.1 yards an attempt — both worst in the Big 12 — versus Kansas, so showing some glimmer of progress in the secondary remains a weekly goal.
The Jayhawks need corners Shakial Taylor and Kyle Mayberry, safeties Mike Lee and Tyrone Miller Jr and nickelback Bryce Torneden locked in and mistake-free as often as possible to keep Kempt and receivers Allen Lazard (27 receptions, 310 yards, four touchdowns) and Hakeem Butler (20 catches, 350 yards, three scores) from blowing out the Jayhawks.
Jayhawk Pulse
Not one player or coach in the program was remotely satisfied with the homecoming result against Texas Tech. The execution required to compete in the Big 12 escaped the Jayhawks a week ago, but their ever-positive head coach expects them to respond as they attempt to put an end to the program's 42-game road losing streak.
"We have a team full of warriors in here and we got a staff full of warriors and guys that … share the same mentality as I do. We are fighters," Beaty said. "We are going to get things fixed and we're not going to let things be as heavy as they seem. We're going to make them as heavy as they should be. It was one game. We've got to learn from that game. We're not going to put the whole season on us right now, we're going to put that game on us and try to learn from that one, just like we did the last one, and we're going to move forward from there."
Tale of the Tape
KU ….. ISU
KU run D vs. ISU run game √
KU pass D vs. ISU pass game √

KU run game vs. ISU run D √
√ KU pass game vs. ISU pass D
Special teams √
Prediction
Iowa State 48, Kansas 24