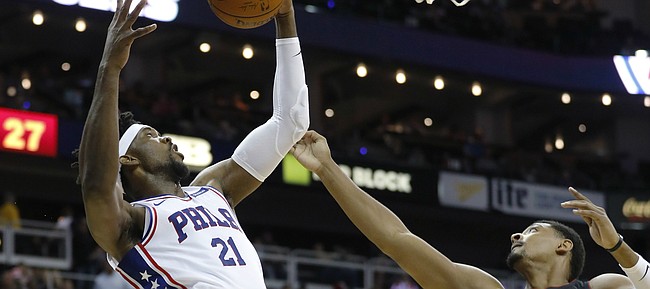 Kansas City, Mo. — The headband helped him stick out, but it was far from necessary.
From the moment Joel Embiid took his first steps onto the court at Sprint Center, a large portion of the 11,249 in attendance had their eyes fixed on his No. 21 jersey. He had by far the loudest reception when he was introduced. Shouts of "Trust the Process" sprinkled throughout the venue as did the "oohs and ahs" whenever he held the ball or went up for a shot, even if what he was doing was, by his standards, unspectacular. "I thought I was bad today," he would later say after the 76ers' 119-95 win over the Heat.
But on this night and in this building — and perhaps many more in the future — Joel Embiid was not just an NBA superstar. He was the NBA superstar.
"He came here, he tried to be cool, but you can see it in his face," said teammate Dario Saric. "I think I know him pretty well. I see he's a little bit happy, he's a little bit nervous, but in a positive way.
"He's starting to be the man here in this city, and that means a lot for him."
Such a thing wasn't lost throughout the game.
While Embiid was far from spectacular in his 14 minutes of action, shades of that fun-loving, "the man"-type persona showed through. Embiid's first stamp on the game came on a swat of Miami center Hassan Whiteside. Embiid looked back and playfully chirped at him.
Later, after he coaxed Whiteside into committing his first, second and third fouls, Embiid continued to chirp, gesturing at one point for the Heat to take Whiteside out of the game because of the foul trouble he himself had caused.
"He said I was gonna foul out. I said 'You about to foul out, too,' " Whiteside joked after the game. "I haven't played against (Embiid) in so long, I didn't even remember (him)."
Even when Embiid was out of the game, lying on his back on the baseline with a towel wrapped around his neck, he picked his head up to trash talk, always with a smile.
"He anoints himself. He's the man of the people. And it's true," said 76ers coach Brett Brown before the game. "It's the thing that makes him unique. He has a personality that has star power."
In limited action, Embiid totaled five points, seven rebounds, one assist and one block. He spent much of the second half seated on the baseline, at one point reclining all the way back and resting his eyes.
"It's going to take time. I haven't played in a long time," Embiid said. "Those fans that love me, like I love them, so I was trying to force it a little bit too much."
But within all the genuine moments of fun, those Embiid-isms that have the made the 7-footer into the icon that he is, there were the reminders of why the tantalizingly talented $148 million man still has a long way to go.
Late in the second quarter, Embiid attempted to draw a foul on Tyler Johnson and hit the ground. He stayed down and grabbed at his leg. The response from the crowd was not one of shock or disbelief, but an audible groan as if to say "here we go again."
Embiid was ultimately fine. He got up and made both free throws and stayed in the game for the remainder of the half, but it was a reminder of what Brown emphasized before the contest — he has only played 31 games.
For that, even in the face of an outing Embiid was disappointed by, there were plenty of positive words to go around. Brown praised Embiid's presence, mentality and "cocky aggression," while teammate J.J. Redick made perhaps the strongest statement of the night.
"I've played with three guys that I believe are going to be in the Hall of Fame. Joel has a chance to be better than all those guys," Redick said. "There's a chance I could say 10 years from now, 15 years from now, 'Joel is the best player I ever played with.' So that's exciting."