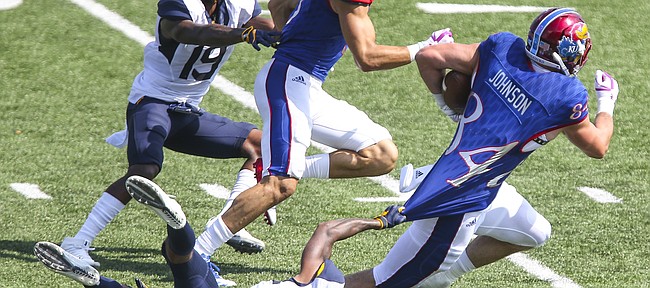 — Kansas (1-3 overall, 0-1 Big 12) vs. Texas Tech (3-1, 0-1) • 11 a.m. kickoff, Saturday, Memorial Stadium • Game-time forecast: 63 degrees, mostly sunny, 6 percent chance of rain • TV: FOX Sports 1 • Radio: KLWN, FM 101.7 / AM 1320
— Log on to KUsports.com for our live game blog and follow our coverage team on Twitter: @KUSports, @BentonASmith, @TomKeeganLJW, @NightengaleJr, @nickkrug and @ChasenScott
Keys for Kansas
1. No easing into this one
Coming off a bye week well rested and thoroughly aware of one of the team's biggest issues — starting slowly — the Jayhawks better not derail their chances again by sputtering in the first and second quarters.
In three straight losses they've fallen into second-quarter holes of 24-6 against Central Michigan, 25-7 at Ohio and 35-10 versus West Virginia.
Bucking that trend against Texas Tech is a must if Kansas wants to deliver head coach David Beaty the second Big 12 victory of his two-plus years in charge, against his old buddy Kliff Kingsbury.
Said junior captain Dorance Armstrong Jr.: "We've got to come out stronger. It's kind of simple."
Both defensive end Armstrong and fellow junior D-line captain Daniel Wise agreed a lack of focus contributed to recent insurmountable deficits. But as far as the defense is concerned, Wise didn't think the inexperienced players on that side of the ball were to blame.
"I wouldn't so much put it on the younger guys. I would say myself, as well as some of the other guys, maybe haven't had the best examples for young guys — as far as communicating to them what we need out of them," Wise said. "That's what this bye week is for. Let them know what we need and how to execute it, and we'll go on from there."
Podcast episode
On this episode of the KU Sports Hour, hosted by KU football beat writer Benton Smith, the KUsports.com staff discusses the state of KU football and what the rest of the season might entail. Topics include: Where do things stand after the bye week? (3:00-22:10), what are the worst-case (22:10-33:00) ...
2. Recognize the strengths of Tech's defense
In the past, Kingsbury's teams had a reputation of struggling defensively. Four games into his fifth season, the Red Raiders haven't mutated into a defensive force, but there are signs of improvement.
Although they are allowing 30.0 points a game and 454.8 yards per outing (both eighth in the Big 12), their five fumble recoveries and five interceptions have helped them survive defensively. Texas Tech's plus-seven turnover margin ranks sixth among 129 FBS programs.
KU offensive coordinator Doug Meacham said Tech defensive coordinator David Gibbs' players look "a lot better" this season, and they're playing with emotion.
"They're getting takeaways, they're flying around," Meacham said of the unit led by junior linebacker Dakota Allen (35 total tackles, two tackles for loss, one sack, two quarterback hurries). "A lot of times when you're flying around that stuff just kind of happens — be it a tipped pass or … you've just got numbers around the football. You've got numbers around the football, you'll get it. You'll get the ball. It looks like they're doing a really good job of that, too."
Only 13 FBS teams have had more passes intercepted than KU's seven — all thrown by starting quarterback Peyton Bender — so ball security will be as critical as ever against Texas Tech.
3. Keep Herbert involved
Different teams implement different defensive philosophies, inspiring their offensive counterparts to react accordingly. Tech's base 4-3 defense looks nothing like West Virginia's 3-3-5. But that doesn't mean KU should go away from the rushing success it experienced with Khalil Herbert prior to the bye week.
A sophomore running back, Herbert looked unstoppable at times versus West Virginia, using holes created by linemen Hakeem Adeniji, Andru Tovi, Mesa Ribordy, Chris Hughes, Zach Hannon and others to pile up 291 yards and two touchdowns on 36 carries.
Meacham likely won't feature Herbert as prominently against Tech, but considering Herbert totaled 428 yards and four touchdowns in his most recent two games, the Jayhawks now have plenty of incentive to keep feeding their star running back.
Mega Matchup
Texas Tech Air Raid vs. KU defense
Entering the weekend, not even Oklahoma State's Mason Rudolph nor Oklahoma's Baker Mayfield are averaging as many passing yards as Texas Tech quarterback Nic Shimonek (394.5 a game).
Although the Jayhawks experienced first-hand in Lubbock, Texas, last season what Shimonek could do — 271 yards and four touchdowns in second-half relief of injured Patrick Mahomes II — the Red Raiders' Air Raid offense doesn't look exactly the same now.
Shimonek has completed 70.8 percent of his 171 passes with 12 touchdowns and just two interceptions, while five Tech skill players — led by banged-up receiver KeKe Coutee, whose availability Kingsbury said will be a game-time decision at KU — have at least 15 receptions.
KU defensive coordinator Clint Bowen said Kingsbury "must go to sleep dreaming about ways to run screens," and credited the coach for constantly reshaping his offensive tendencies.
"He will adapt to what his personnel can do. When he's had the really good guys on the outside, well, guess who got the ball. The really good guys on the outside," Bowen said. "Whoever his dudes are, they're going to get the ball. He's really good at getting his playmakers the ball and that's what they feature. This year he's continued to do different things in the offense. If you look at them this year they have the fullback, No. 29 (junior Mason Reed), in the game a lot more than they ever did. They're actually using an in-line tight end with No. 17 (sophomore Donta Thompson), which has not been a part of their package. They're in two backs a lot more than they've been in the past."
In order for the Jayhawks to slow down the Big 12's top passing offense, Beaty said they will have to be far more effective at pushing Shimonek's pocket.
"I think you've got to put some pressure on the quarterback. I think you've got to do a nice job of mixing coverages and making sure that you don't get caught just giving him a good look at your hand," Beaty said. "If you give those guys a good look at your hand it could be a long day. You've got to do a nice job of disguising and covering guys down and not just giving them quick, easy throws."
Jayhawk Pulse
Kansas players and coaches had an extra week to review what ails them before taking on Texas Tech (42.2 points a game). If the Jayhawks are going to put up a fight on homecoming Saturday, they will have to show some significant progress in the secondary.
KU has surrendered a Big 12-worst 3.0 passing touchdowns a game and allowed opposing quarterbacks to complete 66.7 percent of their passes (also last in league) for 309.5 yards a game (ninth, just 0.3 yards better than Texas Tech).
Nothing might have been as important during the bye week as what the Jayhawks did to improve the secondary play of corners Hasan Defense and Shak Taylor and safeties Mike Lee, Bryce Torneden and Tyrone Miller Jr., and their backups.
"Obviously we went back to the very foundation of basic technique and trust, just trusting one another," Beaty said. "Some of the issues that we face defensively have been guys trying to do too much, a guy trying to do his job and another guy's job. That's something that has plagued us in some of the big plays, so we've got to all do our job and trust the man next to us to do his job. When we do that, we will start seeing the success that we want to see."
Beaty's players and coaches will need to look far more sound in the secondary moving forward to steal a game in the deep Big 12.
Tale of the Tape
KU ….. TT
KU run D vs. TT run game √
KU pass D vs. TT pass game √
√ KU run game vs. TT run D
√ KU pass game vs. TT pass D
Special teams √
Prediction
Texas Tech 52, Kansas 38