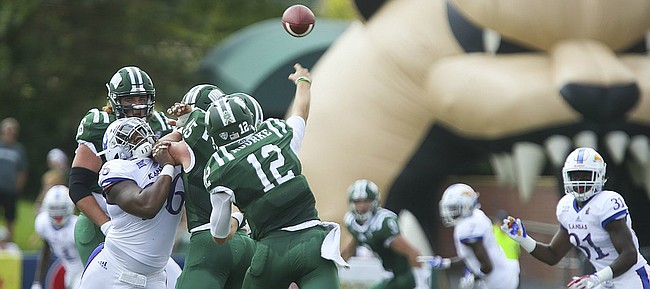 Had someone told coordinator Clint Bowen back in August that a third of the way through the season his Kansas football defense would have just three sacks on its resume, he likely would have left the conversation baffled.
Two of the most talented players on the Jayhawks' roster — juniors Dorance Armstrong Jr. and Daniel Wise — man the defensive line. However, between the two of them, they have made just one sack (Wise via intentional grounding penalty on Southeast Missouri State) and been credited with six quarterback hurries.
When taking down the QB, or at least forcing him into an improvising situation, is so critical to a defense's success in the Big 12, Bowen knows he can't afford to have his star defensive linemen contributing subpar outputs. Ahead of Saturday's homecoming game versus Texas Tech (11 a.m., FOX Sports 1), Bowen said both Armstrong and Wise are more than capable of winning their one-on-one matchups.
"They have the skill sets to do that," Bowen said of 6-foot-4, 246-pound end Armstrong and 6-foot-3, 290-pound tackle Wise. "Due to some personnel issues it's forced us to play Daniel at a five-technique a lot more than we needed to or should've. He's not nearly as effective as a pass-rusher playing on the outside. I mean, it doesn't fit his body. He's a defensive tackle."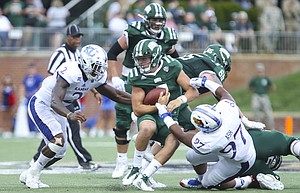 As KU (1-3 overall, 0-1 Big 12) tries to find a combination that works best among its front seven, Wise has lined up at D-end more often. For example, when KU only has three down linemen at the line of scrimmage (at times Armstrong stands up as a bit of a hybrid pass-rusher/linebacker), that leaves Wise farther away from the point of attack.
"Putting him out there has been a necessity but it hasn't helped him in terms of, where he's more disruptive is on the inside playing the three-technique, closer to the QB, playing against those guys," Bowen said.
Four of Armstrong's 22 tackles have come behind the line of scrimmage; Wise, with 18 total stops, has accounted for six more tackles for loss. But the rest of the defense would benefit from the powerful duo more consistently impacting the quarterback's timing and vision.
"And Dorance has had some chances to make some plays," Bowen said. "Missed a couple in the West Virginia game, and has been gathering some attention. But I think he'll continue to work through it and go there. But we need to find ways to get those guys home."
The Big 12's Preseason Defensive Player of the Year, Armstrong has zero sacks through four games after making 10 as a sophomore. The confident lineman from Houston was asked if he could think of anything that got the Jayhawks off track in terms of harassing QBs.
Podcast episode
On this episode of the KU Sports Hour, hosted by KU football beat writer Benton Smith, the KUsports.com staff discusses the state of KU football and what the rest of the season might entail. Topics include: Where do things stand after the bye week? (3:00-22:10), what are the worst-case (22:10-33:00) ...
"You go through camp and you can not touch the quarterback. I guess it's like a different feeling from Game 1 where you can actually hit them. It just feels different. I guess it's just getting back into that rhythm," Armstrong offered as one possibility.
Still, the all-conference end said bye-week video study showed he and other would-be pass-rushers spent too many game reps the first four weeks watching quarterbacks instead of winning the blocking battle directly in front of them.
As a result, KU averages just 0.75 sacks a week — tied for 125th out of 129 FBS teams.
Wise called the lack of pass-rush production "very frustrating," and agreed with Armstrong's assessment. He said refining habits and techniques occupied much of their practice time during their idle week before preparation for Texas Tech (3-1, 1-3) and pass-happy quarterback Nic Shimonek (1,578 passing yards, 12 touchdowns, two interceptions) began.
"I'd say we spent the majority of our time working on finer details and focusing up on things such as eye control and pad level," Wise said, "the things we need to do to hone in and win these games."
Although blocking schemes involving double-teams for Armstrong and Wise have been implemented by KU opponents, Bowen said they do get one-on-one chances, as well.
"They're getting their shots and they're winning some of their battles and losing some," Bowen said. "But, no, we've got to do a better job at the back end."
Currently in his sixth overall season as KU's defensive coordinator, Bowen said West Virginia QB Will Grier had to pull the ball down a few times because of the pass rush and the Jayhawks missed "four or five" sack chances in their most recent setback. Still, breakdowns in the young KU secondary allowed Grier to make plays instead of suffering numerous sacks — linebacker Joe Dineen pulled him down once behind the line of scrimmage.
"We've got to get the QB to hold the ball a little bit longer to give those guys a chance to get home," Bowen said. "And then they (Armstrong, Wise and D-linemen) need to win a little bit faster. It's a combination. We need to be better on both ends."
Wise said more efficient technique from each defensive lineman should give the unit the results they seek.
"We're there. We're a step or two away every time we look at the film," Wise said.
Is it possible Armstrong and Wise are overeager in their pursuit of those sacks and hits because they want to produce so badly?
"Everyone on our team has the pressure on them to get the job done," Bowen said. "The way Dorance and Daniel choose to handle their pressure is on them. Bottom line is: get your job done and let's go. They know what's at stake. They're grown men. They know how to handle their business."