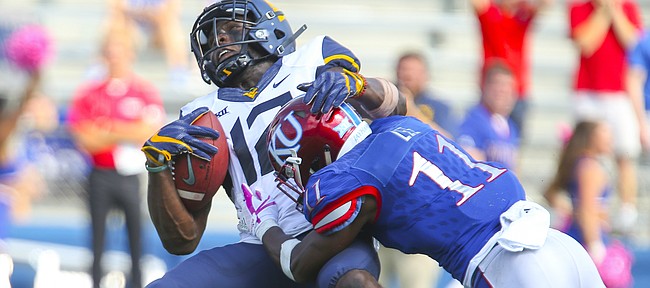 The Kansas football team's second-leading tackler, sophomore safety Mike Lee, might not get another chance to add to his current season total of 65 stops.
An undisclosed injury Lee suffered in the Jayhawks' Nov. 4 loss to Baylor has kept the hard-hitting defensive back from New Orleans out of the lineup since. Head coach David Beaty didn't know at his weekly press conference whether Lee would be able to return to the field for Saturday's season finale at No. 18 Oklahoma State (11 a.m. kickoff, FOX Sports 1).
Beaty said the staff hoped to get Lee moving around more at practice as early as Tuesday and proceed accordingly.
"He's still in protocol there," Beaty said of Lee, who suffered a serious hit to his head against Baylor, while attempting to break up a pass. "I'm hopeful, but we'll see. He had a pretty severe one there, so it took — it's going to be one of those deals where it's in the hands of our doctors and our medical staff."
Podcast episode
On this episode of the KU Sports Hour, hosted by KU football beat writer Benton Smith, the KUsports.com staff discusses KU's 41-3 loss to Oklahoma. Topics include: recapping OU-KU (open-8:10), the on-field antics (8:10-23:20), injuries and other leftovers (23:20-30:30), and the KUsports.com football mailbag — discipline, birthday presents and Mark ...
A vibrant personality best known for his crunching hits on opponents, Lee, a starter in KU's first nine games of the year, has 53 solo tackles and 12 assisted, putting him second on the team, but far behind KU's leading tackler, Joe Dineen (126 total). Lee also has two tackles for loss, two interceptions and a pass breakup.
Beaty said Lee hasn't been the biggest fan of missing action the past two weeks.
"I don't know that he enjoys anything in life more than hitting people," Beaty said, "so the fact that he's not getting to do that, he's not a real happy guy right now. But the first and foremost thing is his health. It's his health."
Sophomore safety Shaquille Richmond has started in Lee's place each of the past two weeks for Kansas (1-10 overall, 0-8 Big 12). Richmond made two total tackles at Texas and six versus OU, a game in which he also recorded a tackle for loss and a pass breakup.
More on handshake controversy
Dineen, one of four KU players to lose his status as captain in the wake of the Jayhawks' leaders not shaking OU quarterback Baker Mayfield's hand this past week, said he wasn't frustrated by being thrust into the spotlight due to the fact he was the one Mayfield extended his hand toward.
Similarly, he didn't mind speaking to reporters about the infamous pre-game snub immediately following the 41-3 loss, even though fellow captains Dorance Armstrong Jr. and Daniel Wise neglected to do so.
"I just think there were questions that needed to be answered. I didn't want to wait until today to answer questions," Dineen said during Tuesday interviews. "I wanted to put out there the thought process behind the decision we made. ... I didn't want to just sit on it and let a bunch of stuff get released that may or may not be true."
Armstrong said Tuesday he didn't regret dodging his typical post-game media interviews.
"I just knew that after the game I had a lot of emotions left and just talking about the game wasn't the best thing for me," Armstrong said.
What Armstrong did feel remorseful about, though, was what his and Wise's absence meant for Dineen, who fielded all the questions after the OU loss.
"Kind of left Joe out there to dry after the game," Armstrong said. "I should've shown up and been on his side like I was for the beginning of the game when we decided to do that, and I wasn't. I do feel bad for that, but it won't happen again."
Junior receiver Jeremiah Booker, another KU captain who was part of the handshake snub, didn't take as much heat because he wasn't in uniform while present at the coin toss, due to a season-ending injury. But Booker attended KU's media session Tuesday because he felt it was his responsibility to shoulder the blame.
Said Dineen: "Him doing that just kind of shows what kind of guy he is. Jeremiah is one of the hardest working, just genuinely good guys on our team. ... It means a lot to us as captains that he would step up and show his face when if he didn't, he would probably go unnoticed."
Gundy on KU
Oklahoma State coach Mike Gundy, whose Cowboys (8-3, 5-3) enter their Senior Day coming off a 45-40 home loss to Kansas State, provided his thoughts on the struggling Jayhawks at his press conference in Stillwater, Okla., earlier this week.
"You know what's interesting with them is that, I know what their record is, but they've had times either on offense or defense where they've played pretty good," Gundy said. "You watch the Oklahoma game and wonder, 'If (Baker) Mayfield isn't playing, how many points would (the Sooners) have?' Then you watch the Texas game, where offensively they score points (27) – twice as many as we did when we were in Austin (13). That's kind of what I get when I see them."
Asked on the Big 12 coaches teleconference whether entering his third matchup against a Beaty-coached KU team he can see the program is in a better place than when Beaty inherited it, Gundy hesitated to offer his opinion.
"It's impossible for me to answer that. I'm not in their building and obviously (not) in their meetings. I'm not sure," Gundy said. "What I do see is their team plays hard, and to me that's a good sign of they're believing in their coach."
Beaty enters the season finale with a 3-32 mark at Kansas, with just one victory and 31 losses against Big 12 and FBS programs.