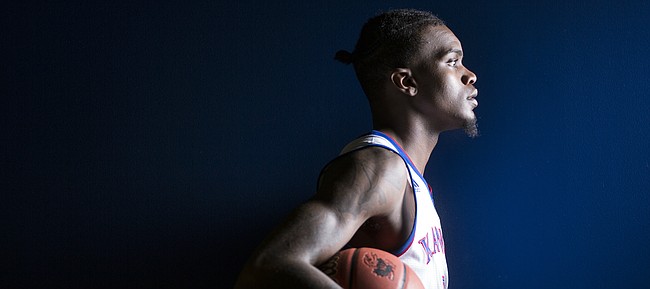 The very first day Kansas guard Lagerald Vick set foot on KU's campus, strength and conditioning director Andrea Hudy passed him in the hall of the Kansas basketball offices and greeted him with a simple, 'Hey, Lagerald, what's up?'"
Crickets.
Vick, then a freshman from Memphis, said nothing in response and, in the moments that followed, did not even realize what had transpired.
Right then, Hudy made it her mission to convince the newest Kansas guard of the importance of communication. And she has continued working with him on that for the past three years.
Fast forward to last month's Showdown for Relief exhibition game against Missouri. Twice that day, Hudy saw Vick shy away from opportunities to talk. She made a note of both instances and later delivered a simple message to KU's fast-rising, third-year player.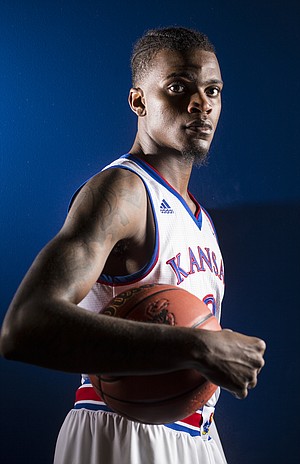 "I don't think 'Gerald really believes people want to hear him talk and want to hear what he has to say," Hudy told the Journal-World. "And I just told him, 'You're giving up your platform. Don't default. Don't give it to someone else, especially if you want to be a professional.'"
While helping KU athletes in any way possible is an ongoing part of her everyday life, Hudy felt a particular pull to assist Vick.
The youngest of five children in her family, Hudy said she grew up in an environment where finding her own voice was tough. Often talked over or simply told not to talk by older siblings, Hudy had to fight for every word she uttered. So, to her, seeing a young man as talented as Vick balking at an opportunity as big as the one given to Kansas basketball players was not something that sat well with her.
"I can relate to him," she said. "And I saw a lot of myself in him. When people actually have an interest in you, you don't always believe it. And I told him, 'You can't treat this like it's Memphis. You have to open up and engage with people here. And I think it'll really help you.' Basically, he's got to be uncomfortable to get comfortable."
'He's reading people'
Vick's mother, LaLa Vick, is the polar opposite of her son. Loud, proud and always on, LaLa says Vick has operated with the same stoic demeanor he displays today from the day he uttered his first words.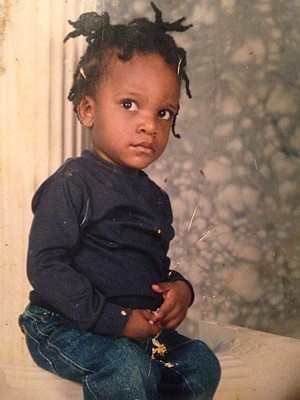 "It's just him," LaLa told the Journal-World. "If he doesn't know you, he's not really going to talk. He'll listen to you, but he really doesn't have much to say. I think it's because he's reading people. It don't take me long to read people, but he takes time to really read you, and that's where his quietness comes from, too."
Vick refers to that reality as him not being "much of a people person." But he insists that in the right setting, he's "actually a funny guy."
"There's a lot of people that judge me because I don't talk and they think I'm mean," Vick said. "But I just don't vibe with everybody, and I don't always feel safe around everyone."
Part of that comes from his upbringing in Memphis, where, then and now, friends and relatives have been lost to crime, drugs and murder.
The other part of that comes from being playfully overshadowed by his mother and louder, more outgoing older and younger siblings.
"He reminds me of my pastor," LaLa said. "My pastor don't talk much, but when he gives the pulpit, he goes ballistic."
Pulling him out of his shell
That pastor, Robert C. Jones Jr., of Keel Avenue Baptist Church in Memphis, has made his own powerful impact on Vick stepping out of his silent shell.
Every time Vick returns home to Memphis, whether for two days or two weeks, Jones calls him up to the front of the church and asks him to address the congregation.
"He knows 'Gerald hates it," LaLa said. "But he's heard him talk in those interviews, so he makes him do it. Gerald hates it, but he'll do it for my pastor."
Asked if he thought Jones put him on the spot to help him or to make him uncomfortable, Vick said it likely was a little of both.
"But definitely to mess with me," he added with a grin.
Although Vick rarely says much, those moments in church, along with two KU classes his freshman year, which featured presentations as a huge part of the semester, helped him become much more comfortable expressing himself.
"Yeah, definitely," Vick said. "Communication can get you a long way, opening up, just talking. Because you never know who you might run into. Since I've been working on it and talking to people and having random conversations with people, it's been pretty good. I'm just learning more about myself and experiencing all sorts of things."
Letting his game do the talking
Comfortable is the best word to describe Vick four games into his junior season. After filling roles that are smaller, but still important, during his first two seasons with the program, Vick has stepped into a starring role with the 2017-18 team.
Through the team's first four games — all victories — the 6-foot-5 wing is second on the team in scoring, at 18.3 points per game, and also is averaging 7.3 rebounds and 4.5 assists per outing.
While those numbers and his bigger role have allowed his on-court game to be as loud as ever — high-flying highlight dunks, big smiles and screams of passion all are common from Vick during games — he remains quiet off the court.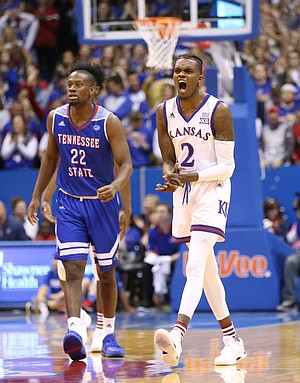 Thanks to Hudy and others, he continues to work on it every day. Now, developing the gift of gab is nearly just as important to Vick as improving his left hand or becoming a better defender.
"Small things," Vick told the Journal-World when asked how he had found his voice. "Communication, being a leader. I feel like I have to do better the older I get. It's never really been an issue on the court. It's just kind of normal out there. I'm more comfortable."
Vick counts KU coach Bill Self in the camp of those pushing him to become a better communicator. And he said he appreciated the way Self inspires him to break out of his shell instead of barking orders or being overbearing.
"Coach Self always says, 'Show personality,'" Vick said. "But this is my personality. This is me. I'm fine with who I am, but I know I can always change for the better."
But it's not just his confidence and communication skills that have changed. So has the actual sound of his voice, according to his mother.
LaLa says the folks back home have a name for Vick's new tone.
"Gerald's got a different accent now," she said, rolling in laughter. "We call it proper. And they call us country. But I think Gerald likes his accent now, because if he had went to Memphis, he'd still be talking like me."
Loud and outspoken like his mother or quiet and calculated like his persona on the court or in interviews, Vick remains focused on the bottom line in everything he does.
If it's an interview, get through it. If it's a big moment in a game, make the play.

"You've just got to do it," Vick said of both occasions. "It's like a mental thing."
Added his mother: "He's always been that way. He's my most serious kid. I remember when my pastor first saw him playing, he was like, 'Boomain, you ain't even got to talk. What you're doing on the court speaks for you.'"