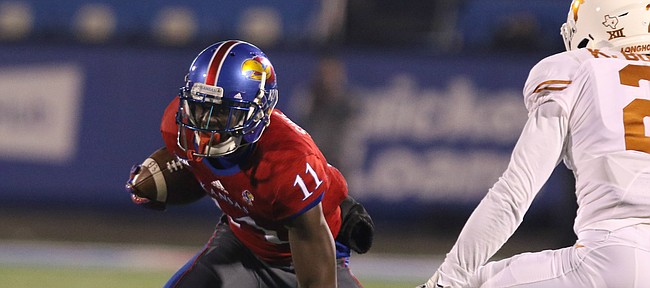 It's rare that Kansas football players enter a game with a positive past experience as a significant point of reference. But that's exactly what the Jayhawks have this week for their trip to Austin, Texas, home of the Longhorns.
UT, of course, fell in overtime at KU in 2016, and currently qualifies as the only Big 12 opponent to lose in the Jayhawks' previous 27 conference matchups.
The most successful veterans on the Kansas roster, such as junior receiver Steven Sims Jr., will rightfully tell you a nearly year-old result won't determine the outcome of Saturday's rematch (5 p.m., at Darrel K. Royal - Texas Memorial Stadium). Still, a notion exists that the familiarity and favorable associations with the Texas matchup could prove beneficial for the Jayhawks (1-8 overall, 0-6 Big 12).
"I'm a believer in psychology and the effects of things," KU defensive coordinator Clint Bowen said. "And it's one of those deals where we did it a year ago. If that puts a little bit more belief in their minds that if you do it once you can do it twice, then I think there may be some merit to that."
Podcast episode
On this episode of the KU Sports Hour, hosted by KU football beat writer Benton Smith, the KUsports.com staff discusses KU's 38-9 loss to Baylor. Topics include: the postgame mood (5:50-16:50), takeaways from the game (16:50-28:30), dwindling fan support (28:30-38:40) and the KUsports.com football mailbag — firings, 200 points and ...
Few Jayhawks made as mammoth an impact in what remains head coach David Beaty's lone Big 12 victory as defensive end Dorance Armstrong Jr. The 6-foot-2 Houston native recorded a career-high 11 total tackles, as well as three tackles for loss, two sacks, a forced fumble and a fumble recovery.
Armstrong, who enters this game against Texas (4-5, 3-3) with just one sack and eight tackles for loss in nine games, thinks last year's feel-good victory could be of use.
"Just because the energy from after that game is something that this team won't ever forget. And obviously playing against that same team again, I think we'll be a little bit more hungry than what we have shown earlier this season," Armstrong projected. "I think a lot of guys are looking forward to playing them again, just knowing that it could be a tougher game, because they have a lot to play for (bowl eligibility). We don't. But still, we have our pride to play for. And I refuse to come out there and just let someone run over us, things like that."
Beaty, whose KU teams are 3-30 as he nears the completion of his third season, described the upcoming meeting with the Longhorns as an opportunity to see whether last year's win "was real."
"I mean, you do it once, how about we do it twice? I think that's the approach, as I hear our guys talking," Beaty said. "The Joe Dineens and Daniel Wises, hey, you want to prove something, you have to go do it more than one time. We've got to go out there and take that opportunity. And we get to go right down there in their backyard and do it."
Sims, who made a game-high seven receptions for 79 yards and scored a two-point conversion in the fourth quarter the last time KU faced UT, recalled what stood out to him about that uncommon win.
"Just the fight we had in that game," Sims said. "I feel like guys got to come out with that same fight and we'll be all right."
Before Matthew Wyman sent the game to overtime with a 36-yard field goal with seven seconds left, KU quarterback Carter Stanley tried to hit Sims in the end zone for a potential game-winning TD. The ball was nearly intercepted and Sims had to break it up.
"I think about that, too. I kind of wanted to make that (touchdown)," Sims recalled. "But I helped the team win, too, so I'm still grateful."
His position coach, KU offensive coordinator Doug Meacham, worked at TCU at the time. But he is of the opinion that value exists somewhere within the memories of the previous season's triumph.
"If you're in a hoop gym and shoot 75 percent from the field, the next time you go in there you're going to feel pretty good about it, you know," Meacham said. "I don't think our guys are scared. I think they're going to fight and get after them."
KU center Mesa Ribordy made it clear KU's upset win didn't make them consider the Longhorns as any type of pushovers.
"They had great athletes last year and had a down year as a team. But a lot of same personnel, and honestly, a lot of similar scheme going into it," he said of the familiarities. "It gives us confidence that we've played with these guys before. We can do it again. Now we just have to go out there and do it."
Riding an eight-game losing skid into Austin, the Jayhawks will take a pick-me-up for their collective psyche anywhere they can find it.
Said Bowen: "I know if things work for me, I feel better about doing them a second time. So I hope that gives them a little bit of a boost and a positive in that category."