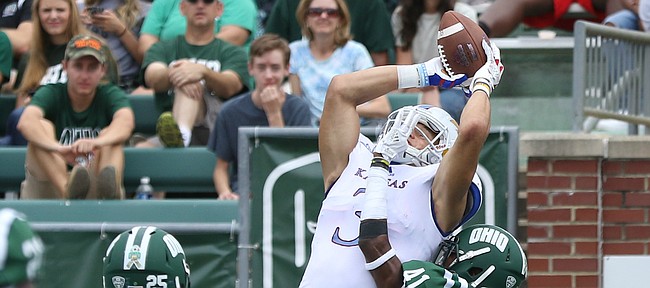 — Kansas (1-8 overall, 0-6 Big 12) at Texas (4-5, 3-3) • 5 p.m. kickoff at Darrell K. Royal - Texas Memorial Stadium, in Austin, Texas • Game-time forecast: 67 degrees, cloudy, 0% chance of rain • TV: Longhorn Network and Jayhawk Television Network • Radio: KLWN, FM 101.7 / AM 1320
— Log on to KUsports.com for our live game blog and follow our coverage team on Twitter: @KUSports, @BentonASmith, @TomKeeganLJW, @NightengaleJr, @nickkrug and @ChasenScott
Keys for Kansas
1. No field goals allowed
No offense to Kansas kicker Gabriel Rui, who is enjoying a successful senior season, with 13 made field goals on 15 attempts, with a long of 43. But the Jayhawks will be much better off if Rui doesn't attempt any field goals.
They only want to see Rui running on and off the field for extra points, a category in which he has made 18 and attempted 18 — both lows for a Big 12 team.
More often than not this year, KU drives conclude with Cole Moos punts or Rui field goal attempts instead of touchdowns. Through nine games, the offense has scored just 11 times rushing the ball and nine times through the air.
Podcast episode
On this episode of the KU Sports Hour, hosted by KU football beat writer Benton Smith, the KUsports.com staff discusses KU's 38-9 loss to Baylor. Topics include: the postgame mood (5:50-16:50), takeaways from the game (16:50-28:30), dwindling fan support (28:30-38:40) and the KUsports.com football mailbag — firings, 200 points and ...
Third-year head coach David Beaty said once the Jayhawks enter "the green zone," they've struggled.
"We do a pretty good job getting over there to the other side of the 35. But once we get there, man, first down is so critical for us. It's so critical for us to be able to be positive there so we're not in a second- and third-and-extra-long situation all the time," Beaty said. "This conference, if you get in third-and-extra-long, you're going to get two things. All-out blitz and they're going to come at you, and you have no time to get the ball off. You have to throw vertical or slant, and that's it. Everybody knows it. Everybody knows it. Or they're going to drop eight, maybe nine back there, and there are not many holes to throw the football with all those guys when you can release five. So you want to stay out of those situations. You do that by focusing on the reality, which is first down. Then second down, being in a really nice third-and-manageable opens up your playbook."
Even Texas, which is eighth in the Big 12 in scoring this season (28.6 points per game) has reached the end zone 14 more times than KU (19.7 points, last in the league), so repeated trips across the goal line are a must.
2. Rediscover that Texas magic
The biggest KU victory of the Beaty era — the only one against a Big 12 or FBS opponent — came in November of 2016, against Texas.
It was then, in his second career start, that quarterback Carter Stanley helped the offense drive 52 yards in 51 seconds with no timeouts to set up a game-tying field goal in the final seconds of regulation.
Though Stanley is listed as questionable due to an undisclosed injury for this rematch of sorts, KU needs such players who experienced success versus the Longhorns close to a year ago using that rare win as a confidence-booster.
Beaty thinks that will be the case.
"Our guys are very good about understanding that clothes are clothes. You can put anyone in some clothing. It's about what's inside those clothes, right? Our big challenge and anyone's big challenge is not to let clothes determine the outcome. Make the man inside those clothes determine the outcome, right? So from that standpoint, I think that experience last year is — there is no other way to say it, it is definitely going to help us," Beaty predicted. "Now (the Longhorns are) going to be motivated and we get it. We understand it. So we're going to have to be at our peak, which we will. We'll be there. We'll be ready to go."
3. Win the 50-50 plays on defense
KU will need to make its own breaks to end a 44-game road losing streak against a Texas team favored by more than 30 points. Securing some takeaways on defense would be a great place to start.
On the year, Kansas has just three interceptions (tied for last in the Big 12, with Baylor) and four recovered fumbles (tied for last with Texas).
When defensive coordinator Clint Bowen reviewed footage of last week's home loss to Baylor, he saw some missed chances in the turnover department.
Freshman linebacker Kyron Johnson was in position to intercept — or at least break up — a pass to the end zone on a touchdown grab by massive tight end Jordan Feuerbacher. But Johnson's timing was off, and the Bears took a 14-3 lead.
The Jayhawks have to make sure such 50-50 plays go their way, and secure some takeaways for a change, to pull off the upset.
Mega Matchup
Texas passing vs. KU secondary
Heading into Saturday evening, more variables exist in the Texas passing attack and Kansas secondary than on any other front. How each team adjusts within that matchup very well could determine whether this is a competitive game or a Longhorns blowout.
UT sophomore quarterback Shane Buechele, who threw for 165 yards and three interceptions in last year's loss to Kansas, is slated to start for the third straight week. But previously injured freshman QB Sam Ehlinger has been cleared to play.
The Kansas secondary, which may or may not include one or two typical starters — sophomore safety Mike Lee and junior cornerback Shakial Taylor, both listed as questionable — will have to be prepared for both Buechele (103-for-158 passing this season, with 1,067 yards, five touchdowns and three interceptions) and Ehlinger (107-for-192, 1,419 yards, six touchdowns and four picks).
"The scheme doesn't change as much as the way the QBs run it a little bit," Bowen said. "The Ehlinger kid (84 rushes, 265 yards, two TDs) is very, very quick to pull it and take off on the scrambles. He scrambles to go get yards, whereas Buechele will scramble to stay alive in the pocket and throw the ball downfield. He's not really as much of a cross-the-line-of-scrimmage scrambler as the other one. But in terms of their personnel and their plays and their schemes, they keep it pretty consistent."
If Kansas has to play without two if its better defensive backs, Texas likely will attack through the air more often than it usually does (265.2 yards a game in Big 12 play) and KU regulars such as sophomore corner Hasan Defense, safety junior Tyrone Miller Jr. and sophomore nickelback Bryce Torneden will have to step up their level of play. As will the two potential fill-in starters, sophomore corner Kyle Mayberry and sophomore safety Shaq Richmond.
Jayhawk Pulse
As usual, the Jayhawks are coming off a loss — their eighth straight — and the opportunities for a second win in 2017 are dwindling, if not implausible.
A quick start is necessary for KU, specifically offensively. Too many Saturdays have gone the wrong way for this team to recover from another massive hole. And when the offense actually finds success, it gives everyone involved a renewed sense of hope.
KU offensive coordinator Doug Meacham put it this way: "You just would like to put together a couple of plays and you score. Somebody takes the ball and just scores. Anytime we do anything remotely good you can see just a complete demeanor change with the whole sidelines. We just need a little bit more spark there."
Only three weeks remain for Kansas to prove it can play competitive football, and a reinvigorated offense might even provide the program's most tolerant supporters with some encouragement.
Tale of the Tape
KU ….. UT
KU run D vs. UT run game √
KU pass D vs. UT pass game √
KU run game vs. UT run D √
KU pass game vs. UT pass D √
Special teams √
Prediction
Texas 38, Kansas 13