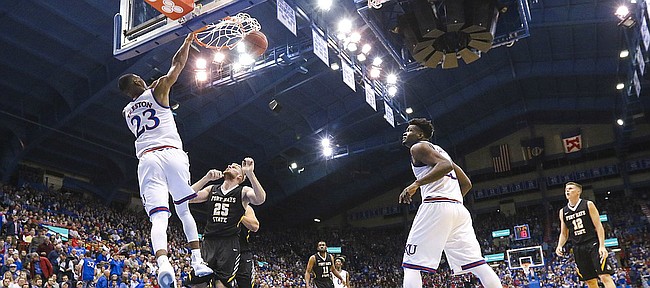 For the second time in a seven-day span, Kansas rode out the final few minutes of an exhibition victory — 86-57 over Fort Hays State on Tuesday night at Allen Fieldhouse — with regular rotation players on the floor.
Don't be surprised if you see that, or something awfully similar, again the rest of the season.
Kansas coach Bill Self this week said he was not actively seeking additional walk-ons to join Clay Young and Chris Teahan on the 2017-18 roster. But Self added that he would be open to bringing another player on board if everything fell into place.
"The only way we would take somebody else is if he was big and could defend better than what Teahan or Clay could," Self said, referring mostly to a potential player's practice role. "You'd rather have some big bodies in practice. There's no question about that. But I'm not going to take a guy just to take a guy. But if there's somebody that falls in our lap, whether it be from the walk-on tryouts that we just had or if somebody were to get hurt, we've got guys that we could call. But I'm not interested in doing that. … We don't need another guard. He'd have to be another big guy."
For a team that features precious little depth in the front court and is working with just eight scholarship players in all during the first semester of the 2017-18 season, it was a little strange to see such prominent players on the floor so late in a lopsided game.
Normally, moments such as those, both during exhibition play and the regular season, are the time for walk-ons and seldom-used scholarship players to shine. And, throughout the years, most KU squads have had no shortage of walk-ons and seldom-used scholarship players.
That's not the case with this team, so Self will continue to pick through his rotation for players to help close out games.
Photo Gallery
Kansas basketball v. Fort Hays State (exhibition)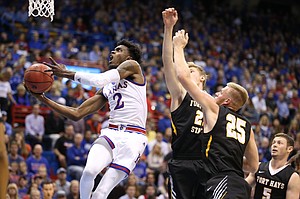 View a gallery of images from Tuesday night's exhibition game against Fort Hays State at Allen Fieldhouse.
Garrett at the 4
KU freshman Marcus Garrett, who tallied seven rebounds and three steals in 23 minutes of Tuesday's victory, again flashed his versatility, playing multiple positions from 1 through 4 during KU's exhibition finale.
Recruited to KU as a combo guard, it turns out the four-star guard from Dallas who signed with KU as the No. 41-ranked player in the Class of 2017, is more of a combo player.
Garrett told reporters Monday that he had spent a significant portion of time thus far playing the 4-spot for the Jayhawks and Self said after Tuesday's victory that he loved the way Garrett's versatility could bring good energy to the team in a variety of areas.
But just because Garrett will spend some time playing the 4 the way Josh Jackson did a year ago, Self emphasized that the Dallas native is still a guard.
"If we play four guards, we're not going to play any different offensively than what we would," Self said. "They're used to playing that way. And then we're telling them, 'Hey, butt front on the post (on defense).' It's not that difficult."
That fact has helped Garrett fit comfortably into any role the Jayhawks have asked him to play and his flexibility is something Self has praised throughout the preseason.
While most of what Kansas has done through three exhibition games thus far has been pretty vanilla, Self said he was not worried about Garrett's ability to evolve and expand his game in the coming weeks.
"We haven't shown this to anybody yet, and we won't, but your traps and rotations, that's where it could be a little bit more complicated for him," Self said of Garrett. "But Marcus is really bright. I think he could pick up stuff pretty quick."
Regardless of where he plays, from back-up point guard to primary 4-man and anywhere in between, Garrett said his main concern was to maximize his opportunities and do whatever he could to help his team win.
"I play the 4 a lot," he said with a smile. "I'm liking it. Just any way I can get on the court."
Alley-oopin'
KU senior Devonté Graham was far and away the Jayhawks' most impressive offensive player on Tuesday night, but he got some help in one area.
Udoka Azubuike (15 points on 6 of 8 shooting) and Billy Preston (11 points, 5 of 6) combined to turn five Graham passes into surefire assists by flushing the ball through the rim on the back end of alley-oops.
Graham finished with eight assists and one turnover to lead the KU offense.
Better bigs wanted
Self lamented the fact that Svi Mykhailiuk (8 rebounds) and Garrett (7) each out-did the combined effort of big men Mitch Lightfoot and Preston, who grabbed three rebounds apiece.
"Six-foot-ten and 6-foot-9 combine for six rebounds against a team whose tallest player was 6-6 or 6-7. That doesn't show me much," Self said. "The scrappiest, most aggressive guys get the most rebounds."
Podcast episode
Kansas basketball coach Bill Self talks about his team's 86-57 exhibition win over Fort Hays State in its final preseason contest. Self discussed KU's defensive effort, Devonte' Graham's 27-point performance and preparing for Friday's season opener.
This and that...
KU's victory Tuesday night moved the Jayhawks to 86-9 all-time in exhibition games and extended KU's home exhibition winning streak to 48 in a row, dating back to the 1994 season... KU now has won 27 consecutive exhibition games and improved to 11-0 all-time against Fort Hays State, including an 8-0 mark in exhibition play... Head coach Bill Self is now 54-2 at KU in exhibition games, including a 30-0 mark at Allen Fieldhouse, where the Jayhawks are 59-4 all-time... The Jayhawks open the regular season at 8 p.m. Friday night against Tennessee State at Allen Fieldhouse on ESPNU.
---
More news and notes from Kansas vs. Fort Hays State