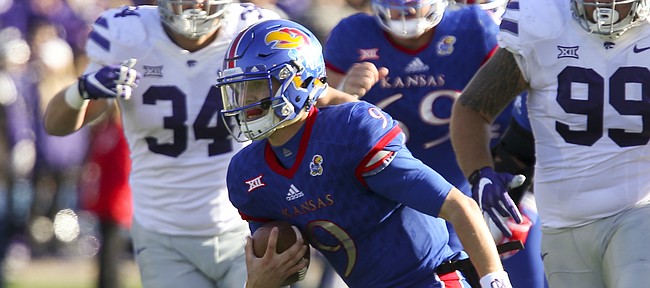 The Kansas football staff proved a week ago it doesn't mind switching things up at quarterback in search of a spark, but that doesn't mean the coaches will have new starting QB Carter Stanley on a short leash versus Baylor.
"We've got to swing our sword and see what happens," KU offensive coordinator Doug Meacham said of sticking with Stanley against the Bears. "There's not a whole lot for us to be guarding against."
Former starter Peyton Bender's recent struggles within Meacham's Air Raid scheme, of course, led to the switch. And with Stanley piloting the offense a week ago against Kansas State, the Jayhawks found some normalcy, along with some reasonable yardage and actual points after back-to-back bleak shutouts.
"It's almost like, you know, when you're on that really rough flight and you finally touch down on the ground," Meacham said of KU producing 482 yards in a 30-20 loss to the Wildcats, after totals of 106 at Iowa State and 21 at TCU.
Podcast episode
On this episode of the KU Sports Hour, hosted by KU football beat writer Benton Smith, the KUsports.com staff discusses KU's 30-20 loss to K-State. Topics include: KU's special teams issues (open-7:16), Carter Stanley's big day (11:45-19:45), players of the game (19:45-27:35) and the KUsports.com football mailbag — the "Siesta" ...
No one moment or play served as a breaking point for Kansas (1-7 overall, 0-5 Big 12) moving on from Bender, Meacham said.
"I just think when you look at the total chemistry of what we have personnel-wise, nothing against Bender's ability for what he does, but what he does, his dominant trait doesn't really fit or suit what we are in other areas," Meacham explained. "So I think the other kid just kind of fits with what we have at the other positions — not to single out any positions. I'm sure you can figure out what I'm talking about."
The Jayhawks' offensive line, then playing without starting center Mesa Ribordy, had trouble giving Bender, a pocket passer, time to survey and throw in blowout defeats to ISU and TCU. With Ribordy back healthy this past week and Stanley active as a rusher and able to extend plays with his mobility, the redshirt sophomore QB passed for 418 yards, with a touchdown and an interception.
"He'd been sitting the bench for three months and he threw for 4-whatever. That was a pretty good performance by him," Meacham said. "We had some drops that were kind of critical. I think that screen play (junior receiver Steven) Sims dropped was going to go to the house and then the next one he dropped."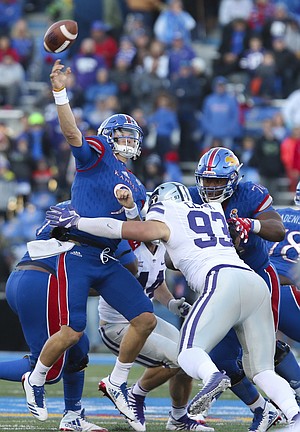 As a rusher, Stanley gained 55 yards vs. K-State, but also lost 32 (with minus 27 coming on four sacks). Meacham said the sacks were more a result of the Wildcats' scheme than O-linemen "getting whipped" one-on-one, but he was surprised his new starting QB didn't execute zone-read runs as well as anticipated.
"So we really, really worked hard on that part of it this week, getting that cleaned up," Meacham said, "because that's what he gives you is that extra element, that whole other level of something you have to defend."
Considering Stanley only threw 23 completions on 48 attempts (47.9 percent), there were aspects of the passing game to address, as well, before Kansas tries to end its seven-game losing streak against winless Baylor (0-8, 0-5) at Memorial Stadium (11 a.m. kickoff, FOX Sports Net). Still, Meacham didn't have many complaints and estimated KU receivers dropped at least four would-be connections.
"He's not a pure, natural thrower. So for him to make some of the throws he made … He really throws that deep out to the field really well, which is really just odd," the coach said of a QB not known for throwing long. "He's very accurate with that. He hit Steven (nine receptions, 233 yards, TD vs. K-State) a couple of times on third-and-long there in a coverage that allows for it. He's really accurate with those long field throws, which is kind of weird, because it's usually not the case. He's got a pretty strong arm. He gets it out pretty quick. For him he just has to continue to work on being on the right guy sometimes."
Although far from perfect, many of Stanley's teammates credited his style and effectiveness with firing up the entire team.
"It was awesome. It got us all hyped up," sophomore left tackle Hakeem Adeniji said of Stanley's big plays through the air and on the ground. "When you play with that energy and that intensity level it just makes you better and everybody feeds off it."
Junior defensive end Dorance Armstrong Jr., too, said Stanley sparked KU.
"With Carter you can expect that," Armstrong said. "He's been doing that since he got here. He didn't change much."
With his offense seemingly headed in the right direction again, Meacham is drinking from a half-full glass.
"Other than those two games (at ISU and TCU) you look at us, we function OK. If you omit those two games that were just terrible we're right under 500 a game in the other six games (462 yards on average)," Meacham said. "The common denominator was our center was out. And we may have found a little something with Carter. Because Carter has kind of that moxie, fiery thing. That kind of resonates among everyone else. That gets you excited and he's kind of a tough guy, kind of a warrior-type guy."