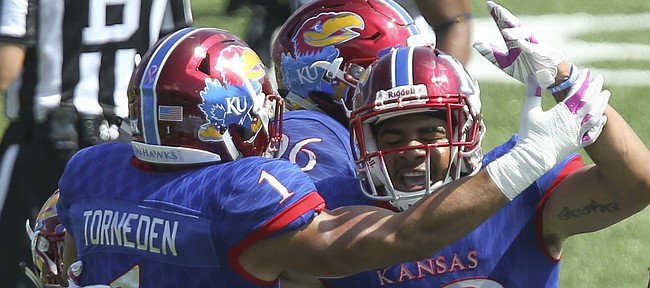 — Baylor (0-8 overall, 0-5 Big 12) at Kansas (1-7, 0-5) • 11 a.m. kickoff, Saturday, Memorial Stadium • Game-time forecast: 53 degrees, mostly cloudy, 0% chance of rain • TV: FOX Sports Net • Radio: KLWN, FM 101.7 / AM 1320
— Log on to KUsports.com for our live game blog and follow our coverage team on Twitter: @KUSports, @BentonASmith, @TomKeeganLJW, @NightengaleJr, @nickkrug and @ChasenScott
Keys for Kansas
1. Realize what's at stake
Week in and week out, the Jayhawks prepare for their Saturday matchups with a victory as the end goal. Yet in seven straight games they have failed to achieve a win.
KU hasn't defeated an FBS or Big 12 team this season. The same can be said of Baylor, so that brings a different vibe to this game against the winless Bears — even if the Jayhawks are considered about a touchdown underdog on their home field by Las Vegas oddsmakers.
Although Kansas head coach David Beaty typically downplays the ramifications of a single game on the entire rebuilding process, the third-year head coach pivoted this week when asked whether the BU game carries with it added significance, because the winner moves out of last place in the league standings.
"Absolutely. This is a big game for both of us," Beaty replied. "Somebody's going to come out of here with the first Big 12 win and kind of move yourself into position to be able to attack the rest of the season. It is a huge game for us. We are looking forward to the challenge, and it will be a great one, because they want their first one just like we do."
Podcast episode
On this episode of the KU Sports Hour, hosted by KU football beat writer Benton Smith, the KUsports.com staff discusses KU's 30-20 loss to K-State. Topics include: KU's special teams issues (open-7:16), Carter Stanley's big day (11:45-19:45), players of the game (19:45-27:35) and the KUsports.com football mailbag — the "Siesta" ...
Although KU enters a rare winnable weekend coming off a competitive showing in defeat against rival Kansas State, the Bears have been the more consistent team in Big 12 play, with an average outcome of roughly 43-24. KU, meanwhile, has been shut out twice, leading to an average league defeat of approximately 48-15.
"You know, they've played the heck out of people," Beaty said of Baylor. "They played the heck out of Kansas State (33-20). They played the heck out of Oklahoma (49-41). They played on the heck out of West Virginia (38-36). It's a good football team, man. They've got some players. So they score points and they can hold you down. We've got a big challenge ahead of us. I mean, it's not what it looks like on paper. It rarely is."
The Jayhawks obviously need a win. They will have to follow Beaty's sense of urgency in all they do to make it happen.
2. Defensively, be prepared for anything
The Bears' offense typically puts up yardage and points, even though the way it goes about doing so rarely looks the same. At quarterback, BU uses both Charlie Brewer and Zach Smith, but the variances go deeper than that. KU defensive coordinator Clint Bowen said Bears co-offensive coordinators Jeff Nixon and Glenn Thomas have altered their play-calling schemes based on the opponent.
While there are some staples, such as taking shots deep for 6-foot-3 sophomore wideout Denzel Mims (38 receptions, 727 yards, seven touchdowns) it's hard to predict what else Baylor might try.
"They're creative each week," Bowen said. "They'll take advantage of what's hurt you before."
At various times this season, KU's defense has looked susceptible against both rushing and passing attacks. So linebacker Joe Dineen, safety Mike Lee, defensive linemen Daniel Wise and Dorance Armstrong Jr. and their teammates will have to show they've learned from past mistakes.
Bowen said Baylor's biggest offensive plays tend to come on play calls the offense hasn't shown before.
"Everyone in college has the same problem with inexperienced kids. A lot of times after you've shown them something a couple times, then they can do it," Bowen said. "But the first time they see something it's usually the learning experience, and that's where Baylor hit a few on their tailback wheel routes and the type of things that they do that are a little bit out of the norm and surprise people and make some plays. That's how they scored their one touchdown against Texas, was basically a trick wheel play (a 52-yard Brewer pass to Blake Lynch)."
3. Make sure Bears play young
As first-year head coach Matt Rhule and his staff try to overhaul a program still recovering from a sexual assault scandal under former Baylor coach Art Briles, the Bears are relying on numerous young players.
This past week against Texas, BU started 12 underclassmen (seven on offense, five on defense) and 17 true freshmen at least made it onto the field. On the season, 28 freshmen or sophomores have started at least one game. Underclassmen have accounted for 62.5 percent of Baylor's tackles through eight games, and they made 62 percent of the defense's tackles in a 38-7 home loss to Texas.
Kansas has an edge in the experience department for a change, so the Jayhawks need to take advantage of that on both sides of the ball.
Mega Matchup
KU O-line vs. Baylor front
The Kansas offense, suddenly revived with the return of center Mesa Ribordy and the insertion of quarterback Carter Stanley, has to find success early against the Bears.
"I think you've got to look at it like they're probably a little fragile if things don't go well," KU offensive coordinator Doug Meacham said of BU's defense, which is allowing a Big 12-worst 527.2 yards a game in league play. "So I think if we come out and play well early, I think it'll be a good football game."
There's no better way for Kansas to set that stage than by winning the line of scrimmage on offense. Redshirt sophomore Ribordy is back, and his presence alone helps guards Andru Tovi and Chris Hughes and tackles Hakeem Adeniji and Clyde McCauley III play more effectively. The O-linemen need to give Stanley protection so he can keep making big passing plays with Steven Sims Jr. as he did a week ago and exploit a BU secondary that starts two underclassmen corners, freshman Harrison Hand and sophomore Grayland Arnold.
Baylor is more experienced up front, with junior defensive end Greg Roberts, senior pass-rusher Brian Nance, junior nose tackle Ira Lewis and sophomore D-tackle Tyrone Hunt. If KU can play sound in the trenches, that should set the offense up for another productive day.
"It's just like I told them," Meacham said of his message to KU's offensive players. "The team that wants it the most will win this one. If you want it more than they do, we'll win. Beyond scheme or anything. If we show up and we want to beat them, we'll beat them. If we show up and we're not all the way in it, we probably won't beat them."
Jayhawk Pulse
A week ago against K-State, the Jayhawks played like they had a pulse (at least on offense and defense), which was a welcome change from previous weeks when they suffered three consecutive blowout losses.
Now KU has to harness its relative momentum for a game that long has looked like the most winnable Big 12 matchup on the schedule.
It seems Beaty knows how critical a victory here, against a winless, rebuilding Baylor program, would be for him in his own reclamation project.
Veterans such as Dineen, Sims, Armstrong and Wise have been itching for a victory too long, and with Stanley at quarterback the entire roster seems re-energized. If the Jayhawks truly are invested in Beaty and this rebuild, they have to strike now and give the KU coach just his second Big 12 win in 24 tries.
Tale of the Tape
KU ….. Baylor
√ KU run D vs. BU run game
KU pass D vs. BU pass game √
KU run game vs. BU run D √
√ KU pass game vs. BU pass D
Special teams √
Prediction
Kansas 34, Baylor 30