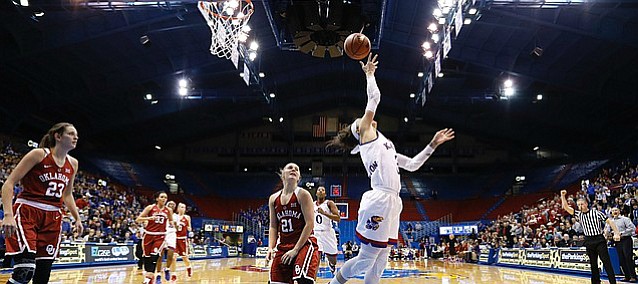 Former Kansas football coach Charlie Weis rocked the recruiting world when he so swiftly received commitments from former five-star quarterbacks Dayne Crist and Jake Heaps.
It didn't work out well for either transfer at Kansas and Weis was fired four games into his third season.
Kansas women's basketball coach Brandon Schneider made a big splash when Jessica Washington and McKenzie Calvert, big names among those familiar with hotshot women's basketball recruits, announced they were transferring from North Carolina and USC.
So far, Schneider is batting .500.
Washington was named Big 12 Newcomer of the Year on Wednesday and her play improved when the intensely difficult Big 12 portion of the schedule arrived. Calvert's performance plummeted at about the same time and she has not gotten off the bench in five Big 12 games. More on Calvert later.
Counting only conference games — the only fair measuring stick — Washington leads the Big 12 with 19.3 points and 2.7 3-pointers per game, is tied for seventh with 1.3 steals and is seventh with a .400 3-point percentage.
"Well, after sitting out a year, I just needed to get my feet wet and get some games under my belt," Washington said. "We faced a lot of good teams in the nonconference schedule, but I knew once we started the Big 12, it was going to be a whole other level. So I just continued to work hard and prepare myself mentally for the greater competition."
Schneider's decision to move Washington off the ball much of the time also played a role in her improvement.
"With me being versatile, I'm able to get different looks on and off the ball and we also have Jayde Christopher and she's a really good point guard," Washington said.
Not all of Washington's basketball discussions take place with Schneider. Both of her parents, Travis and Kelley Washington, have moved to the area.
A native of Tulsa and a graduate from sports powerhouse Jenks High, Washington said her father was her coach throughout youth basketball.
"I had an attitude growing up and with him I couldn't have an attitude or else he'd put me in my place," Washington said. "He made me a better player, always pushed me when I didn't want to be pushed. But I loved the game, so it wasn't like it was forced."
She welcomes her father's feedback.
"It's not always so much of a critique, it's more of an encouraging thing," Washington said. "He'll just tell me we need to get in the gym that night or the next day, work on what it is I need to work on. There's always something I need to work on. I see him every day. He's been there every step of the way since I moved here."
During her two years at North Carolina, Washington said she "didn't ever get to see him."
Washington lives in a house with friends, but still has one foot at home.
"My family is pretty important to me," Washington said. "My mom (Kelley) also moved down and it's great to have them here, being such a big support system for me. I would say my mom is just as important. She might not be in the gym, but she's there every day as well. She's there for me mentally, cooks for me and does all the motherly things."
The blend seems to be working well for Washington, who leads Kansas into today's first-round Big 12 tournament game against Oklahoma State at 8:30 p.m. in Oklahoma City.
Calvert slump preceded benching
Things have not gone as well for KU's other high-profile Schneider recruit, Calvert, a sophomore transfer from USC.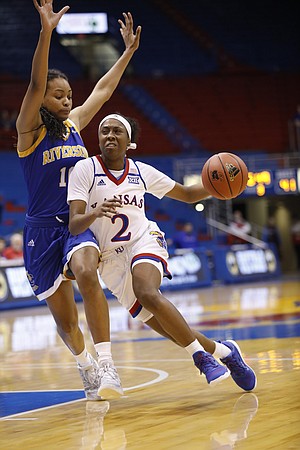 Calvert scored a career-high 30 points against Cal-Riverside on Dec. 21, but once conference season arrived, her level of performance dipped and then her minutes dropped.
Conference play started Dec. 29.
The starkly contrasting numbers are not difficult to find. They're all over the internet.
In nonconference play, Calvert shot .355 from the field, .298 from 3-point territory and .679 from the free-throw line.
In Big 12 play, Calvert has shot .232 from the field, .155 from 3-point distance and .375 from the line and at times has displayed questionable body language.
Schneider did not use her at all in five Big 12 games. She missed one nonconference game, which was attributed to her not feeling well.
Schneider said he does not talk about any individual's playing time, but did share the factors that go into how he arrives at playing-time decisions.
"There's production on the court in games and in practice, but there's also an element of team chemistry that goes into who you think gives you the best chance to win," Schneider said. "Need to perform consistently in practice and in games, be assignment correct, whether it's an attention to detail on offense or being assignment-correct in playing to the scouting report defensively."
Although the team has more talent on the court when Calvert plays, the chemistry often appears better when she watches.
In Big 12 play, Kansas went 1-4 without Calvert, 1-12 with her. The Jayhawks defeated Oklahoma State in Lawrence by 18 points without Calvert and lost to the Cowgirls by four in Stillwater with her in the lineup. KU defeated Texas Tech by six in Lawrence with Calvert playing and lost to the Red Raiders by 15 with Calvert on the bench in Lubbock.
KU defeated Rhode Island, 72-36, Dec. 10 without Calvert.
She has not gotten off the bench in 5 of 7 games, playing six minutes in a loss to Texas and 15 in a loss to Iowa State.