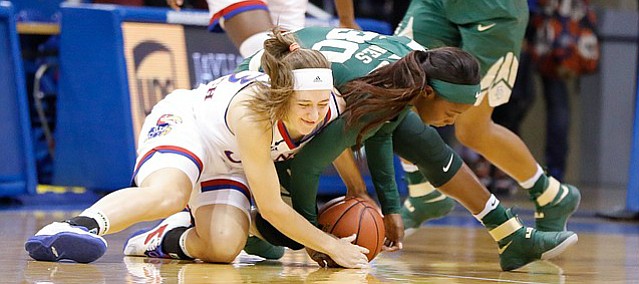 Kansas women's basketball coach Brandon Schneider knew his team had to slow the game down and minimize possessions in order to keep up with No. 2 Baylor and its offensive firepower Sunday.
Schneider wasn't pleased with his team's lack of discipline in running clock — and even when the Jayhawks were able to run clock, it often resulted in them forcing up isolation jumpers.
Baylor entered Sunday's game ranked No. 1 in the nation in opponent field goal percentage (28.9 percent). Kansas wasn't able to crack a bigger, faster, and stronger defense, and shot 21 percent in a 92-43 home loss at Allen Fieldhouse.
"This is the best Baylor team that coach (Kim) Mulkey and her staff have assembled," Schneider said. "There's just not many pieces they don't have, and they're two and three deep at each spot."
The isolation-heavy offense was especially evident early in the game. The Jayhawks didn't make a shot from the field in the first five minutes, and sophomore McKenzie Calvert was the only player able to get a clean look at the basket. But without much ball movement, she was forced to take tough contested shots and only made one of her first eight baskets.
Baylor (16-1, 6-0 in Big 12) took advantage and turned a slew of bad shots by Kansas into fast-break points and a 20-3 lead.
"That's a lack of discipline on our part," Schneider said. "Hopefully as we move forward we'll start to learn some of these lessons. Obviously I think we're learning the hard way when the difference is what it is."
However, behind the shooting of junior Jessica Washington and sophomore Kylee Kopatich, the Jayhawks (6-11, 0-6) were able to keep the deficit from growing any larger in the first quarter. Each player hit a 3-pointer to close out the first period and to start the second.
With the Jayhawks trailing 31-14 midway through the second quarter, Washington was forced to the bench with two fouls and the Bears responded with an 11-0 run to put the Jayhawks away.
That run, along with continued dominance in the third and fourth quarters, was a result of Baylor's dominance in the paint. Since this was the second matchup between the teams (Baylor won by 47 on Jan. 1), Schneider knew the Bears would attack the paint. His goal was to hold Baylor to less than 40 points in the paint, but Baylor scored 46, which he credited to its constant aggression around the basket.
"When it comes to Baylor, you just have to beat them down the floor so they don't get position," senior Sydney Umeri said. "I think it just comes down to a lot of heart. You have to be able to put in the work with them, and that's what I think we were lacking a little bit today."
Kansas will look for its first Big 12 win of the season when it plays host to West Virginia at 7 p.m. Wednesday.