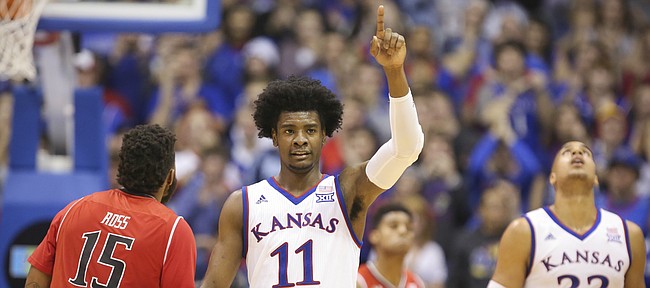 Kansas Jayhawks (16-1 overall, 5-0 Big 12) vs. Iowa State Cyclones (11-5 overall, 3-2 Big 12)
Time: 8 p.m. | Location: Hilton Coliseum, Ames, Iowa
TV: ESPN | Radio: IMG Jayhawk Radio Network
Log on to KUsports.com for our live game blog coverage and follow the KUsports.com staff on Twitter: @KUSports @mctait @TomKeeganLJW @bentonasmith & @nightengalejr
Keys for Kansas
1. Hit the glass — for two halves
Coming off of a dominant performance on the glass in the second half over Oklahoma State, the Jayhawks would do well to pick up where they left off against the Cyclones.
Although Iowa State holds a 1.8 rebounds-per-game edge over opponents for the season, the Cyclones have been out-rebounded big time since the start of Big 12 play.
Outworked on the boards in all five conference games thus far, ISU gave up double-digit rebounding efforts to two TCU players over the weekend and has been outdone on the boards by an average of 10 boards per game (39-29) by Big 12 foes.
That number includes a 47-28 domination by Baylor and a 42-27 advantage in a loss to Texas Tech.
It could be another big night for KU senior Landen Lucas, who has recorded double-digit rebounds in four of KU's first five conference games.
2. Handle the harsh crowd
Hilton Coliseum is famous for being one of the best environments in the Big 12 and the country and the Iowa State fans are the biggest reason why.
Loud, proud and relentless in their harassment of the opposing team, Iowa State's home arena can turn into a true sixth man, both in terms of the vibe and the impact on the game, when the home team is on a roll.
It will be by far the most intense place this Kansas team has played so far this season and that will be a new experience for freshmen Josh Jackson and Mitch Lightfoot, sophomore Lagerald Vick and even, to a lesser degree, junior Sviatoslav Mykhailiuk. That foursome has logged just 7 combined minutes inside Hilton (6 in two games by Mykhailiuk and 1 minute last year for Vick) and that fact will put a premium on the importance of individual focus and veteran leadership.
"They're really, really hard to guard," said KU coach Bill Self. "And going up there is always a big challenge for anyone but especially for us."
3. Move the ball
Kansas was just 5-of-20 from 3-point range in its most recent game, a seven-point, home win over Oklahoma State on Saturday. And many of the misses were flat, out of rhythm or even a little bit forced.
One of the best ways to fix that and bounce back from one of the team's worst 3-point shooting games of the season is to have more patience, move the ball while running half-court offense and find open shooters who can step into shots and knock them down in rhythm.
This team is full of both good shooters and unselfish players who like to set up their teammates for easier and better shots. For much of the season, they did exactly that. But they got away from it a little against OSU and likely will focus in on a return to form against the Cyclones.
Mega Matchup
Iowa State point guard Monte Morris vs. KU's Frank Mason III
It's a showdown of two of the most talented and experienced point guards in the conference and the country and one that the Jayhawks are hoping they finally can get on the right side of when the final horn sounds.
Morris, who has just one turnover to go along with 30 assists during the first five games of the Big 12 schedule, has had some masterful games against Mason and the Jayhawks in the past. But Mason has been sensational all season and finished with 22 points in KU's last outing on a day when Self called him "average." Mason missed 10 of 16 shots in Saturday's win over Oklahoma State, which may put him in the position of being due in this match-up. Quickness and length against power and strength. The winner of this point guard clash gives his team a great shot at winning the game.
"I don't really get caught up in the point guard play," Mason said. "Everything I do is for the team and I think about the team and do whatever I can do to put my team in position to be successful. It's about how we play moving forward as a team, not how I play."
Jayhawk Pulse
Saturday-Monday turnarounds are tough no matter when they come or how talented a team is, but the Jayhawks could be facing one of their most challenging two-day turnarounds in recent memory.
Given the effort they were forced to expend to knock off Oklahoma State at home over the weekend and the lack of depth the team has battled throughout the season, KU could take a set of bumps and bruises and tired legs into the match-up with the Cyclones.
Of course, this team also is full of big time personalities who tend to rise to the occasion on the biggest stages.
One of those players is Josh Jackson, who has enjoyed a great first half to his freshman season. But the numbers show that Jackson has been much better — perhaps because he's been much more comfortable — inside Allen Fieldhouse than away from it.
Two of Jackson's worst games of the season came in big moments like this away from home — vs. Indiana in the season opener and at TCU in the Big 12 opener — and it will be interesting to see if the Jayhawks can get him going early with easy buckets and impact plays that might help him stay out of foul trouble and avoid getting caught up in the hype of the big stage that will comes with both playing in Ames and on Big Monday.
Probable Starters
Kansas
G – Frank Mason III, 5-11, 190, Sr.
G – Devonte' Graham, 6-2, 185, Jr.
G – Josh Jackson, 6-8, 207, Fr.
G – Sviatoslav Mykhailiuk, 6-8, 205, Jr.
F – Landen Lucas, 6-10, 250, Sr.
Iowa State
G – Monte Morris, 6-3, 175, Sr.
G – Matt Thomas, 6-5, 193, Sr.
G – Naz Long, 6-4, 203, Sr.
F – Deonte Burton, 6-5, 250, Sr.
F – Darrell Bowie, 6-8, 218, Sr.