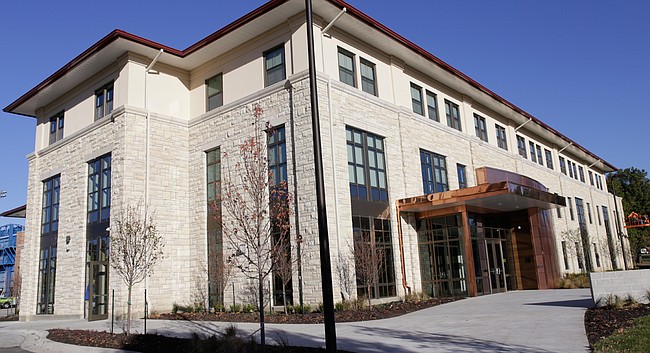 The substance of a search warrant connected to a rape investigation at the apartment building where the University of Kansas men's basketball team lives is sealed from the public, a judge ordered on Wednesday.
Releasing the document may damage the mental health of witnesses in the case, the judge said in his order.
McCarthy Hall, 1741 Naismith Drive, was searched on Dec. 17 after a 16-year-old girl was reportedly raped in the building between 10 p.m. Dec. 17 and 5 a.m. on Dec. 18. During the search, KU Office of Public Safety officers reportedly found drug paraphernalia.
A single misdemeanor charge of possession of drug paraphernalia was filed against KU basketball player Carlton Bragg Jr. He was granted a diversion in the case earlier this year.
KU Deputy Chief James Anguiano said on Wednesday the reported rape remains under investigation and no information about a possible suspect has been released.
In January, the Journal-World submitted a Kansas Open Records Act request seeking the search warrant executed at McCarthy Hall. On Wednesday, Douglas County District Court Judge James McCabria issued an order denying the request.
The mental or emotional safety of witnesses — regardless of the investigation's outcome — could be jeopardized if the documents were made public, McCabria wrote in his denial.
In addition, the Journal-World submitted a Kansas Open Records Act request to view surveillance video recorded at McCarthy Hall on the night of the alleged rape, but KU denied the request, citing two provisions of the state's open records law.
The law does not require agencies to share video that has not previously been played in a public meeting, university records custodian Andy Foat said in an email. Foat said producing the footage also would constitute an unwarranted invasion of personal privacy for the nearly 40 students who live in McCarthy, saying the newspaper's request was "intrusive, could pose a risk to the students and their property, and is of no legitimate concern to the public."
McCarthy Hall is an all-male apartment building that houses about 40 students. About half of the building's residents are KU men's basketball players, while the other half are upperclassmen.
Five people, all members of KU men's basketball team, were listed in the KU police report as witnesses in connection with the reported rape. A KU Athletics administrator and two 19-year-old women were also interviewed.
Students living in campus apartments — including McCarthy Hall — can stay over winter break, KU Student Housing director Diana Robertson said.
The building uses biometric access for residents at its entrances, stairwell doors, elevators and apartment doors, Robertson said.