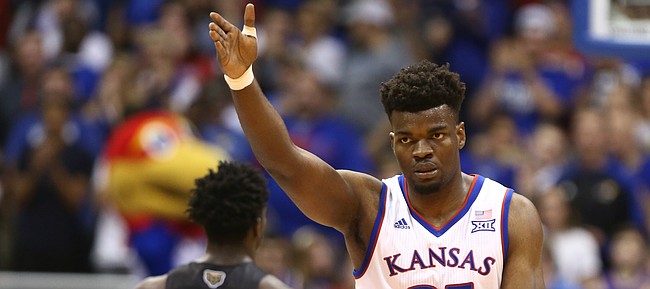 Although Kansas basketball coach Bill Self stopped short of giving sophomore center Udoka Azubuike the full endorsement of having figured it out — "clicking may be too strong," Self said this week — there's no denying that the past 14 days marked a notable stretch for Azubuike's overall development.
Three straight games in double figures, two as the 14th-ranked Jayhawks' leading scorer, two double-doubles and all of it delivered with the kind of mindset and approach that this team needs from its biggest player and potentially most dominant force.
"When Dok's going like that it makes it a lot easier for everybody because the defense has to pay attention to him or you got to send two guys, which allows us to get open shots or (face) bad closeouts and allows us to get into the paint," senior point guard Devonte' Graham said. "When he's going like that, it's great for us."
Azubuike's emergence from lone big man to formidable force has not been an accident. He now has been through two weeks of having his coach emphasize on an almost daily basis how massive and important his role could be for this year's Jayhawks. And he has responded to the extra attention with extra effort on the court.
In victories over Nebraska, Omaha and Stanford, Azubuike made 30 of 39 shots while averaging 20 points and 10 rebounds in just 25 minutes per game.
"He just wants him to be aggressive," Graham said. "Coach is Udoka's biggest fan and he just wants him to be good. When he's aggressive, it just makes it easier for everybody and he could score at will if he wanted to."
Perhaps most importantly, and yet somewhat overlooked during this recent stretch, was the fact that the Jayhawks' most recent victory came in their 12th game of the season.
Azubuike has started each one of them and is averaging 25 minutes per game for the season.
That's double what he experienced in 11 games as a true freshman — in both total minutes (300 vs. 142) and minutes per game (25 to 12.9) — and Azubuike's numbers are up across the boards, as well.
He enters Big 12 play — 8 p.m. next Friday at Texas — averaging 15.5 points and eight rebounds per game, up from last year's totals of 5.0 points and 4.4 rebounds, and also already has exceeded his assist and block totals in 11 games a year ago.
Self said throughout the offseason that missing 25 games during his freshman season because of a wrist injury hurt Azubuike's development as much or more than just about any player he could imagine, given the 7-foot Nigerian's young age and recent introduction to the game.
So, from this point on, every game Azubuike plays will be a step into uncharted territory for KU's big fella. First Big 12 game. First postseason game. First time experiencing the grind of January, February and, of course, March. All of it lies ahead for Azubuike, who, as shown in his most recent outings, appears to be ready.
"He still talks about it during practice," said Azubuike of Self's reminders to be aggressive and look to dominate. "Right before the (Stanford) game, he emphasized it."
If Azubuike continues to perform like he has during the past three games, Self's may be able to deviate from the routine a little bit, as he becomes more comfortable with Azubuike's understanding of his role.
"I haven't been Grinchy in the last 36 hours," said Self after KU's rout of Omaha last Monday, referencing his statement from two days earlier about not being on Azubuike's Christmas card list. "But I could probably go back real easily."
Azubuike's objective is for Self to put that Grinch persona away for good after the holidays. And it's more clear than ever that he now understands how to make that happen.
"You know, winning's always fun," Azubuike said after the Stanford victory. "When you're playing good, it's always fun, seeing my teammates over there giving me encouragement, it's fun."