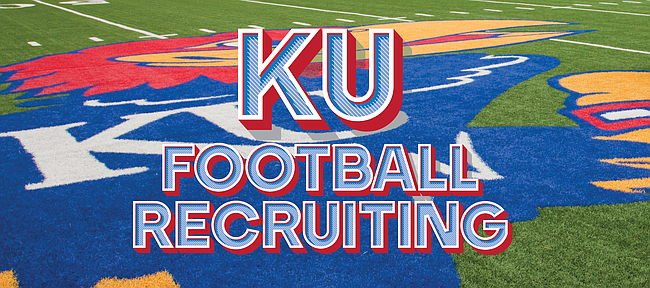 A popular young man around the Hahnville High campus and Boutte, La., community the past several months, running back Anthony "Pooka" Williams heard countless pitches from those he encountered in the heart of LSU country.
Of course, the new Kansas football signee told The Times-Picayune, those interactions tended to be opinionated and distinctly pro-Tigers.
"It was very crazy," Williams said after picking KU over both LSU and Nebraska on Friday, the third and final day of the December early signing period. "I just took all that in consideration. They're not going to be at the college. I'll be at the college, so I didn't let any of that bother me."
According to the 5-foot-10, 170-pound, three-star back, the coaching staffs at both Nebraska and LSU — a little more than an hour drive from Hahnville High, where Williams rushed for 3,118 yards and 37 touchdowns as a senior — made strong pushes before he stuck to the pledge he gave Kansas back in February.
"It was very close, very close but I had to maintain my commitment," Williams said.
Ultimately, the newest Jayhawk — just like four-star New Orleans cornerback Corione Harris, who signed with Kansas Wednesday — referenced his relationship with KU associate head coach Tony Hull, a Louisiana native, as a major factor in his recruitment.
"It played a big role, because when we talk, we talk like we're family," Williams said of KU's running backs coach during an interview with Louisiana reporters.
Once Williams arrives in Lawrence, the coveted prospect will have to compete with KU running backs Khalil Herbert, Dom Williams and Taylor Martin for playing time and carries in the backfield, but it's conceivable he could also factor into the passing game, as well.
"I'm expecting to come in there and be the man, like in Hahnville," Williams said of his hopes. "They want me to be an all-around athlete."
After Williams declined to sign a letter of intent on either of the first two days of the early signing period, many wondered whether he would put off an official decision until February. However, he explained he wanted to finish his recruiting process in December, which long had been his plan.
"I've been just feeling Kansas. That's where my heart was," Williams explained. "I stayed true to my commitment since Day 1. It was very hard, but I managed to be a man of my word."
His coach at Hahnville, Nick Saltaformaggio, who saw Williams carry the Tigers to within one win of a 5A state title, thinks his running back, New Orleans' Metro Player of the Year, is talented enough to "change a program."
"I know he's going to need a little bit more help in college," Saltaformaggio told The Times-Picayune, "obviously than he did in high school, and we had some really good players around him. But he's the kind of guy if he's got good football players around him he can be electric."