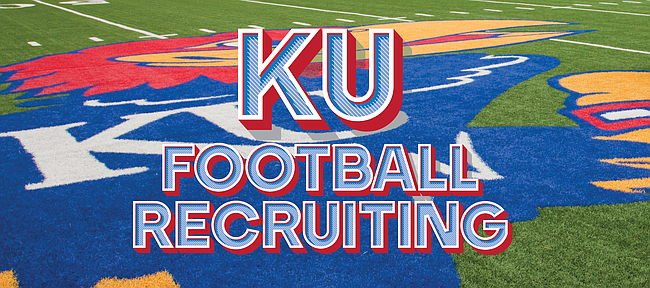 Within the first several hours of the NCAA's new early signing period for college football, the University of Kansas officially added 14 members to its 2018 recruiting class on Wednesday.
Nine of the prospects head coach David Beaty and his staff can now call Jayhawks signed on from the junior college ranks. The group also included a graduate transfer and four high school seniors, headlined by New Orleans cornerback Corione Harris.
The three-day early signing period concludes Friday. Prospective players also have the option of waiting until the traditional National Signing Day, in February.
Only two players who perviously made a verbal pledge to play for KU didn't sign as of Wednesday: three-star Louisiana prep running back Anthony "Pooka" Williams and three-star Blue Valley North defensive end Miles Emery.
Here is a rundown of the KU signees, along with their Rivals talent ratings.
Junior college
Three-star prospects
• Charles Cole (6-3, 280; DT; Butler Community College): Made 19 total tackles and 3.0 tackles for loss as a sophomore.
• Foster Dixson (6-4, 250; DE; West Los Angeles C.C.): Former UTEP defensive lineman totaled 39 tackles and 9.5 tackles for loss in redshirt sophomore season at WLACC.
• Elmore Hempstead Jr. (5-11, 175; CB; Fort Scott C.C.): Credited for 18 tackles, two interceptions and five pass breakups as a sophomore this past fall.
• Elijah Jones (6-1, 175; CB; Ellsworth C.C.): In his second juco season, made 19 tackles and four interceptions.
• Azur Kamara (6-4, 225; DE; Arizona Western College): Accounted for 30 total tackles, 15.5 tackles for loss, 12.5 sacks and three forced fumbles for an NJCAA national runner-up team in his sophomore season.
• Jeremiah McCullough (6-0, 205; S; Hartnell College): Finished with 36 tackles, two interceptions and a touchdown return in his second season in the Hartnell secondary.
• Stephon Robinson (5-10, 170; WR; El Camino C.C.): Caught 62 passes for 1,274 yards and eight touchdowns as a true freshman this past fall.
• Najee Stevens-McKenzie (6-3, 225; DE; ASA College): A first-team All-Northeast Conference selection as a sophomore, went for 33 tackles, 12.5 tackles for loss and 9.5 sacks.
Two-star prospect
• Davon Ferguson (5-10, 190; S; Hartnell College): In his freshman season this past fall, totaled 55 tackles, two interceptions and a defensive touchdown, while also handling return duties on special teams.
High school
Four-star prospect
• Corione Harris (6-1, 170; CB; Landry-Walker High): Considered the No. 6 prospect in the state of Louisiana by Rivals, played both cornerback and quarterback his senior year in New Orleans.
Three-star prospect
• Nick Williams (6-8, 265; OL; Ritenour High): The offensive lineman from Overland, Mo., is ranked the No. 11 prospect in the Show-Me State and also plays basketball for Ritenour.
Two-star prospects
• Mac Copeland (6-4, 245; OL; Wichita Collegiate): The first in-state commit from the group was named an all-state talent each of his final three prep seasons.
• Jacobi Lott (6-4, 309; OL; Tascosa High): Amarillo, Texas, lineman who received all-district honors as junior and senior reportedly picked up a late offer from the University of Texas the night before signing with KU.
Graduate transfer
• Mavin Saunders (6-5, 256; TE; Florida State): The first player from the class to sign Wednesday morning, Saunders didn't record a catch in 10 games during his recently completed final season with the Seminoles. Made 10 receptions for 182 yards as a redshirt sophomore.