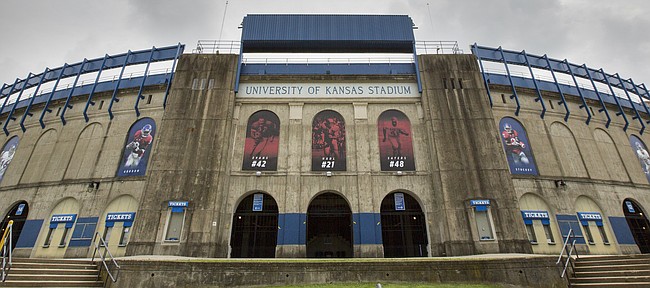 Topeka — The University of Kansas plans to rename its football stadium in honor of David Booth, the KU alumnus who has pledged $50 million over five years toward the stadium's upcoming renovation, Chancellor Douglas Girod announced Wednesday.
Girod announced that plan to the Kansas Board of Regents, which voted unanimously to authorize the name change to the David Booth Kansas Memorial Stadium.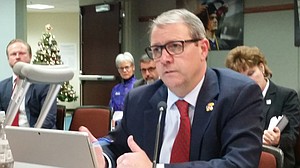 Currently known as Memorial Stadium, the facility was dedicated in 1922 in honor of the 129 KU students and alumni who were killed in World War I. It is currently one of the oldest stadiums still in use in college sports.
But there is little signage or other information at the facility explaining what the stadium is a memorial to, and Girod said there are probably very few students on campus who are aware of it.
But he said renaming the stadium will give KU an opportunity to rededicate the memorial aspect of it in order to make that story more well known.
"I think it does create an opportunity for us to elevate that back up to the fore," he said.
Kansas Athletics has announced plans for a major renovation of the stadium and has set a goal of raising $350 million over five years for sports facilities. Most of that would be earmarked for the football stadium, but some would also go toward baseball and volleyball facilities.
Girod said as of last month, the university had raised about $70 million toward that goal, including the $50 million pledge from Booth, the largest gift ever made to KU's athletic department.
"Of course that's not all David has done. He's been a tremendous supporter for decades," Girod told the board. "As you will recall, he purchased the original rules of basketball written in 1891 by James Naismith and presented that to the university, which is now displayed in the DeBruce Center. He also has supported the Booth Family Hall of Athletics at KU and has supported many other programs as well."
The Booth Family Hall of Athletics, located adjacent to the east side of Allen Fieldhouse, is named in honor of David Booth's parents, Betty and Gilbert Booth, both longtime Jayhawk fans and Lawrence residents.
David Booth graduated from Lawrence High School and went to KU, where he earned a bachelor's degree in economics in 1968 and a master's degree in business in 1969. He then went on to earn an MBA at the University of Chicago, where he met his future business partner, Rex Sinquefield, who is now a Missouri political activist. Together they founded Dimensional Fund Advisors, a mutual fund company that operates throughout the United States and several foreign countries.
Booth has also been a major donor to the University of Chicago, whose business school is now known as the Booth School of Business.
Girod said after the meeting that he doesn't yet know when the official name change will take place.