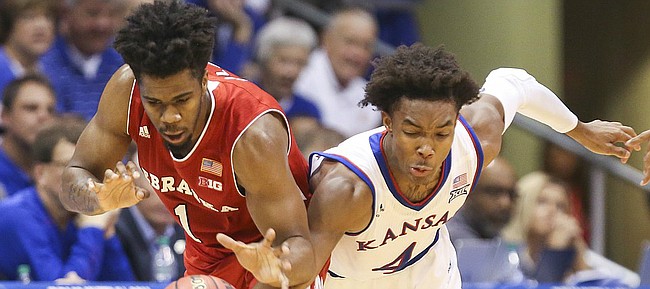 No. 13 Kansas Jayhawks (7-2) vs. Nebraska Cornhuskers (7-4)
Time: 7 p.m. | Location: Pinnacle Bank Arena, Lincoln, Nebraska
TV: FOX Sports 1 | Radio: IMG Jayhawk Radio Network
Log on to KUsports.com for our live game blog coverage and follow the KUsports.com staff on Twitter: @KUSports @mctait @TomKeeganLJW @bentonasmith @nightengalejr @chasenscott & @nickkrug
Keys for Kansas
1. Defense wins
You can talk all you want about more balanced scoring, better inside play, more intensity and focus and certain guys snapping out of mini-funks.
But the bottom line for this Kansas team is that none of that will matter if the Jayhawks don't defend.
"We can make excuses, but a lot of it is toughness," KU coach Bill Self said after his team's 10-point, home loss to Arizona State last weekend. "When things aren't going well, you kind of grind through it a little bit. We just don't have that right now, and that's what we have got to get. And it's everybody. It's not just one or two people. It's everybody."
Because this team continues to operate with a thin rotation, Self said last week that he would consider mixing in some kind of zone defense to both ease the burden of 40 minutes of man-to-man and to prevent fatigue, which he believes has cost his team late in the second half of several games this season.
Expect the Jayhawks to show at least some zone against the Cornhuskers but don't expect it to become their signature defense. Self will still hang his hat on tough man-to-man D, with the theory being that better defense leads to easy offense.
According to several Jayhawks, the key to playing better defense is as simple as locking in and tapping into individual pride.
Regardless of what it is, how it works or even how it looks, the bottom line is that the Jayhawks have to improve on the defensive end to get where they want to go.
Said Self: "We have less margin for error than a lot of teams that we've had here in the past."
2. Sustained effort
After struggling against Syracuse and laying an egg the next time out against Washington, the Jayhawks raced out to a 15-2 lead against Arizona State last weekend, in what was, arguably, this team's best five-minute stretch of the season.
But then they eased up and stopped playing defense with the kind of energy that produced that 13-point lead and the next thing you know, Arizona State closed the final 35 minutes of that game on a 93-70 run.
So what happens now for a Kansas team that has suddenly lost two in a row? It's easy to see a similarly intense start by the Jayhawks against Nebraska, but the key will be sustaining it. And KU coach Bill Self has done plenty to make sure his guys understand that during a rare week with no games.
"He's right now just trying to pick our mind and find out what's going on and just get it back," sophomore guard Malik Newman said. "I think all of us have that ability (to lock in) but I don't think we do it all the time. We may do it in a stretch, but we have yet to put 40 minutes together where we do that. And I think, right now, that's our problem."
Added KU newcomer Sam Cunliffe, who is expected to make his KU debut in this one: "I can feel that (added focus and intensity). We've practiced really hard for the past two days, harder than we had before for sure."
3. Get to the free throw line
At this point, it doesn't even matter how the Jayhawks do it, just that they start.
Kansas has been dreadful at getting to the free throw line so far this season and that reality has made things much harder for the Jayhawks in both their wins and losses.
Self addressed the free throw issue on Thursday and said that it did not matter how the freebies came or where they came from, only that this team started getting more of them.
"Guys, I like playing small and I think that's great," Self said. "But it makes a big difference when you're averaging 23 or 24 free throws a game as opposed to 10. And if you're not going to get fouled by throwing the ball inside, you've got to be able to drive it. And we're just not quite as good at that as what we need to be if we're going to play this small."
Kansas has shot just 115 free throws in nine games and is knocking them in at a 72 percent rate. KU's opponents, meanwhile have shot 148 and made 66 percent, while Nebraska has gone to the free throw line 231 times (21 per game) and is shooting 70 percent.
Mega Matchup
KU's perimeter offense vs. Nebraska's perimeter defense
The Cornhuskers switch everything on the perimeter on defense and have done a great job of limiting 3-point attempts for their opponents so far this season.
What that often means is that teams have to put the ball on the deck and drive to the rim, where Nebraska has a tendency to foul.
Nebraska has committed 216 fouls (20 per game) compared to just 135 and 15 per game for Kansas. Those five extra fouls could play a big factor in this one in a couple of different ways.
NU coach Tim Miles no doubt expects the Jayhawks to get their share of 3-point opportunities because of KU's terrific ball movement, spread-out offense and high number of good 3-point shooters. But the one thing Miles and the Huskers can't afford is to give up 10 or 12 3-pointers and send the Jayhawks to the free throw line off of drives to the basket.
The Jayhawks are shooting .410 from 3-point range so far this season, with 100 makes in 244 attempts. Nebraska, meanwhile has given up just 58 3-point makes in 11 games for an average of 5.3 per outing.
Whichever team can win the battle on the perimeter — both in terms of 3-point shooting and getting to the basket — will have a great shot to emerge victorious.
Jayhawk Pulse
It's been five seasons since the Jayhawks lost two games in a row in the same season and that feat has only happened six times in Self's 15 seasons at Kansas.
That puts the Jayhawks in unfamiliar territory and also has inspired a new kind of focus in the Kansas players.
"Two in a row don't normally happen, but it happened," Newman said. "And we have to find a way to come back together and become one and get it rolling. ...I don't think there's one thing, it's just more about the overall effort that we have to give."
In addition to the adversity of dropping two games in a row, the Jayhawks will be facing the challenge of playing their first true road game of the 2017-18 season. The fact that it comes in a place where the home team knocked off No. 14 Minnesota just a couple of weeks ago only enhances the challenge.
Self said this Nebraska team was much different, personnel-wise, than the one that came into Allen Fieldhouse and fell by 17 after trailing by 20 at the half and giving up 65 percent shooting to Kansas in the first 20 minutes.
"Personnel's a little bit different, they're playing a little bit different, but they'll be a much different team because they'll be playing in front of 15,000 (Nebraska fans) as opposed to the playing in the opposite at our place," Self said. "I expect a very tough game. They're plenty good enough to handle us if we don't play a good game. We could go up there and play a good game and still get beat."
Probable Starters
No. 13 Kansas
G – Devonte' Graham, 6-2, 185, Sr.
G – Malik Newman, 6-3, 190, Soph.
G – Svi Mykhailiuk, 6-8, 205, Sr.
G – Lagerald Vick, 6-5, 175, Jr.
C – Udoka Azubuike, 7-0, 280, Soph.
Nebraska
G – Glynn Watson, Jr., 6-0, 173, Jr.
G – James Palmer, Jr., 6-6, 210, Jr.
G – Evan Taylor, 6-5, 206, Sr.
F – Isaac Copeland, 6-9, 221, Jr.
C – Jordy Tshimanga, 6-11, 268, Soph.