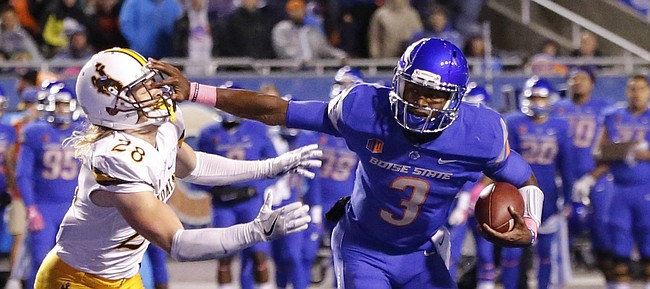 For four years Montell Cozart called the University of Kansas football program home. The quarterback from nearby Kansas City, Mo., played in 27 games, started 18 and became a much-respected leader within the KU locker room.
But Cozart, like so many Jayhawks who came to Lawrence before him, didn't experience on-the-field success. He saw KU win eight games and lose 40 before deciding to finish his career elsewhere as a graduate transfer, instead of a redshirt senior.
Saturday afternoon, Cozart will experience something that proved impossible at Kansas — a bowl game — when he suits up for No. 25 Boise State and does all he can to help the Broncos try and defeat Oregon at the Las Vegas Bowl.
"It's kind of like a dream come true," Cozart told the Journal-World in a phone interview. "When you sign up to go to the next level and play Division I college football, you want to go to those bowl games, you want to experience those conference championships."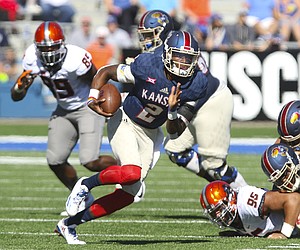 Indeed, Cozart already can call himself a Mountain West champion. The 6-foot-1, 205-pound senior only started once in his final college campaign, but he hasn't been your typical backup QB, playing in all 13 games for Boise State (10-3). Headed into his bowl debut against Oregon (7-4), Cozart has accounted for 14 total touchdowns, throwing for 10 and rushing for four. He ranks third on the team with 361 rushing yards and has completed 59 of 93 passes for 747 yards, with one interception.
He never would've been as involved offensively at Kansas. Cozart said head coach David Beaty and his staff were up front about the potential redshirt senior playing QB in 2017 for the Jayhawks. They told him they identified Peyton Bender and Carter Stanley as the potential starters.
"I just wanted to go somewhere and just experience something different and be joyful in my last year, not going through another QB race and all that stuff again," said Cozart, who declined the KU staff's idea to move to wide receiver.
As he wrapped up his final semester at KU this past spring, Cozart considered transferring to Fresno State and talked to coaches at North Carolina about possibly joining the Tar Heels, but now feels as if he made the perfect choice.
"It worked out for the best," Cozart said, pointing to his role with the Broncos. "Coming in I think people probably didn't expect me to have such an impact on the team and on the offense, but I'm just thankful the coaches found a way to be able to get me in there and get me involved."
While junior QB Brett Rypien is the team's No. 1 QB, Cozart always factors into head coach Bryan Harsin's game plan. Cozart said the quarterbacks feed off each other and their mature approach has helped the offense as a whole.
KU fans interested in watching Cozart one last time (2:30 p.m. kickoff, ABC) won't see him contributing as much as he did in his lone start this year, going 15 for 19 with two touchdowns and 137 passing yards in a win over New Mexico, in which the QB also rushed for 71 yards and a TD. But he's more than just a red-zone or goal-line player for Boise.
"I'm going to be everywhere," Cozart said of his responsibilities against Oregon. "That's where our offense is kind of elevated to now, with my role and what I can do a little bit. So I'll be all over the place. It'll be exciting for my last game, as well as to go out there and do some creative offensive stuff that Boise State's offense is known to do."
The Las Vegas Bowl, for Cozart, will serve as a rare high point in a college career that has seen so many lows, and the culmination of a few crazy months in his life.
"It's been cool," Cozart said.