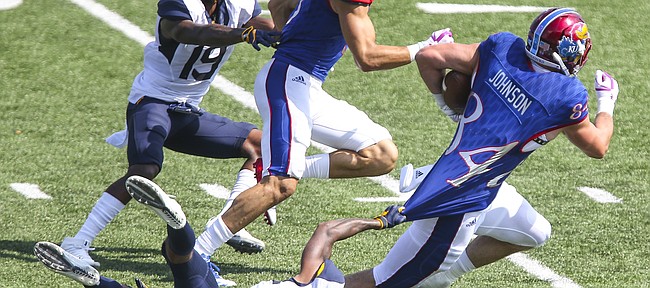 Most publications and websites limit their college football all-conference postseason honors to two teams — but not national analyst Phil Steele.
With first-, second- and third-team slots available on Steele's All-Big 12 list, Kansas landed seven total players on the 2017 postseason edition.
Senior tight end Ben Johnson, junior defensive tackle Daniel Wise and junior linebacker Joe Dineen were selected for Steele's second team. Junior defensive end Dorance Armstrong Jr., sophomore offensive lineman Hakeem Adeniji, junior kicker Gabriel Rui and junior nickelback Bryce Torneden made the third team.
Johnson caught 30 passes for 363 yards, and also earned second-team honors from the Big 12 coaches and the Associated Press.
Wise made 16.0 tackles for loss and 7.0 sacks. The league's coaches voted Wise to its first team, while the AP named him a second-teamer.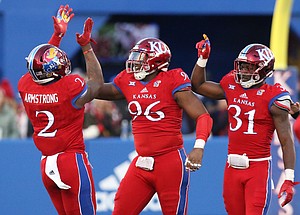 Dineen led the Big 12 in total tackles (137), tackles for loss (25.0) and solo tackles (93). Big 12 coaches and the AP also identified the linebacker from Lawrence as a second-team performer.
Armstrong made 63 total tackles, 9.0 tackles for loss and 1.5 sacks, and earned second-team status from the AP and Big 12 coaches.
Adeniji, an honorable mention selection by Big 12 coaches, started all 12 games as a tackle for KU in 2017.
Rui led the Big 12 in field goal kicking percentage at 85 percent — 17-of-20 — and connected on a career-long 50-yarder at Oklahoma State.
Torneden made 61 total tackles, 5.0 tackles for loss and 2.0 sacks, and was on the coaches' honorable mention list.