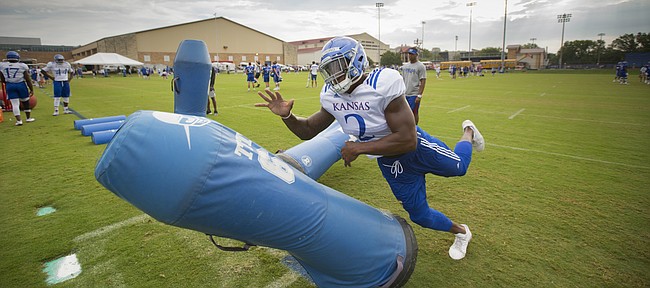 Following a breakout sophomore year, Kansas defensive end Dorance Armstrong Jr. won't be sneaking up on any opponents during the 2017 season.
Offensive linemen from throughout the Big 12 are well aware of Armstrong's strengths after playing against him last season and they weren't surprised to see him picked as the conference's preseason defensive player of the year.
It's one thing to watch Armstrong on film, but it's even harder trying to stop him from making plays in the backfield.
"Dorance Armstrong is a heck of a player," Kansas State offensive tackle Dalton Risner said. "One of the better defensive ends that I went against. He's an athletic guy. Great body, great build. Really long reach and as a D-end, that's what you want."
The 6-foot-4, 246-pound Armstrong highlighted KU's defensive line last season with 10 sacks, 20 tackles for loss and three forced fumbles. That included a streak of six straight games with at least one sack.
At Big 12 media days in July, Armstrong admitted his personal goal for the upcoming year is breaking the school's single-season sack record, 14.5, which was set in 1997 by Ron Warner.
"He's a competitor," Risner said. "I noticed throughout the game that he's a guy that's going to fight to the whistle. He's not going to give up with a second left to go."
When opposing players mention Armstrong's intensity and willingness to play to the whistle, it seems like a simple concept for players to give 100 percent effort on each snap. But in the Big 12, against several spread offenses, it's a rarity to watch a player exert that much energy when he's on the field for more than 60 snaps in a game.
Plus, Armstrong is strong enough to make a difference in KU's run defense.
"My goal overall is to just to always beat the man in front of me every down," Armstrong said. "I think that's just what it is."
Bleacher Report's NFL draft analyst Matt Miller listed Armstrong as a first-round pick in one of his latest mock drafts.
One of the things that separates Armstrong is his mix of speed and power. Not only is he quick enough to race around the edge to the quarterback, but he's strong enough to stand up against veteran offensive tackles.
"He's very quick, he's tall," said Texas offensive tackle Connor Williams, considered one of the top blockers in the nation. "He's really explosive and he's got a very good pass rush."
Kansas State tight end Dayton Valentine, who helped block Armstrong in a few formations, said he realized Armstrong was the "real deal" by how much coaches prepared for him in their game plans.
"He's a real intense guy every game," Baylor guard Blake Blackmar said. "We watch it on film getting ready for the Kansas game. You see him all over the field making plays. He looks impressive. So whatever he's doing, he's got to be doing it right."
For opposing offensive linemen, it's not an easy assignment when they see Armstrong in a stance across the line of scrimmage.
But after playing against him and watching him accumulate extra accolades throughout the offseason, they enjoy the chance to face off against one of the best players in the conference.
"It's good to go against the best, of course," Williams said. "Iron sharpens iron."