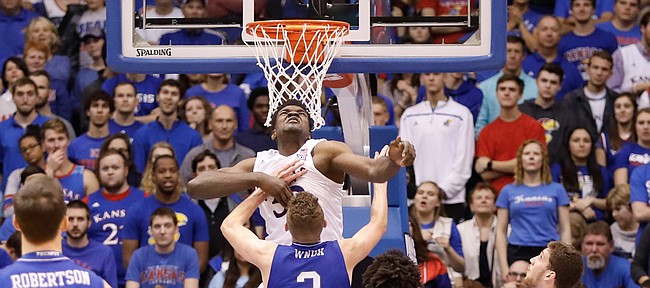 As was expected, Kansas sophomore Udoka Azubuike returned to Lawrence for the start of the fall semester a couple of days after the rest of his teammates earlier this week, a notable arrival for arguably the most important player on KU coach Bill Self's roster this season.
After missing all but 11 games of his freshman season after suffering a wrist injury in a late-December practice, Azubuike's return to the lineup stands to be the biggest difference-maker for the 2017-18 Jayhawks.
At 7 feet tall and 285 pounds, few teams in America have an inside presence as large and intimidating as Azubuike and Self, along with countless others, believes that Azubuike's presence will allow the Jayhawks to do a few things differently than they did a season ago.
"He's certainly a weapon that a lot of people don't have just because he's so explosive down tight," Self told ESPN's Seth Greenberg during a recent ESPN.com podcast. "But he looks good. If I was guarding against him, I'd say, 'God, just don't let him get close to the basket.' But when you're that big and that strong it's hard to keep somebody from getting close to the basket."
While a good chunk of Azubuike's value comes on offense, Self believes he can and will impact the game defensively, as well. In order to do that, the 7-footer will have to continue to emphasize conditioning, which Self said has had peaks and valleys.
"It's been better than average, but he's heavy right now," Self told Greenberg. "He checked in at 303 (pounds, last year) and got down to 262, in great shape when he broke his wrist. He's gained a few pounds, but he'll lose that. He can get in better shape because he needs to be able to stay out of foul trouble and play extended minutes."

While limiting his huffing and puffing is one way to do that, the other is to avoid silly fouls, which Self also said was a major point of emphasis with Azubuike. Some of that will come from how Kansas decides to defend its opponents.
"One thing, if you extend (your defense) out and you get beat, you force them right to the big guy and that puts him in foul situations," Self noted. "But, if he's a shot blocker and rim protector, it could also be a very positive thing."
The rest of Azubuike's protection against foul trouble will come from the sophomore's continued development and understanding of how to play the game the way Self wants it to be played.
"He's going to have to get a lot better at playing his man before he catches it and being able to slide his feet and not be careless defensively," Self said. "He's just got to get where he plays smarter, and I think he will with time. But we'll have our moments where, three minutes in, 17-minute mark, dude's got two fouls. I'm sure that's going to happen."