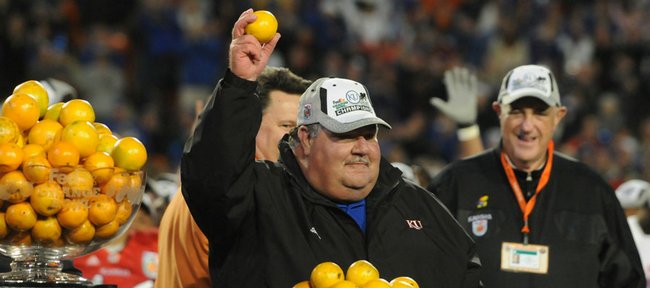 Listening to Kansas football head coach David Beaty and defensive coordinator Clint Bowen share what Mark Mangino's return to Memorial Stadium means to them and hearing Mangino talk about the role his gratitude for KU's loyal football fans played in his decision to come back, a thought occurred: Could the season-opening game vs. Southeast Missouri State be the school's first football sellout since Mangino was head coach?
During Mangino's eight seasons at Kansas, his teams drew at least 50,000 spectators to a game at Memorial Stadium 17 times. In eight seasons since Mangino took a $3 million buyout when forced to resign after then-athletic director Lew Perkins launched an investigation into his treatment of players, KU did not have 50,000 witnesses at Memorial Stadium even once. The 28,467 who watched KU's 37-21 loss to Ohio in Week 2 stood up as the biggest crowd of the 2016 season.
Might 50,000-plus want to be able to say they were there for the biggest KU crowd since 2009, be able to say they gave Mangino a thundering ovation as a show of support for exposing Lawrence to big-time college football?
Corner seats are available for $10. Reserved seats range from $15 to $50, so it's not an event for which only the wealthy need apply for admission.
A packed house of voices unloading gratitude fueled by eight years of frustration could make for a memorable moment on a night in which the season is scheduled to kick off at 6.
Aqib Talib and Anthony Collins will see their names on the Ring of Honor, triggering more ovations.
Several players from the Orange Bowl team that produced a 12-1 record will be on hand for the festivities.
It would be difficult to say that Mangino doesn't deserve to hear it from a sellout crowd given that he inherited little and built a 50-48 record. Kansas has gone 14-70 since then, which raises the obvious question of which force prevails, the gratitude for what Kansas football was or the apathy that has taken root because of how far Kansas football has slipped.
Current Kansas head coach David Beaty and defensive coordinator Clint Bowen worked under Mangino, who has retired from coaching since getting fired as Iowa State offensive coordinator midway through the 2015 season.
"What coach Mangino came here and accomplished is one of the great stories in college football, where we started with that first season," Bowen said. "And let's call it what it is: Coach Mangino worked like no other human I've ever seen work. I mean, the guy was tireless on just day-to-day grinding of details, the mental fatigue that that man had to go through just to turn this program around. People can't ever appreciate that until you saw what he had to deal with and to overcome."
The night can be as much a symbol of healing as a celebration.
"For it to end the way it ended, with someone who had put so much into this program to have to leave here on a negative note, never sat very well with me, so I hope that he can come back here and bury the hatchet and I hope that people can show him the appreciation that he more than earned," Bowen said.
The bigger the crowd, the more appreciated Mangino will feel. But does football or even what steps it takes to acquire tickets — call 785-864-3141 or google "Kansas football tickets" — even enter the minds of many KU alumni anymore?
The size of the crowd will go a long way toward answering that question.
Beaty weighed in with a thumbs-up on how Mangino treated his players.
"I worked with coach and I'll tell you this: I never saw anything but complete professionalism," Beaty said. "I never saw anything but a guy who just worked his guys and prepared them for every situation a man could be prepared for. Coached them hard. Loved them hard. Required them to give everything that they could to this university, but in return he took care of them like they were his own kids. I was inside of that and that's what it was like."
Which force will triumph at the turnstiles: appreciation or apathy? I wonder where Las Vegas oddsmakers would set the over/under for attendance for the season-opener.