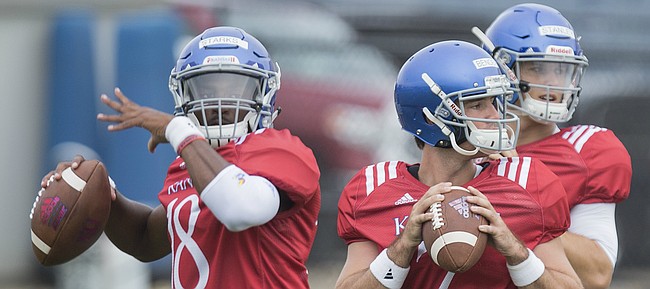 Clear delineation exists between the Kansas football team's two potential starting quarterbacks and the reserves who practice and study alongside them nearly every day.
Either junior Peyton Bender or redshirt sophomore Carter Stanley will be named the Jayhawks' No. 1 QB at some point, instantly turning the other into a game-ready backup.
Barring unforeseen injuries or issues, KU will at no point in the coming months have to consider the merits of redshirt freshman Tyriek Starks or true freshman walk-on Miles Fallin as a starting quarterback. Still, both are just one unavailable QB in front of them away from moving up the depth chart.
With that in mind, KU offensive coordinator Doug Meacham provided his assessment of where both Starks and Fallin stand in their development. Meacham said Starks, a 6-foot-1, 190-pound QB from New Orleans, possesses a lot of talent.
"I just think he needs to continue to rep and become more familiar with what we're asking of that position," Meacham added. "He flashes signs — he has arm talent and he can run. But that's great when you're doing seven-on-seven tournaments. It's all the other stuff he's got to come prove he can do."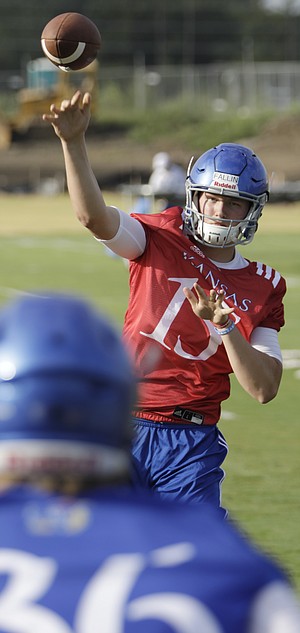 While Starks, who played in high school under KU running backs coach Tony Hull at Warren Easton, is in his second season as a college QB, Fallin didn't arrive in Lawrence until this summer. Meacham said the 6-5, 210-pound reserve from Canyon County, Calif., has "flashed" during preseason practices, as well.
"Beyond the fact that he's a walk-on — you just look beyond that. If you just thought in your head he was on scholarship you'd probably be pleased to have him," Meacham said. "So he's a really good get for us. We like him a lot."
Bender has witnessed enough out of both Starks and Fallin to know what he likes about each as a quarterback.
"What I see in Tyriek is he's got a really strong arm. He's got a quick release, too. So he can really push the ball down field," Bender said of Starks, who in KU's spring game completed a 24-yard TD pass in the first half. "And then also he's fast. I think people don't realize how fast he really is. But on a lot of those quarterback runs there's not a lot of people catching him from behind. He can use his athletic ability to make plays."
Fallin, Bender said, is a different type of QB than the dual-threat Starks.
"Miles is more of a pocket guy. He's not going to get out of the pocket too much," Bender shared. "But he's real cerebral and he's picked up the offense quickly, which has helped on the field. You see it. He's making the right reads when he goes in and he's accurate with the football."
Fallin proved capable enough as a QB during camp for coaches to move backup Keaton Perry to receiver.
During the early weeks of August practices, Meacham said quarterbacks and other third-stringers averaged about 16 snaps a day, compared to the 40 or so apiece allotted to starters and the second team.
"We're just trying to cultivate knowledge and cultivate the next guy up. (At) a lot of programs I've been at, threes don't get much," said Meacham, a former assistant at TCU, Oklahoma State, Houston and other smaller programs. "This place here, we're trying to cultivate the next guy, so if something does happen that guy can plug in and has an idea what we're doing, you know?"
According to the man calling the plays, both Starks and Fallin are still in the learning stages of attempting to master Meacham's Air Raid offense.
"Both those guys, you probably package things down a little bit for them," KU's offensive coordinator said. "Try to fit stuff for them, try to simplify it."