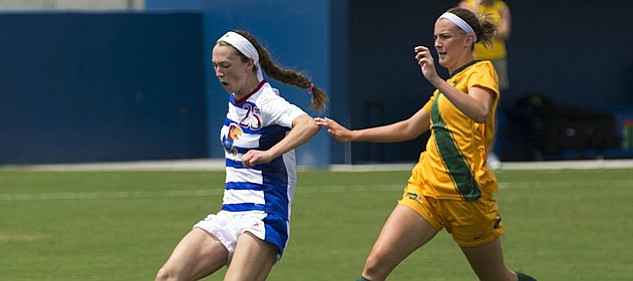 When Grace Hagan arrived in Seattle for the U.S. Soccer U23 Women's National Team Camp, her greeting came in the form of a rather ominous message from B.J. Snow, head of U.S. Women's National Team talent identification.
"He said the day we got there, 'You just really need to find a way to survive the camp,'" the junior forward recalled.
And survive she did.
While the camp strictly focused on skills evaluation, Hagan noted the antithesis helped her get through it.
Hagan built up relationships with the other players to get through the week. She also remained in contact with her coaches, who, in her words, reminded her there was a reason she was there.
"When you play and train with players at that level, I think you learn about yourself as a player too," Kansas coach Mark Francis said. "You learn maybe some of the things you've got to get a little bit better at when you go to that next level, and I think that's only going to help her and contribute to her input and influence for our group."
That has been another topic of conversation.
Hagan, who enters the season as one of 30 players on the MAC Hermann Trophy Watch List for the top men's and women's collegiate soccer players, isn't the only Jayhawk to earn that distinction. In fact, some three decades ago at Southern Methodist University, Francis was given the same honor.
"He didn't tell me that when I found out. It would've been nice to know," Hagan joked. "But it doesn't surprise me. You know how much he talks about his skills."
While the matching distinctions weren't part of the conversation, Hagan and Francis have discussed the season's expectations and why this year might be different from the last. Specifically, Francis noted that while Hagan was able to fly under the radar to start 2016, that won't be the case after how her season progressed.
Hagan led all Jayhawks in 2016 with 7 goals, while posting a career-best four assists. Her performance culminated in selections to the All-Big 12 and NSCAA All-Central Region First Teams, the results of which she's already started to see on the field.
"I just got a little taste of it in (the exhibition opener against Iowa)," Hagan said of the added attention. "I haven't really known what that has felt like completely."
But even if the feeling is a little different, Hagan isn't too worried.
While she admitted she feels some pressure of being on a preseason watch list, she also drew a comparison to KU volleyball's Kelsie Payne as to how it's possible to be successful in the face of added attention.
Certainly that falls in line with what the coaches have seen from her to date as the Jayhawks head toward their nonconference opener against No. 22 Nebraska on Friday.
"She's such a competitor," Francis said. "When we get into those games where you really need those kids to step up — who's it going to be? — Grace is going to be right there, because that's the kind of kid that she is."