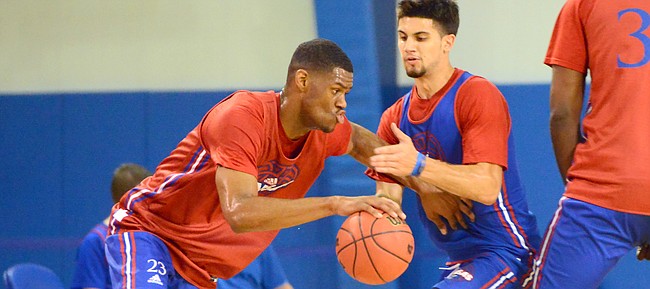 Rome — Shortly after arriving in Rome, where his team will play two of its four games in this week's exhibition tour on Italian soil, Kansas coach Bill Self confirmed that freshman forward Billy Preston had been fully cleared by the NCAA to play this season.
"With the majority of highly recruited guys that we've recruited, it takes a while for the amateurism stuff to get cleared," Self said. "(Preston's) was finalized just here recently but we didn't anticipate a problem at all. We didn't have anything to make us think that there would be an issue. We knew academically he'd been cleared."
This final hurdle clears the deck for Preston to move forward with a free mind and Self recently said he would like to see his star freshman turn use that mind to become more aggressive in every way.
"He's not ready," Self said. "I mean, I hate to say that, but he's not ready. But he can get more ready.... Billy's got a ways to go but he can shorten the gap a lot this (week)."
Whether he does or not remains to be seen, but his first crack will come at 11:30 central today when the Jayhawks face Stella Azzurra / HSC Roma in Rome.
"I see it two steps forward and one back," Self said of Preston's progress thus far. "But, to me, that's a step in the right direction. I think Billy's really talented — really talented. I think that he's never been forced to play with the consistent effort and focus that he needs to. He's definitely moving in the right direction, but I think it's frustrating for him, because he's thinking instead of playing. He still hasn't let it go. He still hasn't let it go to play with reckless abandon. But he will. He will.
"And it's not a knock (on) him at all. It's what the majority of all freshmen we've had have to come to grips with. But when he does, we'll see his production go way up because he's talented enough to be the best rebounder in the game, he can be one of the best scorers in any game, one of the best ball handlers and passers in any game. He's got talent to do that, but he can also play one possession and take a couple off, too."
Welcome back, Svi
After waiting at Fiumicino Airport for an extra hour to pick up senior-to-be Svi Mykhailiuk, the Kansas men's basketball team finally had all of its returning parts again on Tuesday in Rome.
Mykhailiuk, who spent most of the summer playing with the Ukrainian national team, for which he averaged more than 20 points per game and was the leading scorer at the U20 European Championships in Greece, flew straight to Italy to rejoin the Jayhawks and was in the ballroom eating lunch with his teammates by the time the Jayhawks arrived at the team hotel.
Mykhailiuk, a veteran who started 25 of 36 games last season, is expected to play his regular minutes and blend right into this new KU team, which features more than a few unfamiliar faces.
No word on a starting five
Self did not reveal which five players would make the start in the Jayhawks' exhibition opener on Wednesday, but those who have been paying attention would probably be able to make a pretty good guess.
Devonte' Graham and Malik Newman are likely to start in the KU backcourt, with 7-foot center Udoka Azubuike holding down one of the big man spots.
After that it's a little tougher, but either Mykhailiuk or Lagerald Vick likely will fill the third guard spot with Preston or Mitch Lightfoot starting as the second forward. Although Preston has more talent, Self has been known to favor older players in these instances so Lightfoot might have the upper hand.
Injury update
Speaking of Lightfoot, he will play this week and he will do so donning a mask to protect the broken nose he suffered during a practice earlier this summer.
"Mitch is gonna wear a mask because it takes about six weeks for all bones to heal," Self said.
Entering Wednesday, Self said that was the only injury of note.
Recruiting never stops
Just because the Jayhawks are on an adventure in Italy does not mean the coaches can take a week off from recruiting. In fact, with one scholarship still to give out before the start of the 2017-18 season, the importance of KU's recruiting might actually be greater than it has been during most Augusts of the past.
"We've gotta keep recruiting," Self said Tuesday. "But mainly for the 2018 kids. We just came off the road and now everybody's lining up official visits so we'll be doing a lot of that, (assistants) Norm (Roberts) and Kurtis (Townsend) and Jerrance (Howard) and myself. As far as a 2017 kid that's eligible right now, something would have to fall in our lap. We've got feelers out but it would have to be a unique situation."
While landing another player in time for the upcoming season might be a reach, loading up in the following class is Self's goal and he admitted Tuesday that mentioning that he's over in Italy with his team on a terrific trip to some of the prospects in the 2018 and 2019 classes just might come up.
"If you send postcards from Italy they might not get there before school starts," Self joked. "So we'll probably figure out a way to send (something) better than postcards. Maybe email."
Bragg in Rome anyway?
It appears that former Kansas forward Carlton Bragg Jr., was determined to be in Rome this August one way or the other. Had Bragg stuck with the Jayhawks, he obviously would be on the trip with KU.
Instead, he transferred to Arizona State, which is at the beginning of similar, week-long exhibition trip to Barcelona and Rome. And, according to his Snapchat feed, Bragg, like many of KU's transfers, made the trip with the Sun Devils and was in Rome Tuesday night.