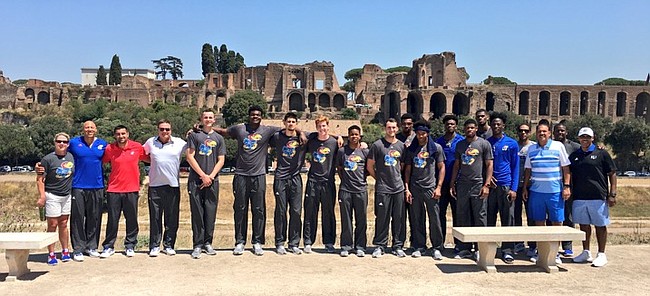 Rome — By the time Kansas big man Udoka Azubuike took the first steps off the team bus after leaving Fiumicino Airport and taking an all-encompassing city tour en route to the Jayhawks' hotel in the heart of Rome, the clock read 1:51 p.m. local time, more than 19 hours after the Kansas basketball team's flight took off from Kansas City, Mo.
Weary travelers with worn-out faces stepped off the bus, one by one, in search of food and rest while adjusting to new surroundings on the other side of the Atlantic.
"We told them before we left to try to sleep as much as you can on the plane," KU coach Bill Self said shortly after mingling with a few fans who were awaiting the team. "Those of us who didn't sleep at all on the plane, we're pretty wiped out. Sleep as much as you can and stay awake as much as you can, (that's the goal). Although I guarantee nobody's going to do it. Everybody's going to get to the room and crash."
According to both Self and Kansas athletic director Sheahon Zenger, the highlight of the drive in was a quick stop at the ruins at the Circus of Maxentius, an ancient complex of buildings built by Emperor Maxentius between A.D. 306 and 312.

After a quick lunch and some time to recharge, the Jayhawks were scheduled for a 7:30 p.m. dinner on their first night in Rome — the idea being to fill up on good food, then hit the sack in preparation for Game 1 of their four-game Italian exhibition tour.
Basketball will be the focal point by the time tip-off rolls around — 11:30 a.m. CDT vs. Stella Azzurra / HSC Roma — but prior to that the Jayhawks are scheduled for a guided tour of the famed Roman Colosseum.
Self said the Jayhawks got a distant glimpse of the Colosseum on their way from the airport to the hotel and they also were amazed by dozens of other sights — famous or otherwise — that they encountered along the way.
"It's unbelievable how much history (there is) and how old everything is," Self marveled.
Greeted first in the Westin lobby by his family — wife Cindy, daughter Lauren and son Tyler all made the trip — Self said it was a joy to see familiar faces after the journey. But those were not the only smiles the Kansas coach was happy to see.
"They came over a few days early," Self said of his family. "But (it's) also (great) to see fans that are over here. People that you see eating at restaurants there in town for lunch, they're here hanging out."
While the Jayhawks were able to soak up a brief taste of some of Rome's culture and cuisine on Day 1, Tuesday was mostly about getting their bearings and knocking the rust off in time for Wednesday's trip to the Colosseum and exhibition opener.
Self said he hoped the Jayhawks would sleep for about 12 hours on Tuesday night and be ready to go Wednesday morning. Whether that happened or not remains to be seen, but Self certainly was not spending any time sweating it on Day 1.
"No, not at all," he said when asked if he was concerned that jet lag might have his team wiped out in the opener. "I mean, I hope we play well, but I'm not worried about it."
What Self is worried about is the weather. Temperatures are expected to soar as high as 106 or 107 degrees the next couple of days — the hottest two days of the summer, according to locals — and Self said that likely would affect how the games are played.
"Everybody will be real excited about the first game," joked Self, noting that he caught wind of an Edward Jones convention in town that might send as many as 100 more basketball fans to watch KU's game — "not all Kansas fans," he noted — "But then when they realize how hot it is, they might not be as excited about Games 2, 3 and 4. It's going to be pretty warm."