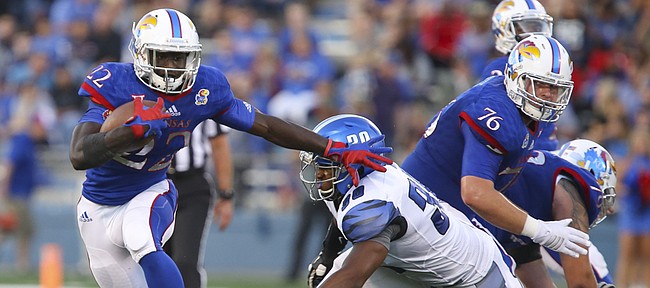 College football coaches forever put a premium on secrecy when formulating just the right game plan to crush the enemy. They love surprise attacks.
Sometimes, they overthink it and avoid the obvious out of fear that a lack of deception would be equivalent to walking blindly into a trap. Rare is the college coach who would go into a game thinking, "Last time we played them this seemed to work pretty well, so why not do it again?"
Now seems like a nice time for a Kansas football team that had its confidence rocked in a sloppy, 37-21 home loss Saturday to Ohio to do just that.
As in, Ke'aun Kinner had a nice game last season in a 55-23 loss to Memphis, so make him the center piece of the offensive game plan going into Saturday's 11 a.m. kickoff in the home of the blues.
Kinner carried the ball 16 times and gained 113 yards vs. Memphis. If he did it then, he can do it again.
Most of the memories from an 0-12 squad aren't pleasant, but the best moment of the season came against the Tigers in Memorial Stadium, when the scoreboard never looked better for the Jayhawks.
"I remember scoring that one touchdown and just the celebration because we were up 10-0 at the time," Kinner said. "It was just a good feeling. We beat ourselves that day, but we're ready to return the favor."
Kinner's five-yard touchdown run came at the 9:48 mark of the first quarter of the season's second game. Seven minutes and 20 seconds later, Memphis caught up. Kansas never held another lead for the rest of the season. It also never led in the 2015 season-opening loss to South Dakota State, so it's indisputable that Kinner was the central figure in the high point of a schedule packed with lows.
In Saturday's slow-start loss, Kinner carried the ball five times for 16 yards. Overall, the Jayhawks gained just 26 yards on 15 rushes. The middle of the offensive line didn't create any surge and scripted quarterback runs ought to become a bigger part of the plan.
Head coach David Beaty talked about the need to play a more physical game in Memphis. Nothing sets that tone offensively quite like featuring the running game. Sure, 8 of 11 offensive linemen listed on this week's depth chart are freshmen or sophomores, but game-planning around youth isn't an aggressive way to go.
Southeast Missouri senior running back Will Young out of Wichita Southeast and Highland Community College rushed for 114 yards in a 35-17 loss to Memphis two weeks ago. Whatever SEMO does, KU should do better.
---
---