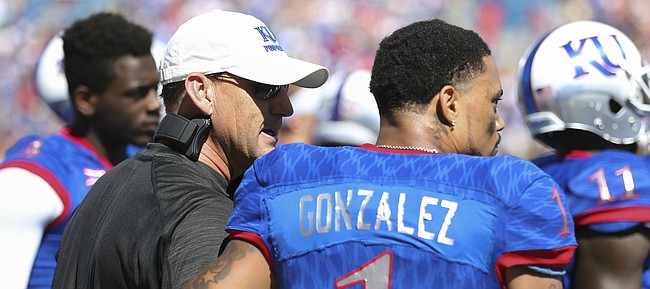 When David Beaty spoke to his 87-year-old mother, Bobbie Ford, following his Kansas football team's Saturday home loss to Ohio, she told her son the same thing everyone who watched the game was thinking, too.
"Y'all got to hang on to that ball when they punt it to you," Beaty said of her opening line in their conversation.
His mother, of course, was right. That's why after the Jayhawks gave away two offensive possessions in the 37-21 setback due to junior LaQuvionte Gonzalez muffing two punt returns he decided to add punt-catching coach to his list of responsibilities.
"We've got to do a better job of that," Beaty said, "and that's not OK."
Since the day Beaty arrived in Lawrence to take over the perpetually rebuilding program he has advocated for KU improving in special teams and playing mistake-free football as a way to speed up the reclamation process. So he didn't hesitate to involve himself in solving the punt return problem.
Podcast episode
After suffering a 37-21 loss against Ohio, Kansas football coach David Beaty met with the media to talk about what went wrong in that loss, his decision to take coaching responsibilities on punt return, looking ahead to Memphis and much more.
"That's why I'm doing it," the head coach said of stepping in. "(Ohio) played a complementary football game and we struggled to play together as a unit throughout that game… The third quarter was a pretty good exception to that. And then we turned it over again."
Indeed, after an early third-quarter TD pass from Montell Cozart to Steven Sims Jr. cut Ohio's lead to 28-14, KU didn't get the ball back following a defensive stop when Gonzalez fumbled another punt.
"We had some momentum going," Beaty said of that critical juncture and miscue. "It would have been nice to see, had we been able to take care of that last punt, what could have happened there, because we had some things going there. There were some things that we did well (in the second half)."
When asked who used to coach KU's punt returners at practices, Beaty declined to answer during his Tuesday press conference.
"That doesn't matter. Doesn't matter," the KU coach replied. "I'm taking it over."
According to Beaty, his hands-on approach won't include replacing Gonzalez, a junior receiver he has known since their time together at Texas A & M, as the Jayhawks' primary returner. The coach remains confident in Gonzalez, who through two weeks has accumulated three punt returns for a net of -2 yards because of the blunders. In a Week 1 drubbing of Rhode Island, Gonzalez, who mostly has been limited to making fair catches, returned a punt 17 yards.
As a receiver, Gonzalez leads Kansas (1-1) with 12 receptions. His 123 receiving yards trail team-leader Sims (238), and he caught a touchdown pass versus Rhode Island.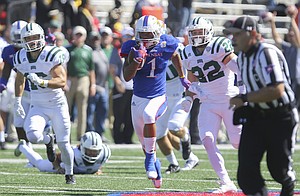 And who knows how much worse KU's loss to Ohio (1-1) would've been had Gonzalez not given the Jayhawks some hope with a 99-yard touchdown on a kickoff return in the second quarter, when Kansas trailed 25-0. So there are visible examples of why Beaty remains confident in the 5-foot-10 dynamo from Cedar Hill, Texas.
"Oh yeah. Quiv is talented now," Beaty said. "Quiv, he's a threat to take it to the house any time he touches the football. So we have to find a way to help him with those things. His mistake was very simple. He didn't beat the ball to the spot. He took his eyes off it. That's a cardinal sin when you're a punt returner. You cannot take your eyes off. You have to trust your guys that are blocking. If you're going to return it, you don't get to look down. He did it twice. We tried to solve it on the first one and then obviously we got him some relief after that."
Senior safety Fish Smithson fielded a fair catch on a punt vs. Ohio following Gonzalez's second slip-up. But Beaty wants to keep Gonzalez involved in special teams to maximize his impact.
"He's doing a lot for us," Beaty said, "and we've got to make sure that we monitor, you know, his focus level, because of his level of fitness. See if he's OK to go. So there's some things that we can do there to help him."
---
---