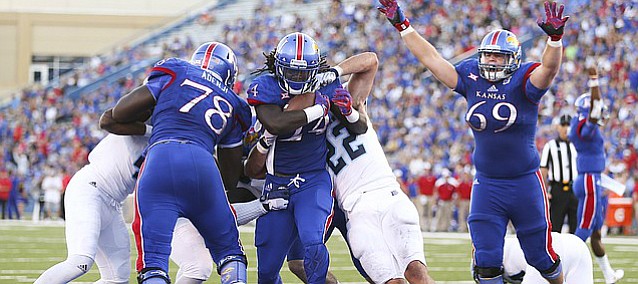 Over the past several months of training and preparation, and the more recent weeks of preseason practices, the football players at Kansas put in enough work to convince themselves this season wouldn't resemble the historically inept campaign that preceded it. Saturday night at Memorial Stadium, in front of an announced crowd of 26,864, the Jayhawks got their first chance to prove it.
Indeed, KU didn't come close to resembling a program that came in to its season opener with Rhode Island on a 15-game losing streak. Instead, the Jayhawks scored eight touchdowns in a 55-6 rout, the first victory at Kansas for the program's second-year head coach, David Beaty.
Early on, the Jayhawks (1-0) didn't look so promising. When redshirt junior Montell Cozart and the offense took the field to start the game, junior punter Cole Moos finished a possession that lasted for just six plays and only went 15 yards.
KU's fortunes changed in a hurry — and permanently — though, when senior Chevy Graham came through on the coverage to snag a punt muffed by Harold Cooper at URI's 13-yard line.
"I think that really kind of jump-started us," Beaty said. "That turnover on the punt was a big, big play. Our guys did a good job of being down there and understanding what was going on and they were there to pounce on the fumble when it took place."
Photo Gallery
Kansas football v. Rhode Island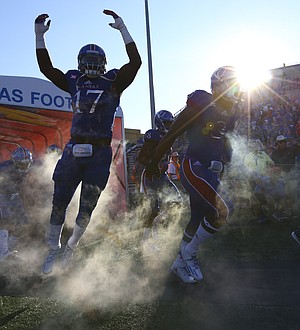 Images from the Jayhawks' season opener against Rhode Island on Saturday, Sept. 3 at Memorial Stadium.
Podcast episode
After a 55-6 victory over Rhode Island in the 2016 season opener, Kansas coach David Beaty discusses the win (his first as KU coach), offense and quarterback situation in his post-game press conference.
Kansas could've settled for an un-emphatic field goal after three straight rushing plays failed to move the chains, but Beaty elected to go for it on fourth-and-one at the URI nine-yard-line. After Cozart plunged ahead two yards to keep the drive alive, a play-action pass from the junior went to a wide-open Ben Johnson in the south end zone, kindling the drubbing of the overmatched Rams, from the FCS.
Cozart said KU's debut performance helped the players prove to themselves and outsiders that they should have higher expectations for the team this season.
"We just knew all week. We trust our coaching and we go out there and everything will fall into place," Cozart said. "The defense they were doing was everything we saw on film, so we knew with the calls they were getting in we could make routine plays and the scoreboard turned out to take care of itself."
While Cozart started the game and enjoyed plenty of success, throwing for 199 yards, three touchdowns and an interception while completing 18 of his 25 attempts, he shared his quarterbacking responsibilities with sophomore Ryan Willis, who came in for the first time on KU's third possession and quickly led KU 46 yards, in three plays. The sophomore's first throw went 28 yards for Bobby Hartzog Jr., and after one incompletion, Willis got back on track by lobbing an 18-yard TD for junior receiver LaQuvionte Gonzalez, who rose up to bring down KU's second score.
Beaty didn't tell the two quarterbacks, both products of nearby Bishop Miege High, until Saturday afternoon his plan to platoon them. Cozart played on the first two possessions, then Willis played two, and the pattern continued throughout the first half, before restarting for the second half, when Cozart played QB the first two series.
"It was good to see Ryan handle himself so well," Beaty said of the sophomore, who threw for 144 yards, two touchdowns and completed seven of his nine throws, "because he did not know until this afternoon that he was not starting. And it was just another learning piece for him, as well as Montell."
According to Beaty, who doubles as KU's quarterback coach, Cozart's eyes welled up when he looked over at Willis after they heard the game plan.
"Both of those guys kind of hugged and they exchanged some Miege pleasantries," Beaty said, "but it was good to see those guys be for one another."
The KU offense, which out-gained Rhode Island 570-219 in total yardage, kept chugging along in the first half, en route to a 27-6 halftime lead.
The Jayhawks' third score of the first half developed after sophomore receiver Steven Sims Jr. dropped a would-be TD from Cozart in the middle of the end zone. He made up for it on the very next play, coming up with a 35-yard score in the left corner on third-and-seven.
Sims led Kansas in receiving (124 yards, two touchdowns on five receptions) thanks to a 71-yard quick-hitter in the third quarter that pushed KU's lead to 41-6.
"Us receivers have a lot to do with our offense's success," Sims said. "We need to make a lot of explosive plays like that. We need to make a lot of plays happen when they're expecting a little, short-yardage gain."
Willis said Gonzalez (seven catches, 78 yards), Sims, sophomore Tyler Patrick (five receptions, 51 yards, TD) and others proved KU has plenty of legitimate targets.
"That's kind of the point of the offense," Willis said. "We want to put the ball in the hands of our playmakers, make routine plays and hopefully something will pop. Like Steven Sims, I threw him a one-yard route, he went 80. I mean, that's what our offense is about."
Though the rushing attack stalled at times, senior Ke'aun Kinner ran for 69 yards and a score, sophomore Taylor Martin rushed for 33 yards and a TD and junior Denzell Evans had 24 yards. As a team, KU barely edged Rhode Island, 171-170 in the ground game.
KU's defensive players left the field pleased with their showing. The Jayhawks limited URI to 13 first downs and 49 net passing yards. Bazie Bates IV, Courtney Arnick, Joe Dineen Jr., Tyrone Miller Jr. and Dorance Armstrong all recorded tackles for loss. Bates came away with an interception. On one play, Daniel Wise pressured Rams quarterback Wesley McKoy, Damani Mosby forced a fumble and Dorance Armstrong Jr. recovered the loose ball.
"I think it's just proving to ourselves that we can do it," junior linebacker Dineen said of the most important part of the win. "So many times last year we got down and that was it. We were done. Just being able to see the product that we put on the field tonight — getting big third-down stops and getting in the end zone — knowing that we can do that is a really good thing."
Likewise, Smithson said the Jayhawks needed to back up their own words after spending the weeks leading up to the opener touting the success they experienced behind closed doors at practices.
"Form the outside in, probably you're looking at us like, 'OK. Everyone worked hard and stuff, but are you really gonna prove it?' So I think that was the biggest thing for us," Smithson said. "Are you gonna go out there and really prove it."
The blowout marked the first time KU scored 40-plus points since Sept. 10, 2011 versus Northern Illinois, in a 45-42 win. It was the most points a KU team scored since a 76-point showing against Nebraska in 2007.
"Everybody was focused," Sims said, "and the quarterbacks, they weren't angry about both of them playing and having to share the time, so everybody around, just unselfish play by the quarterbacks and the whole team."
Beaty, too, cited proof that every person involved with the program expected more out of themselves than a year ago.
"I know just the look in the eye of the guys on the side over there," Beaty said. "I honestly just saw how our guys looked at the offensive line tonight. And how those offensive linemen looked in that huddle. That was a really big difference for me."
— See what people were saying about KU's first win of the season during KUsports.com's live coverage
---
More news and notes from the 2016 season opener
---