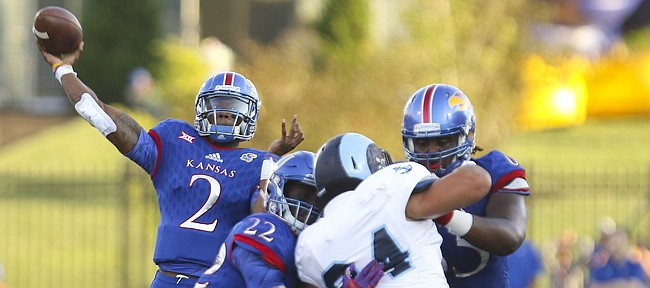 Hold me by my feet over the guardrail of a mountain reservoir and force me to pick a quarterback for the Kansas football team to ride with for the rest of the season and I'd probably go with Montell Cozart.
For all of the negativity associated with his name, Cozart looked more mature, composed, confident and effective in Saturday's season opener than at any time in his Kansas career.
But give me the opportunity to do exactly what second-year Kansas coach David Beaty did during KU's 55-6 victory over Rhode Island at Memorial Stadium and I just might take it.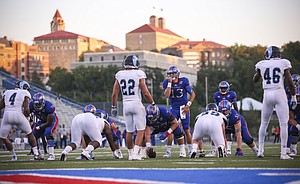 Playing two quarterbacks all season might not be the obvious recipe for success. But it certainly did not hurt the Jayhawks on Saturday night.
Cozart, the junior who technically started the Kansas opener for the third season in a row, finished 18-of-25 for 199 yards and three touchdowns. Willis, the sophomore who did not find out until Saturday afternoon that he was not starting (and then handled it like a pro), finished 7-of-9 for 144 yards and two TDs.
Two drives here. Two drives there. Back and forth they went for three quarters.
Put them together and you're looking at an exquisite body of work that includes a 74 percent completion percentage, 343 yards and five touchdowns. And that's to say nothing of the extra touchdown, three completions and 56 yards that red-shirt freshman Carter Stanley added to the stat line during mop-up duty in the fourth quarter.
Photo Gallery
Kansas football v. Rhode Island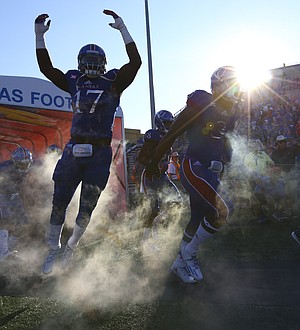 Images from the Jayhawks' season opener against Rhode Island on Saturday, Sept. 3 at Memorial Stadium.
Podcast episode
After a 55-6 victory over Rhode Island in the 2016 season opener, Kansas coach David Beaty discusses the win (his first as KU coach), offense and quarterback situation in his post-game press conference.
Throughout history, only a handful of coaches who have gone with the two-quarterback system have been glad they did it. But as long as the gap between Cozart and Willis remains paper thin, as it was all summer and again during live action on Saturday night, the two-QB platoon might be the best move for the Jayhawks.
Here's why:
"The system is taught the same," said Beaty, indicating that what's asked of one is not different from what's asked of the other even though, as Beaty said, they're very different types of quarterbacks. "We'll go back and look at the tape and we'll just see who handles the minute details the best. The good news is both of 'em performed at a very high level and it's one of those deals where we still have competition going."
Competition. It's a buzz word that surfaces throughout football camps, at all levels, every offseason. And it inspires cheesy cliches from both coaches and players, such as, "Iron sharpens iron" or "Competition brings out the best in everybody." Is it possible that, in this case, it's true?
One of the big reasons both KU quarterbacks were able to let it rip when they were on the field and keep their composure — and focus — while standing on the sideline on Saturday was the fact that the two former Bishop Miege grads genuinely care about and pull for each other.
Beaty said he told Cozart and Willis at the same time Saturday what the plan was for the opener.
"I thought our quarterbacks handled the rotation pretty well," Beaty said. "I don't think that's an easy thing. They knew what was going on when we went into the game so they were prepared for it."
Perhaps the best part about all of this for Kansas — other than the fact that it keeps next week's opponent, 0-1 Ohio, guessing — is that nobody associated with KU's offense thought anything remarkable occurred on Saturday night. Not Beaty. Not Cozart. Not Willis. And not any of the other players taking snaps, catching passes or holding blocks so both could happen. Through their eyes, all that went down at Memorial Stadium on a beautiful evening for football was that the Jayhawks (1-0) took care of business the way they were supposed to.
"We didn't do anything spectacular at quarterback," Cozart said. "We just did what our coaches told us to do. And when you play your cards right, that happens."
What happens from here is anybody's guess, but don't expect it to start with Beaty settling on one quarterback or the other any time soon.
"Until one guy completely separates himself, we'll continue to rotate quarterbacks if we need to," he said, emphasis on completely.
Asked how long he would be willing to let a Cozart-Willis rotation play out, Beaty's answer indicated that this was no gimmick.
"I don't know," he said. "We're not really trying to look that far down the road. We're just trying to get 'em both ready."
The reality of it all might be this: With the kind of dynamic play-makers that fill the KU roster at the wide receiver position, pinpointing a starting quarterback may not really matter. Take the 71-yard touchdown pass from Willis to Steven Sims Jr., in the third quarter, for example. On the play, Willis took two steps after catching the shotgun snap and threw without pressure an easy pass eight yards to his left. Sims did the rest, racing untouched to the end zone.
Credit Beaty for this reality. After taking the play-calling responsibilities and reinventing KU's offense, questions roared about whether the second-year coach could handle it. He never flinched. Saturday night we saw why.
Beaty has put in an offense in which the play-makers shoulder the heavy load and the quarterbacks are asked simply to make the right — and most often easy — plays.
That's just fine with the rest of the Jayhawks. Said junior linebacker and team captain Joe Dineen: "I don't really notice who's in there or who's not and I'm happy either way, as long as they put points up. And that's what they did tonight."
— See what people were saying about KU's first win of the season during KUsports.com's live coverage
---
More news and notes from the 2016 season opener
---